Watch the Latest Hamildrops Music Video, "Wrote My Way Out"
Featuring Nas, Dave East, Aloe Blacc and Lin-Manuel Miranda
Image via Hamilton/YouTube, Theo Wargo/Getty Images
Music
News
Hamilton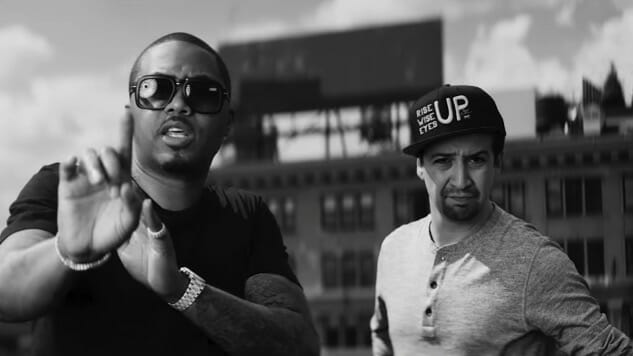 Lin-Manuel Miranda, riding the tidal wave of his widely successful musical Hamilton, gives us the latest music video from The Hamildrops series, titled "Wrote My Way Out." Last month, Miranda partnered with indie-rock band The Decemberists to bring us "Ben Franklin's Song." Now, Miranda returns along with N.Y. rappers Nas and Dave East, and singer Aloe Blacc to continue The Hamildrops series with the music video for "Wrote My Way Out."
The "Wrote My Way Out" video was filmed in New York and showcases the city environment in which Miranda grew up. In his lyrics, Miranda takes us back to when he was younger and was beaten up for trying to read. "Wrote My Way Out" brings us the message that success is often the best revenge.
A year after the hit Broadway show, The Hamilton Mixtape was released through Atlantic Records. Just like the show, the mixtape gained enormous cultural success following its release. While Miranda promised fans a sequel to the mixtape, titled Hamilton Mixtape Vol. 2, he ultimately had to back out of that promise, saying, "[The Hamilton Mixtape] was the culmination of so many dreams come true. Every artist, every interpretation represented the original impulse I had for this story, even before this thing was a musical … nothing's gonna match those songs in that order, beautifully sequenced by @J.period, at that moment in December 2016."
Instead, Miranda created The Hamildrops series, launched in December 2017, with the promise to deliver new Hamilton content each month until December '18. Fans can except a whole year's worth of Hamilton content with the possibilities of artists who might contribute being endless.
Watch the new Hamildrops music video for "Wrote My Way Out" below, then listen to the series' debut release, "Ben Franklin's Song" featuring The Decemberists, right here.