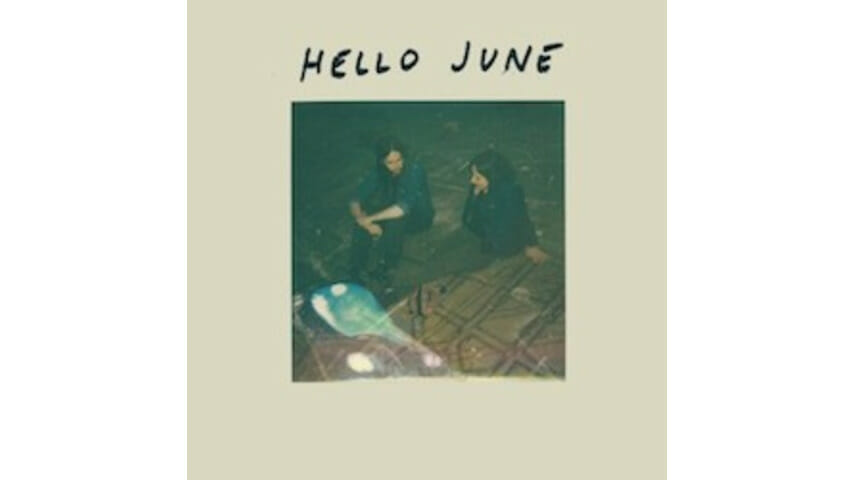 The first time I heard The Cranberries' "Dreams" was while watching what I believe to be the greatest romantic comedy of all time, You've Got Mail. Maybe I'm partial to that track because I associate it with a chipper wool-clad Meg Ryan skipping around the Upper West Side, crisp fallen leaves underfoot. But the likelier cause for my devotion to "Dreams" is its stellar display of etched guitar, shimmery production, affecting lyrics and Dolores O'Riordan's haunting voice.
I've never heard another song pair warm, memorable riffs with idyllic lyrics in that same way, until I heard "Mars," the lead-off track from Hello June's self-titled debut. O'Riordan mused that dreams aren't always as they seem, and Hello June's Sarah Rudy, assumes, almost grimly, "that there's so much more than we know / that there's so much more to fear." "Mars" is an unforgettable dive into indie rock, much like the rest of the record.
Vocalist/guitarist Rudy and drummer Whit Alexander, who met in their shared apartment building in Morgantown, W.V., don't tarry on their very first album—within the first few bars of "Mars," they already appear as a poised musical force. Like The Cranberries and other heroes of sweeping '90s guitar rock, Hello June are adept at drawing maximum emotion from just a few simple riffs. They manage to make vast, planetary ponderings feel like a devoted promise: "As soon as you hear / that there's life up on Mars / that there's more out there," Rudy sings. "I'll catch a plane / Or I'll walk there." "Mars" is a tough act to follow, but the following seven songs spill out in equally-compelling musical moments. Second in the lineup is "Stranger," a swarm of disjointed riffs and prime example of the record's dense tonality and toasty, jangly guitar. "Stranger" instantly asks that you stop whistling "Mars" so it can shine.
The pathos of Hello June is also in part due to its nostalgic glow. Hello June respectfully recalls your favorite indie rock records, but it's simultaneously fresh as can be. The pristine production value gives it a modern feel, but not much else on Hello June screams 2018, which is one reason it's so enjoyable. The band conjures Yo La Tengo's vast riffs while Rudy echoes Lucinda Williams' husky drawl. One area where her voice fully takes the reins is on "Candy Rain," which sounds exactly as you might expect—like a sugar shower. Layers of grainy guitar cascade to the song's fluorescent floor as Rudy's layered vocals echo throughout. Who knew indie rock could be so sweet?
In the same way that "Dreams" jostles memories of a New York fall and a glorious bygone era of alt-rock and romantic comedies, the blustery twinkle of Hello June offers up eight autumn anthems. But while the romantic comedy may be dead, indie rock sure isn't.