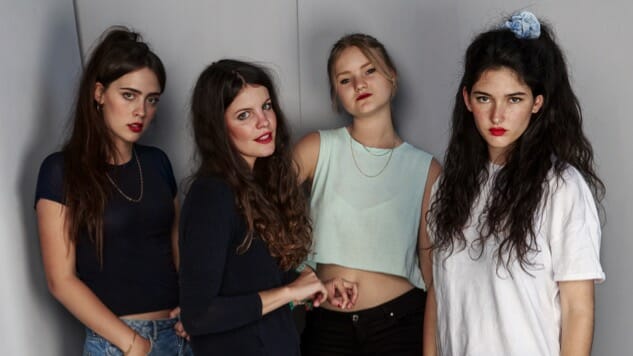 Had Ana Perrote's mom forbidden her from going on a road trip with Carlotta Cosials, the band now known as Hinds might not exist.
"I remember we planned it like two days before," says Perrote of the trip from their hometown of Madrid to the coast of Spain. "I was a little scared because I was 15 and it was the first trip I did with just one friend, and she's four years older than me, so I was like, 'yeah, Mom, I'm going with Carlotta, remember her? Yeah, she was here the other night!' and my mom's like, 'Yes, yes, and who's driving?' so I say, 'She's driving! She's 18!'"
The rest of the band bursts into laughter at this anecdote. We're sitting in Hinds' tour van, a trash-filled Ford Transit with Oregon plates, which is decidedly not the same vehicle that Cosials and Perrote drove to the Costa Blanca six years ago. It's the last stop on the band's first North American tour. They've played 22 dates in 20 cities in 30 days. They've been doing promotion for Leave Me Alone, their debut full-length, out Jan. 8—two months after this interview takes place. If the band members seem tired, they're not showing it.
So what was it about the 15-year-old Perrote that made Cosials take notice?
"I don't know, we fitted very well," says the elder singer/guitarist. The band members' English isn't exactly broken, but there are quirks like "fitted" here and there throughout the conversation. Cosials then addresses Perrote directly: "I think we weren't that young when we met."
Maybe she doesn't want to feel responsible for corrupting the youth? She takes a sip from her PBR tallboy. Next to her sits drummer Amber Grimbergen, who has a large X drawn on her right hand. It's not that Grimbergen has taken a straight-edge pledge to abstain from drugs or alcohol. It's just that she's only 19 and the bouncer drew the letter on her hand so the bartender at the venue would know not to serve her.
Incidentally, Grimbergen is the only subject of any on-tour overindulgence anecdotes. "We had one day when Amber was too drunk to play, but she still did it, and she didn't fail," shares Perrote with a laugh. Grimbergen raises her eyebrows and cocks her head with a slight shrug, as if to say either "yeah, what can ya do?" or "damn straight, I didn't fail." Or maybe she's saying both. It's tough to know. She doesn't talk much during the interview.
Perrote returns to insisting that she was only 15 when she and Cosials took that first four-hour trip together. "The first gig we gave as a cover band, I was 16, and I do years in September, and that was in June," she says. The phrase "I do years" means that she turned another year older. Clearly the trip was a defining moment for the younger singer/guitarist, and she takes pride in remembering her age at the time.
The pair met because, as Perrote tells it, "her boyfriend was my best friend, and had a band with the boy I was dating."
After Cosials dumped that boyfriend a year-and-a-half later, she needed to clear her head, so she tapped her new friend to come with her to Dénia.
Perrote recalls the planning: "We opened Google Maps in her laptop and pointed to it; 'Sounds nice, right?' 'Yeah, I think I have a friend that went there once and said it was nice!' 'Okay, let me call my mom.'…We obviously didn't know that trip was going to change our lives!"
"I knew nothing about guitar and she knew like five chords or something like that," Cosials says, laughing. "And we were on a trip, because I dumped the guy that introduced us, and we were all alone with two guitars, and there was nothing to do, and she made the chords of a song by Bob Dylan."
Music historians may one day note the irony of this pair first feeling the spark of collaboration to "It Ain't Me Babe."
"Suddenly it was the thing of the trip," says Cosials. "She taught me the chords, and Bob Dylan has great lyrics to distribute so the lyric stuff started at that moment, and it was a three-days trip, and on the third day we said, 'Why don't we start a band?' And she said, 'Yeah, okay. Fuck it! Let's do it!'"
The pair began by calling themselves the Stolen Girlfriends Club, covering tunes by acts as wide-ranging as The xx and The Romantics. (A video of the pair playing these songs from five years ago was still online as of press time).
When they began recording original music, they changed their name to Deers, and buzz began to build for their garage-pop confections. They brought in Grimbergen on drums and their friend Ade Martin on bass. They were building momentum, and critics and fans were starting to take notice. Unfortunately a Canadian band called Dears also took notice, and slapped them with a cease-and-desist, which Paste wrote about last March.
How much do they miss the old name?
"Nothing. Zero, I think," says Cosials.
"The only thing is that I'm starting to hate it because so many interviewers are reminding us of this thing," chimes in Perrote. "It's like having an injury and everyone touching it and punching you, and reminding you that you were injured."
Okay, so maybe they are a little bit tired.
Cosials and Perrote have a chumminess about them that translates to the stage and to the songs on Leave Me Alone. They sing and shout together—sometimes they're saying the same words, other times they're saying different things. The music conjures up the possibility of what it would sound like if garage revivalists like Ty Segall and Thee Oh Sees practiced together. The enthusiasm Cosials and Perrote have for each other's artistry is infectious.
"If whoever writes the song says, 'I want this to be more powerful,' then we're both going to sing on it," Perrote says. "And it's like, 'you sang on the last song we wrote, so I'm going to sing this one.'"
"Yeah, and then we'll say, 'how many songs on the album do you start singing? Okay, so maybe in this one, let's try this…'" adds Cosials.
"And then we ask each other, 'Can I have this one, pleeeeease? I love it and I really want to sing this one!'" Perrote says.
"Yeah, a lot of people think that we sing the lines that we have written, and it's completely not true," says Cosials.
The pair will occasionally contradict each other—as illustrated by the debate over the age of the band's inception—but they always have each other's backs, and they always make each other laugh. There are moments on the album where you can actually hear their smiles in their singing.
"I really know in the recording when Carlotta is smiling," says Perrote.
"Me too, me too!" Cosials insists.
Those smiles were hard-won.
"We drank beer before recording," exclaims Perrote.
"We needed it!" adds Cosials.
"We spent the whole day recording the basic tracks, and then at the end of the day, we're like, 'yeah, now is the moment where we're going to drink beer!'" says Perrote. "And we drank three cans, with no breathing, and then we felt like…"
"We really got better and less shy," Cosials says, finishing her friend's thought. "The voice is so personal and suddenly you hear yourself doing things and you feel shy and then it's halfway off, like being either too aggressive or too normal, and you're in the halfway and it's weird, so beer helps you to be exactly as aggressive as you have to be."
And that's part of what is so special about Leave Me Alone. It's exactly as aggressive as it has to be. The songs are fun, and they're flirty and they're a little bit filthy. It is for the latter reason, say the singers, that they choose not to sing in their native tongue.
"It's so easy to do lyrics in English," says Cosials, "because imagine my mom understanding every word I say?"
Perrote laughs and adds, "And cousins, and teachers and principals?"
We discuss a line from the song "Chili Town" where the women sing to a would-be suitor that he's "missing panties clime."
"You're missing the weather of the panties," explains Perrote with a laugh.
"'Mommy?'…" says Cosials, pretending to be a dutiful daughter looking to her mother for approval of her lyrics.
Perrote takes it from there. "'Mommy, do you like this?'"
Regardless of whether or not Perrote's mom would approve of the line, she's the one who let her daughter go on that road trip six years ago, and based on the chemistry between Cosials and Perrote, as well as early raves for Leave Me Alone, the pair are likely to bring their guitars on a lot more road trips in the future.
Pat Healy is a freelance writer based in Boston who likes it when you follow him on Twitter and talk to him at @thatpathealy.