How Americana Has Taken Root In Europe And Australia
Folk, bluegrass and country music are making big waves outside of their country of origin.
Wandering Hearts photo by Morgan Hill-Murphy
Music
Features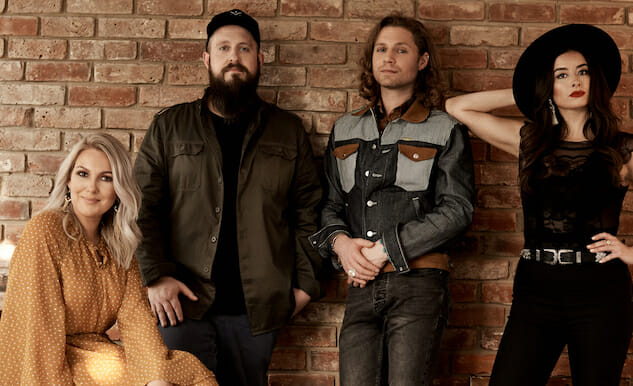 Over the past two decades, AmericanaFest, the festival and conference celebrating roots music that takes place in Nashville, Tenn., has become what SXSW used to be: a place for both emerging and established artists to be heard and celebrated. By and large, the event is blissfully free of overbearing corporate branding and the kind of celebrity oversaturation that has made Austin such a shitshow every March.
Even as it remains an alternative to SXSW, AmericanaFest shares one key characteristic with that Texas-based event that has helped the rising profile of both events: the increasing presence of artists, promoters and label representatives from outside the U.S. Through six days in Nashville this past September, the expected Southern accents of the performers and attendees meshed with that of folks from the United Kingdom, Australia and Scandinavia.
The global reach of music of all stripes isn't out of the ordinary, with the growing ubiquity of streaming services and social networking. But this new wave of folk, bluegrass and traditional country artists and festivals popping up throughout Europe and Australia feels like echoes of previous movements like the British Invasion, when acts like The Animals and Rolling Stones adopted American blues and R&B.
This international interest in Americana is hitting peak levels currently, but it isn't necessarily a huge outlier. Both U.K. and Australian listeners have often spotted the connections between their country's traditional folk music with U.S.-born roots music. Along the way, they've also embraced a number of American country and folk artists, including Jim Reeves, Tammy Wynette and Kenny Rogers, while also providing patronage for their domestic stars (Mumford & Sons, Keith Urban, etc.)
But as modern day country and folk music around the world has become almost indistinguishable from pop and R&B, a significant number of fans and artists outside the States have pushed against that tide, embracing the rootsier, rawer side of those genres.
"When we first started in this world, it was known as alt-country," remembers Tom Bridgewater, the founder of Loose Music, the U.K. label that celebrated its 20th birthday at AmericanaFest. "I'd go to Waterloo Records in Austin and stumble across an Americana section and it was 'Tie A Yellow Ribbon 'Round The Old Oak Tree' or 'Star-Spangled Banner' done by a brass band or something. Obviously, it now has a whole new meaning. The Americana thing has been a useful umbrella and everyone's embracing that."
Americana's success in the U.K. has led to some welcome developments like the creation of a handful of new festivals dedicated to those sounds like the decade-old Maverick Festival and newcomers The Long Road and Black Deer Festival. All of these events maintain a healthy balance of roots sounds and bring in artists from both sides of the Atlantic. As well, the genre has been given a major boost in visibility in the U.K. via popular radio programs like Bob Harris Country, the now 20-year-old BBC Radio 2 show, and with the establishment of the Official Americana Albums Chart in 2016. Topping that chart so far have been familiar names like Van Morrison and Jack White as well as up and comers including Courtney Marie Andrews and Isaac Gracie.
"That chart has given Americana some sort of gravitas," Bridgewater says. "People take notice of that. That helps us from a business perspective if you can get a top five into that chart. They're not huge numbers being sold but it's something that's been significant."
The lineups for those festivals and the Americana Albums Chart also reflect the rising tide of newcomers to this genre, many of them hailing from beyond America's shores but finding welcome ears and eyes here. The schedule for this year's AmericanaFest, for example, was dotted with showcases organized by arts organizations like Sounds Australia, British Underground and the Americana Music Association UK, all of which put the spotlight on acts from their respective homelands.
One group that was visiting Nashville last month was The Wandering Hearts, a charming quartet from London who released their debut full-length Wild Silence in February. Theirs is a very modern take on Americana, with the influence of radio pop artists like Fleetwood Mac and Brandi Carlile found in glossy stomp of the album's production. Live, the group strips their music back to its roots core, sticking to acoustic instrumentation and their thrilling four-part vocal harmonies.
The members of the group—Tim Prottey-Jones, Francesca Whiffin, AJ Dean and Tara Wilcox—were all music lifers, achieving various degrees of success in England, when they connected for the first time just three years ago. The four bonded over a mutual love of artists like Carlile and Chris Stapleton and soon became friends and collaborators.
Where the story went from there has the whiff of legend. After only their second time writing music as a unit, the group uploaded a pair of songs to SoundCloud. Within hours, they were offered a management deal and within months were snapped up by Decca Records. Their first trip to Nashville was at the behest of bluegrass legend Marty Stuart who offered them a spot opening for him at the equally legendary Ryman Auditorium.
Perhaps due to their collective experiences in the music industry, the Hearts have kept a level head about all this, and a sense of humility. When I sat down with them in their Airbnb in East Nashville and asked if they thought this whirlwind of activity was due to the surging profile for Americana in the U.K., they all quickly and loudly agreed.
"I think there was a period where management and the label were learning what we were about," Prottey-Jones says. "Even if they signed us under the pretense of 'This is U.K. country,' whatever that may sound like. I wonder whether having them see us live a few times that they realized that we weren't that country. We were a sound that people really enjoyed irrespective of genre. I think they really embraced what we were rather than what they maybe thought."
For as much as they shy away from limiting themselves to a particular genre, the Hearts are certainly doing what they can to look the part of a modern Americana group. When I met up with them, Dean was sporting a sizable belt buckle and Prottey-Jones had on one of many sleeveless flannel shirts. Wilcox and Whiffin meanwhile dressed in denim and long dresses, looking like representations of the two sides of past female country fashion. They're also absorbing as much of the authentic Nashville experiences as possible during their short stay.
"Maybe this sounds a bit contrived or cheesy," Dean says, "but what everyone does in this city for a job almost doesn't matter. As Music City, it feels like everybody has a vested interest in collectively making good music happen. That's why it's been so lovely to be an artist or even just an audience member here. That involving community sense that they have that we're borrowing from."
For other artists from outside the U.S. who play Americana, Nashville has become the destination, not just a stopping point. Singer-songwriter Rebecca Chilcott, who performs dreamy country pop under the name Ruby Boots and whose recent album Don't Talk About It was released by roots-centric label Bloodshot Records, moved there from her native Australia just over two years ago. She was gaining some level of acclaim back home, snapping up Best Country Music Act honors at the Western Australian Music Industry Awards, but she saw early on that there was only so far she could take her career if she stuck around.
"You have to be here," she says, sitting backstage after a performance at Sounds Australia's Aussie BBQ, a day party held at beloved Nashville dive The 5 Spot. "Unless you're one of the lucky few like Courtney Barnett or Tame Impala. For most of us, we have to work our fucking asses off just to get to a place of sustainability. If you're not on the ground here, I don't see anything really happening for you."
That feeling is shared by the folks behind organizations like British Underground and Sounds Australia. Both groups give small outlays of cash to artists from their respective countries to help fund trips to the U.S. for showcases and tours. Or, in the case of singer-songwriter Josh Rennie-Hynes, there's a chance to relocate to America with the help of the government. He recently received the Nashville Songwriters Residency from the Australia Council For The Arts, allowing him to move to Music City and work on his craft. When I caught up with him at the Aussie BBQ, he was taking a bit of a victory lap having just finished the recording of his third album, which finds him aiming for a more gritty sound à la his idols Tom Petty and Paul Westerberg.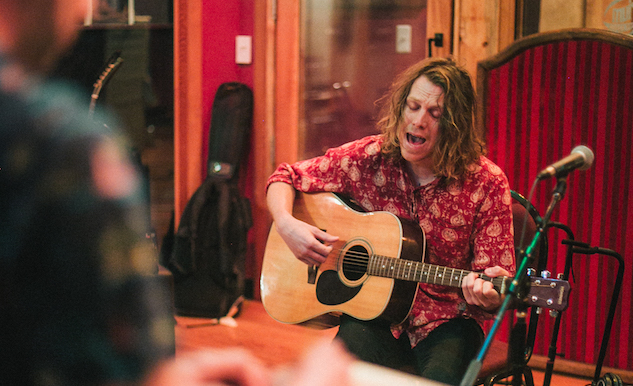 "Americana is such a small thing in Australia that to do it there, even for a moderately successful artist, you're still going to be struggling," Rennie-Hynes says. "I don't want it to sound like I left Australia to be a big star. I'll go back, for sure. But for me at this point in my career and my life, I needed to come here and do what I'm doing now, to be around amazing writers and players."
What hasn't happened is for a new Americana artist from Australia or Europe to find some serious commercial footing in the States. Mumford & Sons have helped wedge the door open with their multiplatinum sales with fellow roots artists like First Aid Kit, Daniel Norgren and My Bubba making some inroads. That doesn't seem to be bothering any of the artists or industry folk who were at this year's AmericanaFest. To a person, they all echoed one big lesson that they've learned from visiting Nashville or staying there for extended stretches: you don't have to be a star to feel like a success story.
"When we came out here," says the Wandering Hearts' Dean, "it reminded us that everything that goes on in this industry and everything you think you should be to fit in with that, you are reminded how simple it can be. We write music. We play music. We enjoy it. And if you keep doing that and you can make a living from it, then you've got it made."