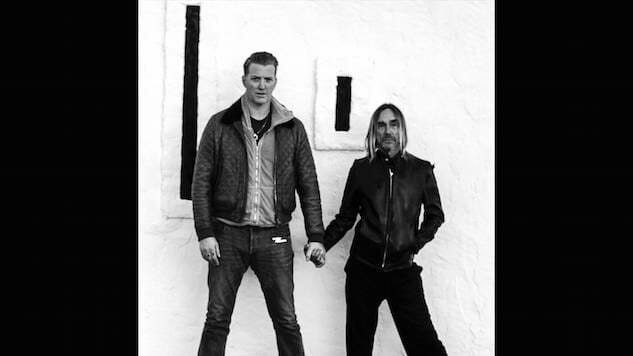 It looks like Iggy Pop and Josh Homme couldn't contain their excitement over their once-secret collaboration any longer. Less than a week ago, they announced that they had recorded an album called Post Pop Depression. Then, the next evening, they went on The Late Show and performed the first track from that record, "Gardenia." It was a nice throwback to new wave and, shockingly, Iggy kept his shirt on.
Now, Pop and Homme have released another track from the album: "Break Into Your Heart." It's got a much more sinister tone than "Gardenia," with easily detectable shades of Queens of the Stone Age in the guitar riffs and Iggy reaching the lowest depths of his voice at the song's finish.
Another thing: Before seeing the artwork for the song, I didn't realize how vastly Homme and Pop differed in height. Homme is 6'4"; Pop is 5'7". The difference is striking in this photograph, but it just goes to show that height doesn't matter when people pick up their instruments and start making music.
Post Pop Depression is slated for a Mar. 18 release date.