J. Romero Banjo Co.: Making Banjos and Making A Life Together
Photos via J. Romero Banjo Co.
Music
Features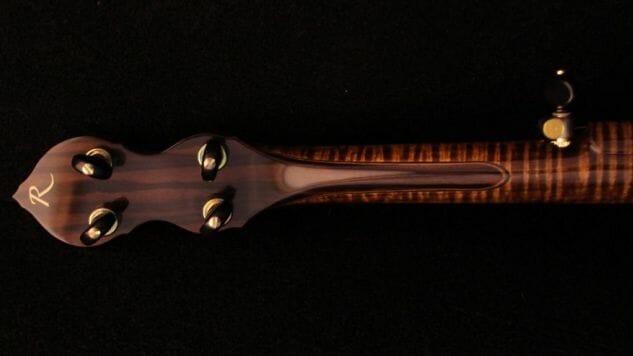 Pharis and Jason Romero share one mic. Nearly three years ago, they stood on a stage just barely two feet off the dirt ground, harmonizing into that vintage-styled device. It's the most technologically advanced device around them.
The Douglas fir trees soar and fraternize with other leafy species native to Western Oregon. Yet, the husband-and-wife duo stands sheltered by a web of branches—cut from those same trees, yet molded to provide an intricate awning over the stage.
The Romeros perform an hour's worth of acoustic tunes for their rapt audience. Jason switches between guitar and banjo, while Pharis sometimes trades her guitar for a fiddle. Their pure, yet, contemporary take on Americana makes it easy to forget the farm dirt that's been under your fingernails for three days and the stagnant, dry air that cracks your skin into fish scales.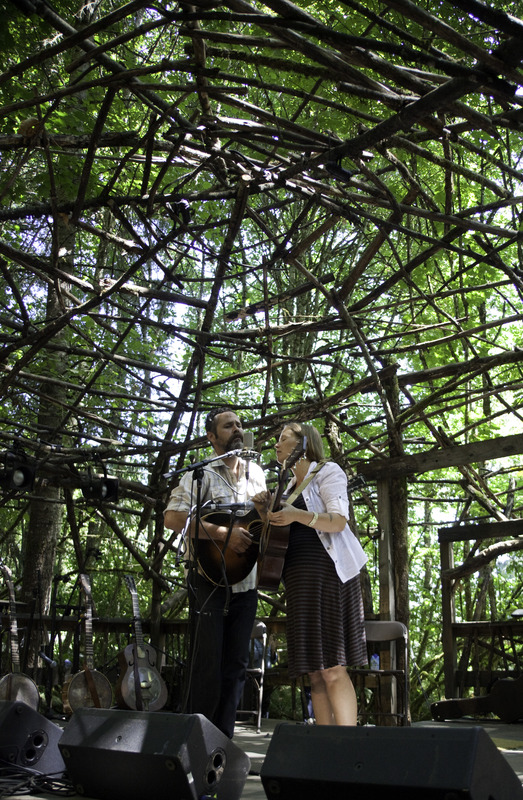 For those who listen to music more regularly than perform it, Pharis and Jason Romero's live sets—like that one in the woods at Pickathon or at other festivals like the Vancouver Folk Music Festival and the Edmonton Folk Music Festival—might be their only introduction to the Romeros. But long before their performance career took off, they'd been building banjos.
Jason corrects me from the Romero compound in Horsefly, British Columbia.
"I don't know if I would say the performance career has 'taken off!'" he says slowly, stifling a laugh. "But, we've been getting some really nice shows."
As a duo, Pharis and Jason Romero have released three LPs—2015's critically lauded traditional folk record A Wanderer I'll Stay, 2013's Long Gone Out West Blues, and 2011's A Passing Glimpse. And since 2009, they'd recorded other albums with other friends. Pharis even grew up learning piano and singing from an ex-opera-singing nun, before playing in a country music family band with her father and two sisters.
But the banjo-making company—J. Romero Banjo Co.—is both their primary income and their centrifugal force. It's what united the two, and one of many elements of their gentle countenances that seem as custom-made for each other as the instruments they make for others.
Jason founded the company in 2002, after graduating from College of the Redwoods. He studied woodworking and cabinetry there, while also working at Wildwood Banjos in Arcata. Wildwood gave him practical experience in efficient production, and later, working at P.W. Crump Instruments taught him specific finishing for instruments.
But after work, Jason began to tinker with personal projects. Having played the banjo since his late teen years, he began experimenting with banjo building. Each time he successfully made and sold a banjo, he'd buy another tool to improve the process.
Eventually, he recalls, "I told myself that when I had six months' worth of orders I would quit." It only took him a year of, what he calls, "working after work" to reach that point.
As for Pharis, she remembers falling in love with the sound of Jason's banjo before they even met. A mutual friend, banjoist and teacher Ivan Rosenberg, bought one of Jason's first instruments at Wildwood around 2000 and swore by its tone and the creativity ingrained in its maker's woodworking. He later bought another Romero piece, a 12" Honduran mahogany banjo.
As Rosenberg, now based in Toronto and readying his new record of original bluegrass tunes, describes it, "The Romero banjo tone that I'm drawn to is warm, rich and woody, and his banjos sound great tuned low the way I like them."
But while Pharis got to hear Rosenberg's banjo at a bluegrass camp, she didn't end up meeting Jason there. Continuing the story in a quick-paced patter, she says, "I kept in touch with Ivan and he kept in touch with Jason. And for some reason, when we were both single, Ivan decided to start talking us up to each other."
Within three months of meeting, they married and moved back to Pharis' hometown of Horsefly. Although the J. Romero Banjo Co. existed for around five years beforehand, Jason wholeheartedly believes that he—and the business—reached full potential when he and Pharis met and began their lives together. Before they married, Jason invited her to work on inlay detailing, something she'd never done before.
"She just got really, really good at it," he gushes. "I mean, come on! Another perfect match for me!"

Ten minutes into our conversation, Jason pauses while musing on how intertwined the music and the building has become for the Romeros. He and Pharis rejoice in hushed tones, for their two-year-old Indigo has finally fallen asleep.
Today, Pharis, Jason and Indigo are completely self-sufficient in their Horsefly home. They have 40 acres on a lake and a river situated at foothills of a mountain range two ridges over from the Rockies. They're seven hours north of Vancouver, but only a third of the way north in the province. They have a cabin and a workshop, Pharis' family nearby, and another little one on the way. So this year, they're taking a year off from writing and recording to catch up on banjo orders, build a new house and have another baby.
The Romeros' workshop is lined with order forms on the wall. Jason can build around four instruments every six weeks, so he tacks up seven or so orders at a time, in order to work through the builds in small batches.
Within the workshop, there's a humidity-controlled room where Jason keeps what he describes as, "my very expensive lumber that I've collected over the years." He's developed relationships with a number of individuals and lumber companies around the country. Those woods eventually become the necks and rims of banjos.
The wood milling, which involves joining parts, gluing necks together, and more, lasts about two weeks. Then, Jason begins drilling and turning rims, aging and processing the bronze and brass pieces, and installing hardware. At that point, Pharis begins working on the inlay, using microscopic jeweler saw blades to cut designs and secure them within the woodwork.
Of course, the timing depends on the details of each instrument, and the J. Romero Banjo Co. prides itself on its highly specific customization and collaborative process with customers.
David Bragger, an old-time fiddler and banjo player and the founder of Tiki Parlour Recordings, raves, "Working with [Pharis and Jason] is a banjo client's dream come true. In fact, we became friends through the process. They give you plenty of notice to start dreaming up your banjo. As you give them your thoughts, they present many options and ideas that help bring it to aesthetic and sonic fruition."
As Bragger, who owns two Romero banjos, continues, "Here's the thing: They never try to upsell. It's always the opposite. They want to build the perfect banjo for you, given your budget. Pharis' gift for artistic expression and her overall passion shine through the entire process, culminating in a beautifully decorated piece. Jason's understanding of banjo making and his innovative approach really make him the wizard of the modern banjo age. He must be performing some strange voodoo in his shop!"
The introductory conversations between the Romeros and clients usually take place via email and phone and can last for about a week. Clients can peruse the website (which Pharis built) to select the wood, neck, rim, binding, tonering, pegheads, inlays, onlays, hardware, rod and finish. Inlays can be shell, metal, wood and stone, and onlays are usually made from brass, copper or silver. But customization discussions usually veer more towards the holistic and conceptual: what's the customer's playing style? What's their goal for the gear?
Because most of the people who order Romero banjos have never played one before and many have never even seen one in person, the duo works diligently to get to know their clients and craft the perfect instrument to suit their needs and personalities.
"That's a huge amount of faith to put in us and so we take it really seriously," says Pharis. "It's both nerve-wracking and incredibly exciting to me."
So far, the J. Romero Banjo Co. has made 390 instruments. Each has a numbered plaque on the inside of the rim. Each is wholly different, too, as Jason doesn't work with a pattern carver. And the waitlist for 2016 is already full. It'll open again on January 1, 2017 at 12 a.m. PST.
But the Romeros realize that their freedom and autonomy is rare.
"I wanted to be self-employed," begins Jason. "I was obsessed with playing banjos. I wanted to build banjos. And I've always been good at woodworking. So it's something I fell into, but I worked really hard at it, also."
Pharis agrees, explaining, "I have been self-employed for so long and in so many different levels. It keeps me really happy—the stimulus of working with different people, the freedom of being able to create things all the time is pretty magical. I love being able to work with people on whatever dream they have for their instrument that we're going to be creating for them."
For Jason, the creative freedom and professional independence are both intertwined and foundational to the life he and Pharis have built for themselves. According to Jason, being a maker "means self-employment, which allows us a lifestyle that I can't imagine living any other way."
He struggles to find the right words to express his incredulousness and thankfulness. It makes his sentiments seem even more meaningful: "I feel blessed that I somehow ended up in this place living up here, having met Pharis, and getting to live and work in a beautiful place like this and get to stay at home and raise a family."
Says Pharis, "It means I get to have a constant source of joy with everything I do."