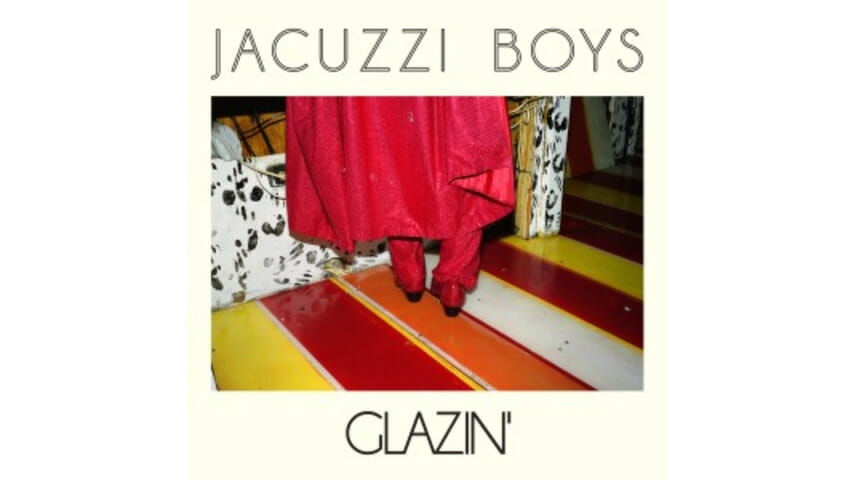 If any old photo is worth a thousand words, the promo shots accompanying Jacuzzi Boys' sophomore album, Glazin', are worth double. One depicts the Miami trio— drummer Diego Monasterios in a ball-cap, and pouty frontman Gabriel Alcala in a letter jacket—leaning against an air-hockey table. Another—the most telling of the set—features the band against a yearbook photographer's gray-sheet backdrop. Monasterios sprawls out in front of his bandmates, grinning and flashing a peace sign; Alcala pouts and flexes a bicep; bassist Danny Gonzalez adopts a more serious, arms-crossed pose than his bandmates. These aren't the tough-guy postures or grimy mugs of a typical garage-punk band; they look more like Tiger Beat centerfolds.
And that says a lot about Glazin', a succinct 10-song LP that revels in the indecipherable slanguage of adolescence. The title itself is a multi-purpose term Alcala made up. When he sings, "It's all I can do/ Glazin' for you" or "When I'm on your coast/ You love me the most/ 'Cuz I could koo-koo with you 'til the end," he's adding to an idiom that already boasts its fair share of "jeepsters," "doo-wa-diddies" and "gabba-gabba-heys." That T. Rex, Roy Orbison and The Ramones seem to share a vernacular with the Jacuzzis should come as little surprise.
For its second album, the Miami band polished the jangly, whip-smart hooks of its 2009 debut, No Seasons. Glazin' features a (slightly) more expansive approach, stretching its 10 songs barely past the 30-minute mark, where No Seasons packed 12 into less than a half-hour.
Mostly, it's a sign of development for the band. The dirty-sweet guitar lick and handclaps punctuating "Vizcaya" add dimension to the song, finding a flourish that makes a road-map for sweaty sing-alongs. And these are all songs built for enjoyment.
Alcala's nasal inflection offers a hint of mischievousness, but Jacuzzi Boys never suggest any real menace or discontent. Glazin' draws from the swagger of glam, the hooky middle-ground of '70s punk and '60s rock 'n' roll, but also demonstrates a clear understanding of the way those sounds have already been appropriated by millennial garage pranksters (like, most notably, the Black Lips). But beyond the well-trod influences, there's that teen-idol promo shot — a visual representation of the nonsensical innuendo and riddle-like slang that forms Glazin's lyrics.
Even at their most direct, though, Jacuzzi Boys are mining for gold in a romanticized teenage aesthetic. "I found you and you're my crush, crush, crush," Alcala declares in "Crush," presumably while pouting and flexing a bicep.