Jeezy Is Retiring from Rap But Not Before Releasing Final Album TM 104
Photos by Cassidy Sparrow/Getty, Theo Wargo/Getty
Music
News
Jeezy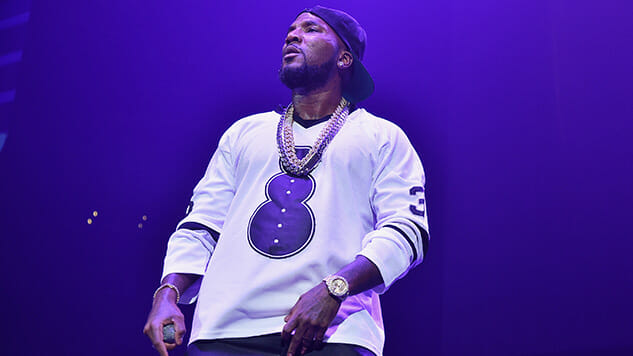 A sad day in hip-hop has come as the Snowman himself, rapper Jeezy announced via Twitter that he will retire after his final album on Def Jam titled Thug Motivation 104: Trust the Process.
His last album will be the follow-up to last year's underrated Pressure. It also serves as the conclusion to the celebrated Thug Motivation series Jeezy started in 2005 with his acclaimed major label debut Let's Get It: Thug Motivation 101. The series spawned southern hip-hop classics like "Soul Survivor," "Go Getta" with R&B legend R. Kelly, "I Luv It," "Lose My Mind" with fellow southern rapper Piles and "I Do" with hip-hop legends Jay Z and Andre 3000.
Before Jeezy became the rap stalwart he is now, he released two independent albums as a solo artist. His big breakthrough to the mainstream came courtesy of the rap group Boyz N da Hood and the breakout hit "Dem Boyz." Following that success, Jezzy left the group and P. Diddy's Bad Boy Records after one album and signed with Def Jam. With 10-plus years in the rap game, all of the rapper's albums have debuted within Billboard 200's top ten, with 12 hits in the top 40 of the Billboard Hot 100.
Retirement doesn't mean Jeezy is leaving the music business. The rapper plans on moving to behind the scenes A&R-ing for other artists, which he already dabbled in with West Coast rapper YG.
Although Jeezy's voice will be missed in hip-hop, it is going to see him pay it forward to up-and-coming artists. See the tweet below that set the rap world on fire.
As the Cold Summer tour comes to a end.. It was inspiring seeing my day one fans since my first album & class TM 101 come out every night. Now class is coming to a end. It's time for Graduation! My Last Album & Final Class: TM104 –#TrustYaProcess ??

— Sno (@Jeezy) March 22, 2018