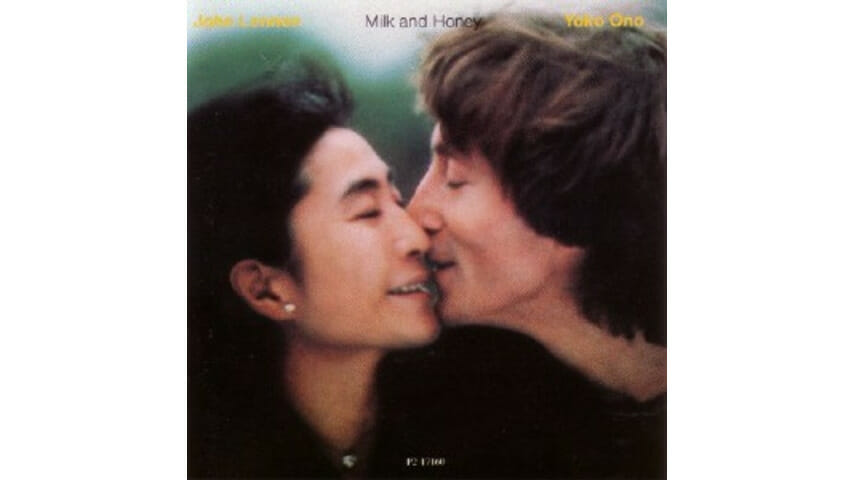 The Vulnerable Beatle
Lennon's narrative-like catalog tailor-made for digital delivery
Live Peace in Toronto, 1969 – Three stars
John Lennon/Plastic Ono Band – Five stars
Imagine – Five stars
Sometime in New York City – Three stars
Mind Games – Four Stars
Walls and Bridges – Three stars
Rock 'N' Roll – Two stars
Double Fantasy – Three stars
Milk and Honey – Three stars
Lennon Anthology – Four stars
One of the more telling songs in John Lennon's solo catalog is the tender "Look at Me." Not the well-scrubbed version on his first album, but the unvarnished take on 1998's Anthology, his posthumous 94-track box set of demos, outtakes and other unreleased gems. "Look at me," he sings in a vulnerable rasp over the buzz and twang of acoustic guitar, "who am I supposed to be?" At one point, he even begs, "Please look at me." And finally, Lennon – the soul of the Beatles, the musical heir of the '60s peace movement, the voice of a generation – asks the most basic human question: "Who am I?" He answers resignedly, "Nobody knows but me."
The song perfectly telescopes the Lennon dilemma, but fans can get a pretty good idea of who he was – and what contradictions he lived – from his full body of music, now available digitally for the first time on Apple Inc.'s iTunes. The computer company's acquisition of the Lennon catalog suggests The Beatles' works may be coming soon. Apple had not been able to acquire the Fab Four's music before this year, due to a trademark battle over the name (The Beatles' record label was called Apple Corps.). But in February, the dispute was settled, and The Beatles' solo projects have found their way onto iTunes.
Of the four, Lennon's music makes the most sense in digital form, not because it's singles-oriented, but because it transcends even the album format. His songs, and his lyrics – from "God is a concept by which we measure our pain," on his first solo album to "God bless our love," on his last one – form one long narrative. The story of his solo career begins with a show recorded just after the Beatles completed Abbey Road. Though Lennon had cut three extremely avant garde albums with Ono the previous year, Live Peace in Toronto, 1969 was his scruffy, rock 'n' roll hall pass out of the increasingly strained Beatles classroom. It's hardly a live album of the caliber of The Who's Live at Leeds, but Lennon's makeshift band, including Eric Clapton cranking out the blues and Ono wailing in the background, romps through rock standards like "Dizzy Miss Lizzy" and biting Lennon originals such as "Cold Turkey."
If Toronto is the introduction to Lennon's musical memoirs, Plastic Ono Band is the brilliant and harrowing first chapter, in which he deals head-on with everything from his childhood emotional traumas ("Mother," "My Mummy's Dead") to the toll his abnormal fame as a Beatle has taken on his identity ("Look at Me") to the social injustice of Britain's class system ("Working Class Hero"). "Isolation" offers a glimpse of his megalomania and anger toward his fans, and in "God," he re-examines his entire belief system. Bleak and often difficult to listen to, Lennon's first studio release is among the all-time greatest albums of the rock era, and worth downloading in its entirety. So is its follow-up, Imagine, on which Lennon runs the gamut of emotions, from rage ("How Do You Sleep?," a vicious attack on Paul McCartney) to sweet, giddy love ("Oh Yoko!").
The narrative loses focus on Sometime in New York City, a set of protest songs that hasn't aged well, though the album has been unfairly chastised. Feminist anthem "Woman is the Nigger of the World" is one of Lennon's finest songs, and there are several other bright spots, including some of Ono's compositions. Despite her being consistently maligned for her Asian sense of melody (Western naysayers and obsessive Beatles fans call it "out of tune"). Ono's "Born in a Prison" is powerful. For Mind Games, Lennon returned to the stylistic trimmings of Imagine. Featuring pretty ballads ("Out of the Blue"), hard rockers ("Meat City") and scratchy country blues ("Tight As"), Mind Games is excellent but doesn't break new ground. Walls and Bridges is less successful primarily because he recorded it during his infamous "Lost Weekend." The album has too many silly songs – such as the duet with Elton John (and Lennon's first #1 solo hit) "Whatever Gets You Thru the Night" – and not enough tracks like the genius "#9 Dream." Oldies cover album Rock 'N' Roll is a bust, with badly arranged interpretations of the kinds of songs he and The Beatles nailed in the early '60s.
After five years in retirement, Lennon returned in 1980 with Double Fantasy, which, while good, doesn't stand up as well as it did when the world was moruning his assassination. "Dear Yoko" is a rewrite of "Oh Yoko!" Other stronger tracks, such as "I'm Losing You," seem recycled, too. In fact, many of Ono's songs on the album are superior. With the arrival of punk and New Wave, the times had caught up with her vision, and tracks like "Kiss, Kiss, Kiss" are sharper and more relevant than the old-fashioned pop Lennon had fallen back on. Milk and Honey is similar, but Lennon's material – such as the beautifully ragged (and horribly ironic) "Grow Old With Me" – sound fresher. Several collections are also available on iTunes, but the one worth picking from is the gargantuan Anthology – its alternate takes tell the John Lennon story in ways his official albums don't.