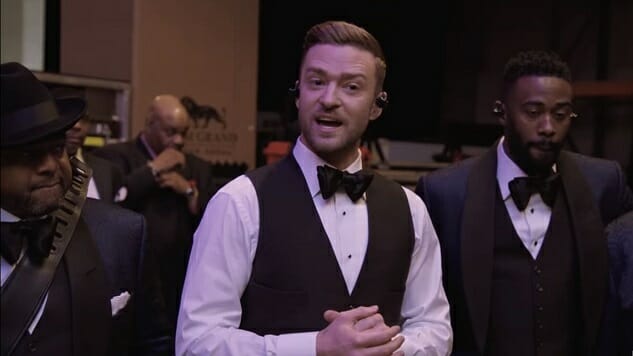 Justin Timberlake was on tour for a long time. The 20/20 Experience tour played in more than 100 cities over almost 800 days. Now, Netflix has debuted a trailer for the concert film of the tour, Justin Timberlake + The Tennessee Kids. Netflix announced its acquisition of the film just ahead of its debut at the Toronto International Film Festival.
Directed by Jonathan Demme, the Oscar-winning director of Silence of the Lambs, the concert film will allow fans to experience the final night of the singer's 20/20 Experience tour. The final stop of the tour was at the MGM Grand Garden Arena in Las Vegas, where the film was shot.
Timberlake performed on the tour with 25 members of his band, The Tennessee Kids. The trailer's only dialogue sees Timberlake giving them an inspiring speech. "Tonight when you're up there, look to your right, look to your left. That's who this show is for," said the man at the center of it all.
Justin Timberlake + The Tennessee Kids premieres on Netflix on Oct. 12. Until then, the brief glimpses from the trailer above will have to do.