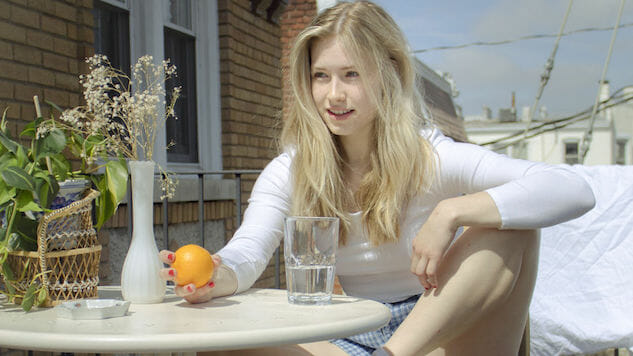 Over playful and woozy guitar lines, Charlotteville-based songwriter Kate Bollinger gently welcomes us to summer with a stunning, laid-back bedroom-pop track, "Candy," off her forthcoming EP, I Don't Wanna Lose, out on June 21. Bollinger, a University of Virginia student entering her senior year, is unleashing her song of the relaxed summer candidate for those upcoming sticky and humid nights, perfect for unwinding outside to watch the last of the dusk hues in the sky fade to black, her soulful Hope Sandoval-meets-Clairo croon lulling you to sleep after the longest days of the year.
Bollinger characterizes the song as being "basically about preparing for the worst and instead finding the best, which is rare and very sweet," a nice anecdote for such a lovely track. "You make for lighter landings / I prepare for hard falls but am met with light every time," she sings on the refrain, her calming voice perfectly matching the lush synth tones behind her.
Written at a "particular time of trying to grow up" and fighting through its resulting ups and downs, Bollinger's new EP I Don't Wanna Lose comes during that awkward transition between being a student and the realization that she's gearing up to enter the real world whether she's ready or not. "Candy" follows last month's EP cut "Untitled," an ever-so-slightly more upbeat track that follows a similar formula. I Don't Wanna Lose is Bollinger's debut EP, released after a handful of one-off singles spanning the last year or so.
Check out "Candy" below, followed by her upcoming tour dates. The self-released I Don't Wanna Lose is out on June 21.
Kate Bollinger Tour Dates:
June
22 – Charlottesville, Va. @ The Southern
23 – Richmond, Va. @ The Camel
26 – Washington, D.C. @ Songbyrd Vinyl Lounge
27 – Philadelphia, Pa. @ Everybody Hits
28 – Brooklyn, N.Y. @ Gold Sounds