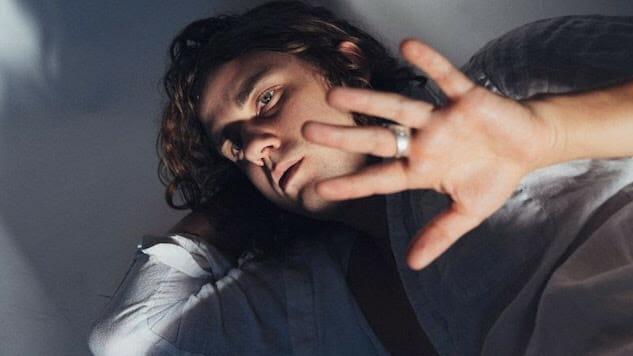 Exploring Kevin Morby's discography is like taking a road trip. The Kansas City, Mo., native (and current resident) often establishes a sense of place in his music—he has an album for New York (City Music), L.A. (Singing Saw) and what feels like every prairie, mountain and river in between. After playing in Brooklyn bands the Babies and Woods, Morby began his solo career with 2013's Harlem River. In the years since, he's released three more full-length albums containing some of the best folk-rock material this side of The Crane Wife. His latest, however, floats high above them all, somewhere near, but perhaps not in, the heavens, where God may (or may not) abide. Oh My God is a religious concept album for worshippers and nonbelievers alike, and it's already being pronounced Morby's best work to date. In time with this almighty arrival we decided to journey through Kevin Morby's catalogue and pick out some of his most interesting, beloved and beautiful songs. So buckle up, roll down your windows and take a drive along the Harlem River, through the music of the City and even into the divine. Here are 10 of our favorite songs by one of rock's most resourceful road warriors.
10. "Drunk and On a Star"
"Drunk and On a Star" may sound like a song that would appear on Oh My God (Heavenly bodies! Transcendent experiences with alcohol! A resurrected guitar!), but maybe that's just because Kevin Morby has been our spiritual guide all along. He has that weird ability to step back and look at the earth like it's something far away from him, rather than a mass to which he's tethered. With a little help from his trusty guitar, some woozy pedal effects and an unbothered bass, Morby conjures a "fleeting beauty" and takes us straight to the stratosphere.
9. "Parade"
"Parade" begins like Kevin Morby's take on the Irish blessing: "May you find out who you are…May it not touch you or ever do you harm." But it becomes something darker, a morbid look at the roles we all play in the grand performance of life. Are we not all just actors, playing a part? Putting on our best faces and strutting about until it all culminates in the final spectacle of our deaths? Who's to say. Death is a recurring theme in Morby's songs, but he never takes it too seriously.
8. "Nothing Sacred / All Things Wild"
Reserved and droning, the second Oh My God single is a transcendentalist musing on the power of nature. The message is right there in the title: "Nothing" is "sacred," because everything is. All that's wild is holy, and vice versa. Nature and heaven and humanity are all one in the same. Backed by a gospel choir and gentle bongos, Morby sounds like he's giving a sermon, but not from the pulpit—from the jungle, or some patch of wild, overgrown land.
7. "Destroyer"
"Destroyer" is a lackadaisical yet savvy dance with death—or if not something that final, exactly, at least oblivion. Morby's casual vocal delivery of lines like "Now I've come to wonder where she's gone" (referring to a "lover," "mother" and "sister") would signify boredom if sung by any other artist. But Kevin Morby never sounds bored. He's always a mix of enlightened and droll.
6. "Beautiful Strangers"
Protest songs take different shapes in this era. Not all of them are especially urgent, or explicit. "Beautiful Strangers" is both. Written after the 2015/2016 shootings in Paris and Orlando and the death of Freddie Gray, the single, proceeds from which benefited Everytown for Gun Safety, is both comforting and unnerving. The song, with its gentle, progressing groove and gospel influences, bears some resemblance to those on Oh My God and actually sparked that album's name, Morby said in an interview with Paste. In the face of so much tragedy, "Oh my god, oh my lord" sometimes feels like the only response.
5. "Aboard My Train"
There's something about the deadpan way Kevin Morby sing-says "haha" after the line "May we fill these lungs with laughter." His blasé delivery implies a sort of removedness from the song and its subject matter, but the tune actually melts into a heartfelt ode to life and the relationships we make along the way—romantic and otherwise. It's really a giant scrapbook depicting the best experiences of Morby's life, through all the different seasons and places where he's encountered—and said goodbye to—friends and loved ones (aka "stations"): "I have loved many faces, many places / All aboard my train but depart at different stations," he sings.
4. "OMG Rock n Roll"
A bluesy, Black Keys-esque reprise of "Beautiful Strangers," the final single from Oh My God feels as necessary now as the former did in 2016. This one has a little more oomph, but the overall mood remains the same. Morby finds triumph in protest. Despite bleak conditions, he carries "a glad song wherever I go."
3. "Harlem River"
Kevin Morby and his band once played this long on a loop for an hour straight (for charity), which, quite frankly, sounds like a lovely time. This nine-minute song from Morby's solo debut of the same name is a woozy, pleasantly repetitive sequence of jazzy drums, a seductive bassline and Morby's slightly ominous vocals. It's a hypnotic combination, one that propelled this song to more than 10 million streams on both Spotify and YouTube. It may sound soothing, but this is no elevator jazz: it's a masterful study in rock 'n' roll restraint.
2. "Come to Me Now"
There's a lot of magic in the midnight hour. "Come to Me Now," another of Morby's most entrancing tunes, sounds at first like it's calling upon a lover, "pretty and slow / pretty and thin." But, as we later discover, it seems Morby's muse isn't a person—it's nighttime itself. One of the more subdued melodies comprising the skyline of City Music, "Come to Me Now" is an awestruck longing for solitude studded with supernatural sounds. "I can't wait for that moon to shine," Morby sings over spooky organ. "She's my friend, always been, you can see it in my eyes."
1."City Music."
"Songs about New York City" could be its own genre. But hardly any tune captures the urban nights and frights quite like the title track from Kevin Morby's 2017 album City Music. It glows and pulses with all the sounds and light that make a city beautiful—a bass guitar moonlighting as traffic rushing by, drums as thumping pedestrian steps and one of the most memorable guitar riffs of the last few years as the cacophony of singing birds, sirens and honking horns. The verses are essentially six versions of the same few lines: "Oh that city music / Oh that city sound." The mastery isn't necessarily in the words. It's the song's sonic transformation—from the lazed two-minute intro to the steadily increasing tempo to that frenzied breakdown around the four-minute mark—that carried it to the top of our list of the best songs of 2017.