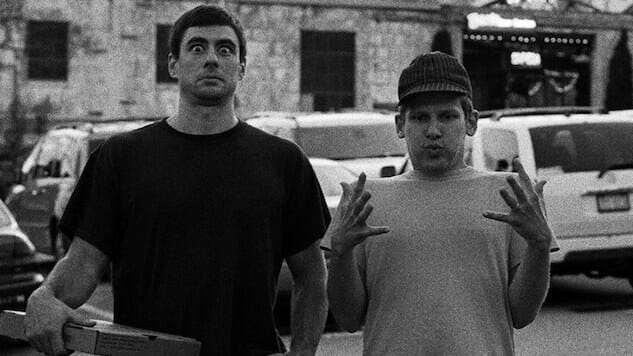 Daily Dose is your daily source for the song you absolutely, positively need to hear every day. Curated by the Paste Music Team.
Zach Cooper and Vic DiMotsis, the two gents who make up the band King Garbage, are absolute goofballs. That was apparent from the first video the two released not too long ago for the song "Forbidden Lovers," which finds them gorging on food and jumping around like a pair of kids on a sugar high. And their video that we're presenting here goes even more off the rails thanks to a sock puppet and a whole lotta sauce.
Of the video, they say, "We went from straight up food pornography, to a more tamed down idea where some poor sap battles himself in the Heinz sauce pit arena for the title. Ever pay your bus fare with a sock puppet on? It's exhilarating. 6 sock puppets and 2 packs of cigarettes later here we are. Vic almost puked and shat himself simultaneously while spinning in a bed of poison ivy. For some reason, we all supported each other, and had fun while making a video we liked and made us laugh. Huge gratitude to Daniel Di Salvo for actually MAKING the damn thing, putting up with our demands and workin' his lil tail off to really make it sweat."
But they're serious where it counts: in the studio. The pair's debut LP Make It Sweat is a grin-inducing collection of modern R&B and funk, filtered through a kaleidoscopic, psychedelic lens. As far out as it gets, the music never feels cloying or half-hearted. These guys have clearly absorbed the joys of Funkadelic, Ween, and DJ Shadow, letting the scuffed-up, winking sound inform their own masterfully produced work.
Their eyes are on the prize too as they're already itching to hop back in the studio to get to work on the follow up for Make It Sweat (which arrives in the world on September 22nd via Styles Upon Styles) and working on the score for a feature film. Exciting stuff, but until that all goes down, let's enjoy this video a few more times.