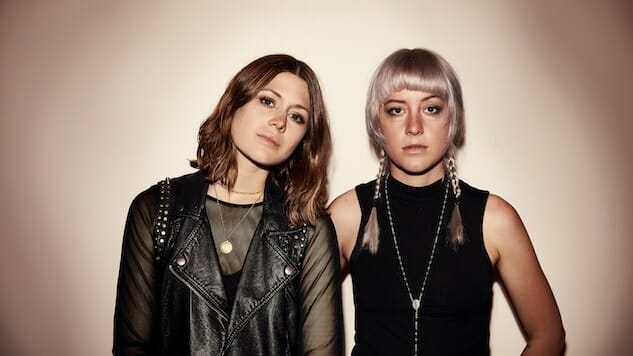 Nashville-based sister duo Megan and Rebecca Lovell, better known as Larkin Poe, have announced the independent release of their fourth album, Venom & Faith, scheduled for Nov. 9. The album, recorded in Nashville in between headlining sets, and placements at festivals like Bonnaroo and Lollapalooza, was produced by both the band and engineer Roger Alan Nichols.
"It's a celebration of American roots music as translated by two sisters who are playing the blues in a modern age," said Rebecca, one half of the duo, whose powerhouse vocals pair perfectly with sister Megan's slinky lap steel to create an outlaw sound entirely unique to the two.
Still writing on their experience of the American South, the band keeps a strong outlaw mentality and defy expectations of roots rock in their fourth endeavor, this time using electronic elements, hip-hop production techniques and non-traditional percussion methods such as slammed doors and dresser drawers.
The album includes two covers—"Sometimes" by Bessie Jones and "Hard Time Killing Floor Blues" by Skip James—though it's otherwise all original material from the Lovell sisters. Two singles, the no-nonsense "Bleach Blonde Bottle Blues" and the hip-hop-influenced "Ain't Gonna Cry," are available for download in advance of the release.
Listen to "Bleach Blonde Bottle Blues" (which is included with the album preorder, available here) below, as well as the duo's full Paste Studio session from back in November of 2017, and keep scrolling for the Venom & Faith tracklist. You can also check out this feature we wrote on the duo in 2015.
Venom & Faith Tracklist:
01. Sometimes
02. Bleach Blonde Bottle Blues
03. Honey Honey
04. Mississippi (Feat. Tyler Bryant) 
05. California King
06. Blue Ridge Mountains
07. Fly Like An Eagle
08. Ain't Gonna Cry
09. Hard Time Killing Floor Blues
10. Good And Gone