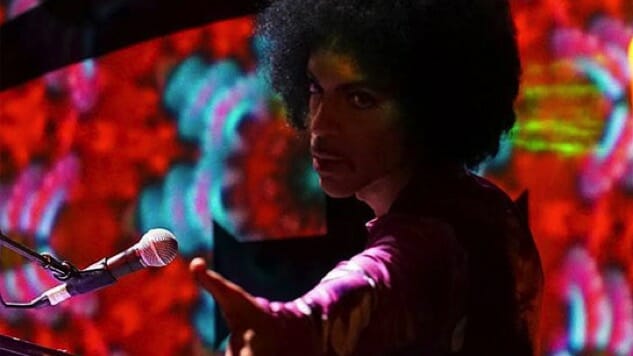 Ed. note: This review of what would turn out to be one of Prince's final performances originally ran on April 15. When it was written, the news that the singer had been forced to make an emergency landing and check into a hospital after the show had yet to break. As noted in the piece, he looked and sounded fine—great, even—which makes his death just a week after this concert all the more shocking.
When Prince's Atlanta date on his Piano & A Microphone Tour—which, just like it sounds, features the singer playing solo at a purple baby grand, the first such tour of his lengthy career—was postponed last week due to a bout with the flu, the rescheduled shows were announced surprisingly quickly. The Purple One hit the stage at the Fox Theatre just a week after he was initially supposed to, and from the look of it, he'd made a full recovery.
Would we really expect any less, though? We all know Prince isn't fully human—the man hasn't visibly aged in 30 years, so why should we be surprised that seven days after being ill, he's reaching mind-blowing high notes on "A Case of U" that artists half his age would struggle to hit? His 7 p.m. set was a short one—just 80 minutes—but that seemed to have more to do with the fact that the venue needed to turn over in time for his 10 p.m. set later that evening than with any sort of lingering flu symptoms. Prince made every second count, and perhaps most importantly, the crowd was grateful for any time at all. He still managed to cram two encores into those 80 minutes, and every time he reappeared onstage, the noise was deafening.
The encores weren't the only times the singer left the stage—he got up periodically throughout the set, at one point leaving briefly to regroup before returning and explaining that "Sometimes I forget how emotional these songs are." But every time those fingers hit the keys, there'd be a rapturous moment of recognition from the crowd. The opportunity to hear these songs stripped down on the piano is a rare one, and that wasn't lost on the fans, some of whom shelled out as much as $1000 a seat to be there.
Prince fed off that energy, too, encouraging hand-claps and sing-alongs on Controversy and bringing the house lights up for "Kiss" to witness the entire theater attempting their best falsettos. His cover of David Bowie's "Heroes" was moving, resulting in a hushed awe—one of the few quiet moments of the set. Purple Rain fans didn't get to hear the famous title track—a fact some reminded him when he finished his last encore by joking "I don't have any more hits left!"—but they were treated to stellar versions of favorites from that record like "I Would Die 4 U," "Baby I'm a Star" and "The Beautiful Ones."
And, ultimately, Prince can do and play whatever he wants. He's Prince, and he's here blessing us with his presence. Especially for a show that almost wasn't, every song feels like a gift.
Setlist:
1. Little Red Corvette / Dirty Mind
2. Linus & Lucy (Vince Guaraldi cover)
3. The Beautiful Ones
4. Nothing Compares 2 U
5. Joy in Repetition
6. Muse 2 the Pharaoh
7. U Got the Look
8. Pop Life
9. Elephants & Flowers
10. I Could Never Take the Place of Your Man
11. A Case of You (Joni Mitchell cover)
Encore 1:
12. I Feel For You
13. Controversy
14. The Most Beautiful Girl in the World
15. I Would Die 4 U
16. Baby I'm a Star
Encore 2:
17. Heroes (David Bowie cover)
18. Diamonds and Pearls
19. Adore
20. The Beautiful Ones
21. How Come U Don't Call Me Anymore
22. Do Me, Baby
23. I Wanna Be Your Lover
24. Kiss