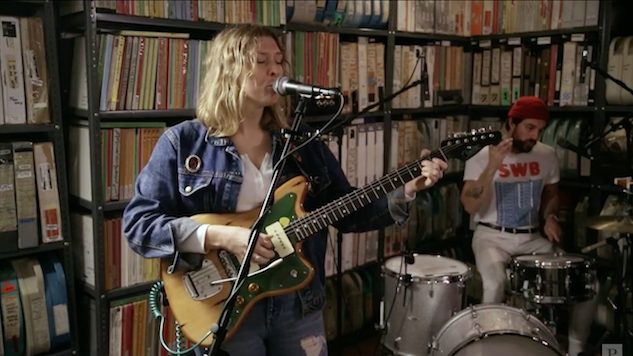 There are a lot of bands trying to make it in Nashville. But only every so often does one show some real personality and singularity. Liz Cooper and her band the Stampede are one such entity, and while that means they're befallen to the music media's need to classify a cool new sound, these guys are ones to watch. However, rather than dodge the subgenres that have been stamped onto them by others, Liz Cooper & the Stampede are embracing the labels. "Dream-folk psychedelic rock is what we've heard on the streets and we dig what the people think," Cooper writes on the band's Spotify page. "I suppose the blending of my unique vocal texture with my no rules, what-the-hell-am-I-doing picking and playing style from acoustic to electric guitar is the dream folk."
Cooper's right: Her voice is rugged and interesting, which gives their psych-forward music a country edge. The band recorded their debut album Window Flowers in Nashville in 2016, but it didn't arrive until this year. Paste's Robert Ham wrote in his review of the record: "[Cooper] possesses a bluesy holler that feels like it could cut glass or shake a cheating partner to their core." Indeed, Window Flowers is a rootsy rollick held in place by Cooper's reverberating vocals.
The band corralled in the Paste Studio on Thursday, Dec.13, and they treated live-streamers to three songs from Window Flowers: "Outer Space," "Motions" and "Mountain Man." The "psychedelic" label is absolutely applicable to Cooper's music—"Outer Space" is a bluesy, hallucinogen-induced trip, an "escape" from "reality" to "Outer Space," while "Moutain Man" and "Motions" are more of a sonic escape—throughout the set, Cooper and co. break out into Dead-level jam sessions while simultaneously serving up some major grooves, making for a fun stash of tunes you can either dance to or space out to.
Watch Liz Cooper & the Stampede's Paste Studio session below. Further down, listen to their 2017 Daytrotter session. Read the Paste review of Window Flowers right here.