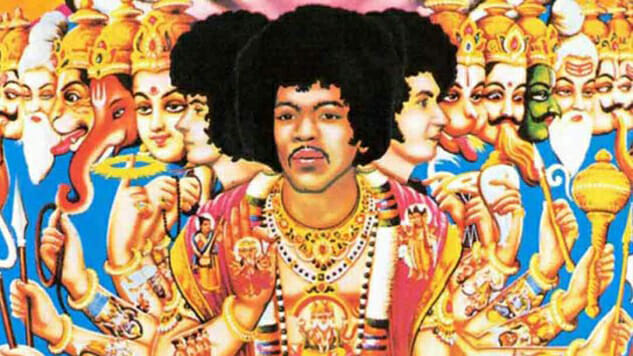 There's no shortage of weed-centric music. Everyone knows the funny "Because I Got High," the cheeky "Smoke Two Joints," the personifying "Last Dance With Mary Jane" and the anthemic "Hits From The Bong." They're all great, if blunt (pun intentional) chronic-friendly tunes. However, other songs—those that don't necessarily put weed in the song title—implore you to take that first puff and spark your imagination with their musical subtleties. So in honor of today's holiday, here are nine recordings to smoke to amidst your THC giggles, as you enjoy the celebration that is April the 20th.
1. Jimi Hendrix, "Little Wing"
Sometimes when you're stoned, the feeling is reminiscent of a butterfly landing gently on the petal of a lily. This song—two minutes and twenty seconds of delicate possibility—is a lot like that. Few cover artists even attempt to recreate it, and only guitar virtuoso Stevie Ray Vaughn got remotely close to effectively doing so. But unlike Vaughn, Hendrix sings over the otherworldly guitar intricacies, which lead your addled mind down all sorts of fun rabbit holes.
2. Missy Elliott feat. Pharrell, "WTF (Where They From)"
Other times when you're stoned, you want to feel like you're going through the Star Wars hyperdrive, as if everything is teetering between the third and fourth dimensions. That's this song, especially if you can feast your eyes on the video, which shows off Missy's sparkling hoodie and diamond lipstick, dope breakdancing and flirtatious wordplay like, "Pop that, pop that, cock and reload / This another hit, I got an ace in the hole." It's a smorgasbord for the brain hungry for mental munchies.
3. Gnarles Barkley, "Going On"
This is one of those tracks you get your full Bill & Ted's Excellent Adventure face on – like, "Woah…." Epiphany time! It's a heady, zooming track from the duo comprised of singer CeeLo Green and producer Danger Mouse. It tells you to stay on your own course, that only you know the way. It may sound a little fortune cookie here (as stoner wisdom often does), but articulated by CeeLo's falsettos and backed up by Danger Mouse's organ and snares, this is a hidden classic.
4. Blackstar, "Definition"
You can't have a list of songs to smoke to without honoring New York City blunt culture—the backpackers, skateboarders and rappers who hit spots all over the city to spit rhymes and write graffiti who, at the same time, carried blunts to split and dime bags to fill them with. "Definition" honors that era of '90s East Coast culture. Its members, Talib Kweli and Mos Def, summarize the zeitgeist of a city in awe of its tradition while simultaneously acknowledging its inevitable change. As weed-adoring genius Kweli raps, "Brooklyn, New York City, where they paint murals of Biggie / In cash we trust, cause it's ghetto fabulous, life look pretty. / What a pity—blunts is still 50 cents, it's intense!"
5. Childish Gambino, "Redbone"
This smooth, grooved out love-making song is the perfect track to put on and blaze to, either in celebration of a new year or in mourning of the one that just passed. It's just a beautiful, soul-uplifting entity. It takes control and, dear smoker, sometimes it's okay to feel vulnerable and let someone else lead.
6. Digable Planets, "Rebirth Of Slick (Cool Like Dat)"
If the Grammy's had an award category like Chillest Song of the Year, this song surely would have won it in 1993. Because what do you want more when you're stoned than some chill horns, slick snares and timeless lines delivered by Ishmael Butler? Maybe a some snacks, but other than that, this song has it all.
7. Led Zeppelin, "Going to California"
This is Zep's most gentle song, with the tone of acoustic guitars and soft mandolin lines matching singer Robert Plant's flowing golden locks. You can get stoned just by listening to this song. Lilting and lifting, there's a flowing white cloth in a spring breeze somewhere within these melodies, and with a little marijuana, you're sure to find it.
8. Radiohead, "Reckoner"
Never before have tambourine taps caused so many stoners to text their friends with the most transcendent ideas. "You are not to blame," Thom Yorke tells us in human-whale sonar. The cerebral climax comes when the tambourine, which slyly fell out of the mix at some point, comes back in just as the break finishes (at the 3:20-minute mark). This track is like a hedge maze; it's beautiful and intricate, but you almost always get lost—so basically, perfect for a joint.
9. James Brown, "Funky Drummer"
The song that influenced more hip-hop beats—and thus more music inspired by weed—than any other. The one break that started it all is on display at the 5:22-minute mark. Clyde Stubblefield has said that at the time, he was tired and didn't even want to record. Yet, unbeknownst to him, the man kicked off hip-hop. The song itself, apart from just the iconic drum break, is a funk hit that makes you move your dancing feet and might just inspire you off the couch to get that quesadilla you've wanted all day.