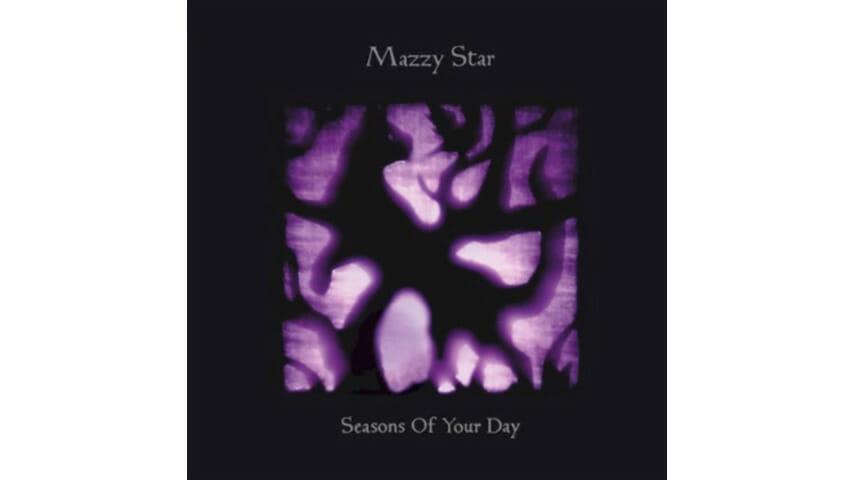 2013 has been kind of spooky. What started as a cool run of surprises, with new David Bowie and Daft Punk and My Bloody Valentine, went overboard at some point and gave us new Boards of Canada and new Pixies and a Neutral Milk Hotel tour and The Replacements headlining what was essentially a fully imagined version of Warped Tour. Unless you are talking about Arcade Fire, very little can get the music fan excited in the same way as years past. Some of these returns have been worthy of the time between releases, but you can only get your heart broken so many times before it dries up and you start getting really into talk radio.
Mazzy Star's first album in nearly two decades functions as a manifestation of this malaise; it's not bad but not that good either, with its attributes mostly resting in its familiarity, not in inspiration or memorability.Though years in the making, Seasons of Your Day could easily have been the result of cultural awareness, with David Roback and Hope Sandoval seeing the practical benefits of making a new album by looking at what is happening in music in 2013 and pumping out an album of spare parts and old ideas, sounding very much like the paradigm they had once crafted.
Of course, this isn't the case as far as intentions. Mazzy Star had been planning this return for more than the last couple years, and that makes Seasons of Your Day harder to swallow, with a lightness in stakes and emotional challenges that make it a less interesting project.
The recent rise of Beach House can be seen as both a positive and negative in terms of how Mazzy Star's past work is remembered, whether you want to focus on the influence they have had or how Beach House seems to operate in a similar universe with more dynamic material. It's somewhat ironic that Beach House is what comes to mind when Seasons of Your Day is most successful, as on the bookends "In the Kingdom" and "Flying Low." The former, particularly with its opening organ and slide guitar, injects the formula that Beach House has inexplicably turned commercially viable. Making "In the Kingdom" special, though, is the chemistry of the group's principals, with Sandoval's playful lilt twirling through the raindrops of keys, bluesy steel strings solos, snare taps and glockenspiel.
"Flying Low" and even "California" also seem deliberate in their direction, existing as songs with purpose, which is weird to point out, and only necessary because the rest of the album houses songs that don't. "I've Gotta Stop" is a near-hit, most distracting in its biting of Oasis' "Champagne Supernova" in its guitar solo, and ushering a change in the album that goes more into blues standards, the dreamy, floating slide guitar becoming half-hearted bottle-neck hoedown licks, something that feels wrong without a pulse, already updated for indie rock fans by everyone from Doug Martsch to Black Rebel Motorcycle Club.
When placed in this setting, the previously offered "Common Burn" is so thin it's transparent, never actually becoming anything, while its side-b counterpart "Lay Myself Down" is a confused song, not sexy when it could be, not delivered with enough swagger to justify the major shift in album tone, and finally not self-aware enough to know it should have ended three minutes before it actually does, landing as a kraut-blues experiment that proves the two might not be best mixed.
Mazzy Star goes on to make the exact same move on "Spoon" and fills the album with other exercises in unremarkable songwriting. Going back to their earlier albums together, like the near-perfect She Hangs Brightly, this was not the case. Sure, Mazzy Star's M.O. is a barely present, ghostly ambiance, better sometimes in the background, but after nearly 20 years, a return demands more than essentially being the musical equivalent of late-night Sportscenter, something best enjoyed while drifting in and out of sleep.