Montréal Jazz Festival Does Something Better Than Every Other Fest
In its 40th year, the fest continues to set itself apart. + the best acts we saw
The Quartier des Spectacles photo ©Victor Diaz Lamich, Festival International de Jazz de Montréal
Music
Features
Montreal Jazz Festival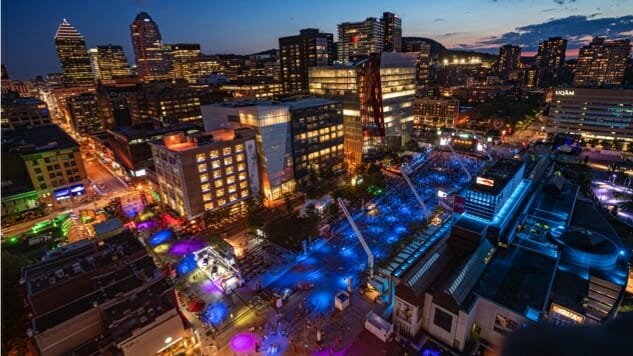 The music festival landscape is incredibly saturated. Period. As summer festival lineups drop, it's increasingly become this monotonous drivel of the same acts recycled into a slightly different combination and we're left with the false impression that things are indeed different, when in reality they most certainly are not. Most big promoters follow the same pattern of algorithmically based festival curation: if the Spotify play counts match-up to the tour revenue history, then that's a bingo! But more often than not, we're given line-ups top heavy with acts fronted by white males and we're left with few opportunities to celebrate the smallest shred of diversity and gender parity in a line-up if and when it comes to our cities. By the way, whatever that lineup is, that'll be $400 please. Visa, Mastercard, AMEX and Venmo to some rando on Craigslist accepted and oh, have we told you about our layaway plan for tickets?! This way you can work on paying your off your festival pass all year long!
I don't know about you, but playing this charade for the past decade+, hoping that the scope will change and then it doesn't, has had me looking for something that deviates from the norm. And for the past two years, I've found it in Montréal. A tough situation last year proved a learning experience for the long-running Montréal Jazz Festival and one that clouded my full understanding of this fest. But this year, at its 40th anniversary, I saw Montréal Jazz for what it is: The most inclusive and accessible music festival I've ever been to.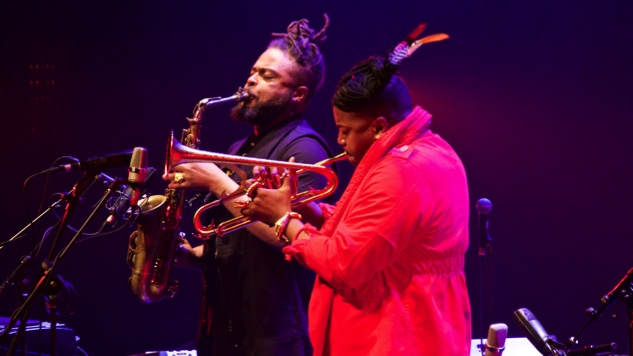 Christian Scott aTunde Adjuah (photo by Adrian Spinelli)
You see, there's no $400 three-day festival pass here to dictate that participation requires a certain amount of money. But rather, there's a series of ticketed concerts that take place at a dozen or so Montréal venues and more importantly, the festival's Quartier des Spectacles (the main plaza), in the heart of Downtown Montréal, features six stages of FREE diverse programming; established international acts, emerging young Canadian pop music talent, classic jazz musicians, Latin jazz, traditional African music, rock and roll, you name it…FREE. And yes, despite what it's name suggests, the festival has evolved over time into much more than just jazz.
But if you're one of the two million people who come to any part of Montréal Jazz Festival's 11 days (it is indeed, the world's largest jazz festival) the charm of the visit is exploring Montréal during the day, before hitting up the festival in the evening. That's because most of the programming doesn't begin until five or six pm, so you can venture into the lively Plateau neighborhood in the morning for bagels at St. Viateur (oh the bagels!), saunter down St. Laurent Boulevard for a Porchetta Sandwich at Boucherie Lawrence in the afternoon (oh the butcher shops!) and then make your way into the festival grounds in the evening to catch ticketed shows from guitar hero Peter Frampton, rising jazz outfit Butcher Brown, Aussie indie demigod Courtney Barnett, trumpet savant Christian Scott aTunde Adjuah, or a free show from Montréal-based emerging soul pop singer Kallitechnis. This dance is a total thrill, night in and night out and all day in between.
And what I see along the way, from the sesame-seed scented Plateau, to the sunshine washing over the Quartier des Spectacles, is a festival for generations of people. It's different age groups and cultural backgrounds galvanizing through music. It's seeing a room full of baby boomers at Peter Frampton's set at the gorgeous Salle Wilfrid Pelletier, and a crowd of millennials at the grittier MTELUS for Courtney Barnett's set, share the exact same elated responses, all within 300 meters of each other.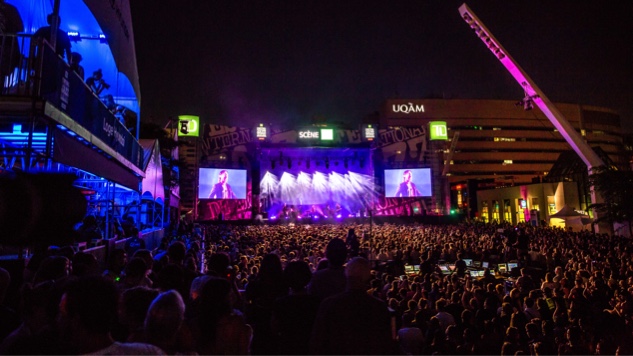 A FREE Main Stage Performance at Night (©Frederique Menard-Aubin, Festival International de Jazz de Montre?al)
It's seeing the same disabled attendee I spoke with for my story last year, making her way through the festival grounds with ease in a motorized-cart, while a French-speaking family of African descent poses for a picture in front of the iconic jazz figures behind each large window along the side of the looming Maison du Festival Building. There isn't one type of festival goer here, and we all breathe in relation to the city that ties us all together. Everyone accepts each other and there's an utterly refreshing lack of conflict.
The bustling sense of community is everywhere. From the restaurants and food stands along the festival's Saint Catherine Street thoroughfare, all within an earshot of free programming for families, teenagers, twentysomethings, black people, white people, muslim people, queer people, straight people, kids, older people, etc., to the on-site record store and gasp sponsorship activations throughout (accept it y'all; these things don't pay for themselves. It's okay.)
Jazz Fest is just as much a place to reconnect with a classic act like Alan Parsons or Buddy Guy as it is to discover the next indie artist from Quebec like Helena Deland (who relished in being on stage in her home province.) It's a festival where you can see Nigerian rapper Mr Eazi as well as engage with the music of a jazz master like saxophonist Joshua Redman.
Montréal has proven itself to be a quintessential festival city and the way Jazz Festival so harmoniously weaves its way into it all (as POP Montréal and Just For Laughs do as well, I'm told) is that very proof. Now at 40 years old, Montréal Jazz Festival is a time-tested institution and by continuously finding ways to welcome and include attendees of all forms in the festivities, it has ensured its longevity as one of the best festivals in the world.
While there were so many artists I didn't get a chance to see at Montréal Jazz Festival, there's a unique experience to be had by all. With that, these were the performances that I won't soon forget.
Christian Scott aTunde Adjuah at Monument National
The physical way that aTunde Adjuah plays the trumpet is absolutely riveting and oftentimes straight up jaw-dropping. This was my third time seeing the trumpeter and bandleader (the first was at our very own Paste Studios, below) and this show reminded me of the way I felt seeing Herb Alpert when I was in college; the sheer beauty of the music damn near brought me to tears. The emotions behind songs like "Diaspora" and "Ritual (Rise of Chief Adjuah)" feel like the awakening and re-interpretation of jazz music that Adjuah has made it his life's work to enact. He acknowledges history and lineage and there are few doing it better today than he and his band (Weedie Braimah on djembe, Logan Richardson on sax, et al.)
Theon Cross at L'Astral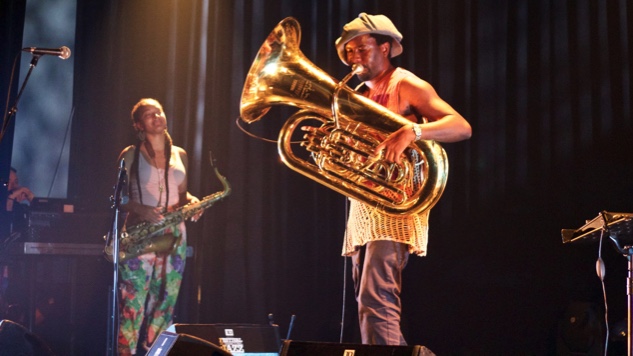 Photo by Adrian Spinelli
Such rhythm and melody from a tuba! The mesmerizing Cross played songs off of this year's spectacular Fyah and it was a taste of the surging youth movement in the London jazz scene. He was backed by drummer Jake Long and saxophone player Nubya Garcia, and Garcia has put out some excellent music herself and also played a set at the festival.
Morcheeba at MTELUS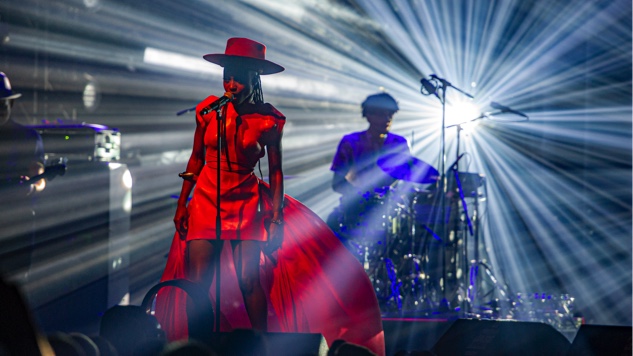 Photo ©Victor Diaz Lamich, Festival International de Jazz de Montre?al
I gotta admit, I've never felt closer to 40 than seeing Morcheeba show MTELUS, but vocalist Skye Edwards was radiant fronting the seminal mid-'90s UK trip-hop act. It's hard to believe that their breakthrough album, Big Calm, came out over 20 years ago and while hearing jams like "The Sea" and "Part of the Process" made me feel a bit old, truth of the matter is that I am indeed getting up there.
Kallitechnis at Casino Montréal Stage
A Montréal native of Greek descent, Kallitechnis has been mentored by Babyface and was featured along with Pusha T on Innanet James's hit "Better Without You." This was a pure discovery on a recommendation from a local friend and I appreciated how Jazz Festival pays it forward by showcasing homegrown talent that deserves it. Kallitechnis has a sumptuous delivery and clearly has a knack for crafting modern soul pop.
U.S. Girls at Loto-Quebec Scene in Verdun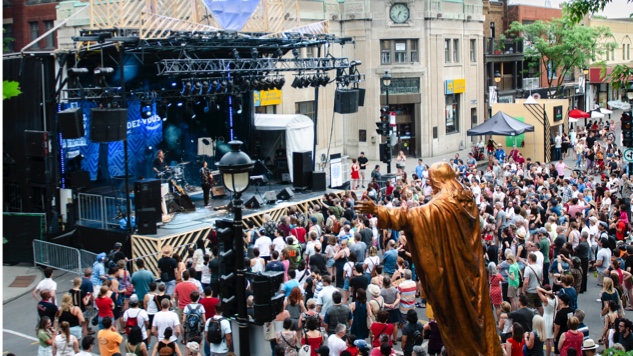 The Stage at Verdun (©Alexanne Brisson, Festival International de Jazz de Montre?al)
Paste's Best Live Band of 2018 was playing at the festival and you better believe I wasn't gonna miss it. Meg Remy and company put on yet another performance that was nothing like I had seen before and it was worth the 30-minute trip outside of the Downtown to the new stage in the Verdun neighborhood. This marked the first year of Jazz Fest extending the festival out into a new neighborhood and with a small village setup at the base of the Église Notre-Dame-des-Sept-Douleurs church and free shows all day, it totally worked. Here's hoping more neighborhood's get incorporated into the footprint in the future, thus giving attendees like myself an opportunity to discover a new part of the city.
Peter Frampton at Salle Wilfrid Pelletier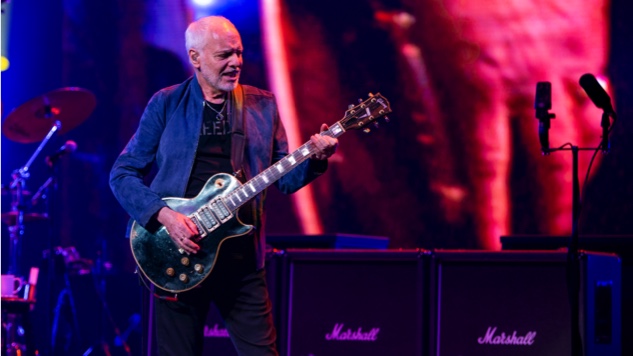 Photo ©Victor Diaz Lamich, Festival International de Jazz de Montre?al)
This was bucket-list stuff here no doubt and what a showman! Frampton played every song you could've possibly wanted to hear: "Show Me The Way", "Baby I Love Your Way" a 25-minute jam out to "Do You Feel Like We Do" complete with the talkbox and all. Yup. He even added an instrumental "Black Hole Sun" cover dedicated to Chris Cornell and family, punctuated by a short talkbox chorus at the end and it was a touching tribute. Frampton plays guitar like a sonofabitch and he was charming as all hell, bantering throughout with the crowd at the expansive Wilfrid Pelletier, part of Montréal's enormous Place Des Arts complex of concert halls, chic restaurants and classy bars. Even at 69 years old and on his Farewell Tour, Frampton's performance sounded just like it does on my Frampton Comes Alive! record I have at home. Perhaps it's because they're touring with the original drum kit and guitar from the Comes Alive! performance?! This was beyond special.
Courtney Barnett at MTELUS
Of the six times I've seen Courtney Barnett on stage, this was hands down the best. I got there 20 minutes late because I couldn't pry myself from the aforementioned Peter Frampton extended rendition of "Do You Feel Like We Do" finale and I still saw Barnett play for more than 90 minutes. This was a two-hour set, featuring a four song encore, and she was on another level. Barnett joked with the crowd that she was having too much fun and didn't want to get off stage as she coursed through songs off of her entire discography, even playing a few deep cuts requested by the crowd not normally heard on stage, like "An Illustration of Loneliness" and "Ode to Odetta." The set delightfully closed with "History Eraser," and the next morning, I had the pleasure of sitting down with Barnett to talk about this thorough setlist among other things. You can hear that conversation on next week's episode of The Paste Podcast so stay tuned!