Listen to Neil Young Cover Bob Dylan's "Blowin' in the Wind" on This Day in 1991
Photo by Justin Sullivan/Getty
Music
Features
Neil Young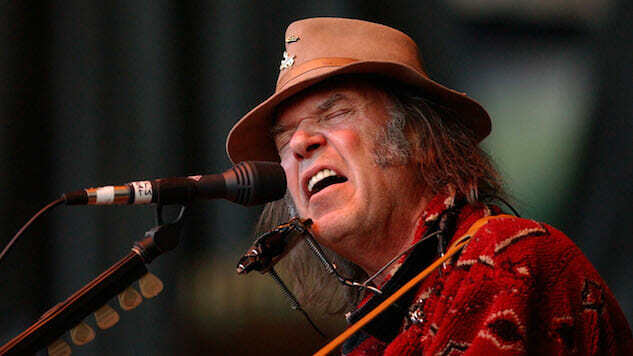 On this day in 1991, Neil Young covered one of Bob Dylan's best-known songs, "Blowin' in the Wind," live in Hershey, Pa. Taken from Dylan's iconic 1963 album The Freewheelin' Bob Dylan, Young turns this iconic protest anthem into something completely new.
Young opens the live rendition with a leisurely, warbling electric guitar intro, not unlike Jimi Hendrix's famous version of "The Star Spangled Banner." He takes Dylan's acoustic original, slows the pace and cloaks it in a sea of guitar feedback. That song had a whole new meaning in 1991 as the Persian Gulf War was all over the news, and you can hear simulated air raid sound effects and sirens in the intro. It frequently appeared in Young's setlists around that time, also making an appearance on his 1991 live album Weld.
In 2017, Paste ranked "Blowin' in the Wind" at number two on our list of 42 best Bob Dylan songs of all-time.
Listen to Neil Young cover Bob Dylan's "Blowin' in the Wind" on this day in 1991 below.