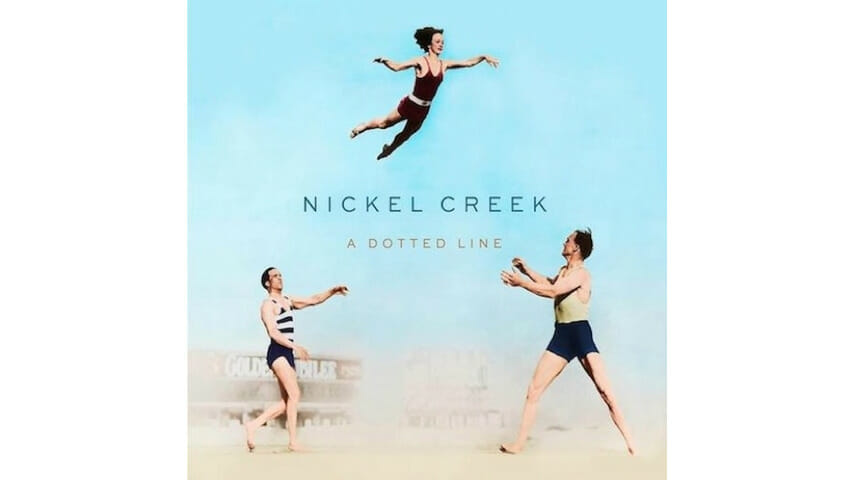 From Sean Watkins' first commanding acoustic guitar strokes on "The Rest of My Life," it's obvious Nickel Creek has grown up. Sister Sara Watkins' fiddle slides between the notes of the melody, coaxing drama from what may be the first emerging-triumphant-from-the-wreckage-of-the-morning-after's-hangover song. Swooping through a series of images, gently plucked notes fall against a swell of robust three-part harmony on the chorus, embracing life as it comes.
Juxtaposition is just one thing the Grammy-winning trio employs. There's a fluid confidence that takes their precocious virtuosity into a musicianship that is as supple as it is kinetic. Mandolinist Chris Thile plucks and peppers the instrumental "Elsie" with French knots and sparkles, suggesting even the progressive bluegrass they embraced as teenagers is a mere starting point—integrating the places the trio explored during the seven years since they released a studio project.
Whether that means evoking Brit punk Lene Lovich's staccato hiccup for their herky-jerky tumble through Mother Mother's naughty "Hay Loft" or the choppy in-or-out of love caution of Thile's almost-pop "You Don't Know What's Going On," the beat and the vocal rush are as much pieces of the now-grown Nickel Creek's sound as their breathtaking acoustic runs and solos.
Their strength—even in adulthood—remains the transparency they bring to emotions as they exist in actual lives. Complicated, conflicting and somehow never truly resolved, Sara Watkins' "Destination" is a whirling fed-up-with-never-being-enough-and-moving-on song that finds her sweet voice rising to resolve and go, Thile's strumming and picking providing form for the galloping number. "Christmas Eve," a more contemplative minor-key bit of sonics, weighs finality as anything but; Sean Watkins' powdery voice wafts through not quite relinquished consideration with sister Sara's fiddle oozing sadness and the almost elegiac harmony suggesting the funereal timbre to the loose ends of what may not be over.
Thile emerges as perhaps the unrepentant romantic. "Love of Mine," with his voice tenderly tentative, weightlessly caresses what might be (then later might not). The see-saw of emotions is so well-reflected in how the instruments tangle, merge and fall out—paralleling what's being sung.
On the grass-gospel of "21st of May," with its mandolin runs and Sean Watkins euphoric vocal, and Sam Phillips' lost and aching "Where Is Love Now," as much an exercise in atmospherics as virtuosity, the subtleties emerge as potent as the flash of their playing. Not merely a product of maturity, Nickel Creek has grown without losing its palpable joy or wondrous ability to make musicianship as accessible as the engaging way their voices draw listeners to them.