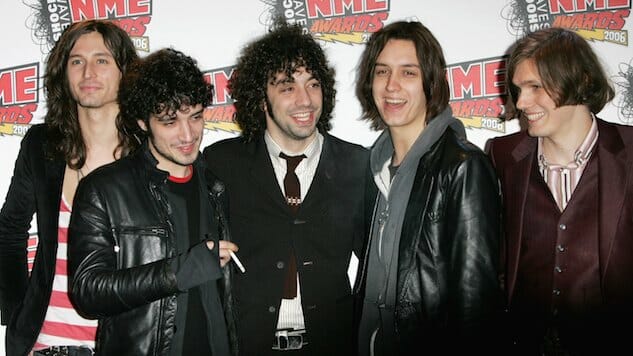 Famed British music publication NME will end its iconic print magazine. NME, aka the New Musical Express, was founded in 1952 and alongside Rolling Stone, it became one of the most storied music publications in history. Though the publication hasn't commented on the matter, the move comes amid the increasingly difficult economics of magazines—the publication will now focus primarily on their digital content.
Back in the '60s, the London-based music magazine regularly featured acts like The Beatles and The Rolling Stones, and they started an awards show (which still exists today, with its infamous bronze middle finger trophies) that originally featured acts from their readers' poll. In the '70s, NME became Britain's highest-selling music magazine, championing punk acts like The Sex Pistols, glam acts like David Bowie and post-punk acts like Joy Division.
The '80s saw NME focusing on the dark pop of bands like The Smiths and The Cure, and the dance-rock crossover of bands like The Stone Roses and The Happy Mondays. The publication's website was launched in the late '90s and by the early '00s, the magazine had gone on to propel bands like The Strokes, Oasis, The Libertines and The White Stripes to international stardom.
The print edition of the magazine underwent some serious changes back in 2015, when it became a free publication with much fewer pages, mostly sponsored content and a bigger emphasis on genres outside its traditional rock and pop roots. The magazine recently positioned itself as a pop-culture magazine, rather than just music, and it began to cover other areas like film, TV, politics and fashion. NME's recent strategic moves have angered the magazine's traditional base, especially given its click-bait journalism and its willingness to throw itself into the corporate, mainstream pop-culture world.
According to MusicWeek, NME publisher Time Inc. UK had been sold to private equity company Epiris in a deal worth around £130 million. It was also announced that NME's editor-in-chief, Mike Williams, stepped down last week.
U.K. post-punk stand-outs Shame will appear on NME's final weekly print cover, per the BBC.
Check out some of the magazine's most iconic covers below.
Goodbye @NME print – some of the most iconic covers of all time pic.twitter.com/rQaYgjaf7t

— Joseph (@goulcher) March 7, 2018