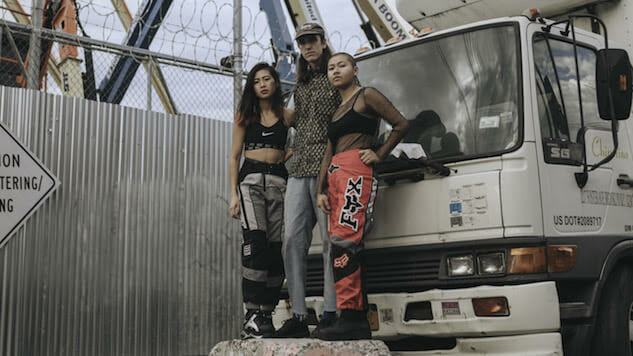 Daily Dose is your daily source for the song you absolutely, positively need to hear every day. Curated by the Paste Music Team.
San Francisco dream-pop group No Vacation have announced a new album, a cover of The Cranberries' Everybody Else Is Doing It, So Why Can't We, out this Friday, April 5. The record is available exclusively on limited-edition vinyl as a part of Turntable Kitchen's "Sounds Delicious" series, in which artists record a landmark album of their choosing in their own style. The band are sharing the first single, "Linger," today exclusively via Paste. Listen to the song below.
No Vacation's Sabrina Mai said after the passing of frontwoman Dolores O'Riordan, they knew they wanted to honor The Cranberries in some way. After doing a deep dive into the iconic Irish band's catalogue, they decided on Everybody Else Is Doing It, So Why Can't We for their Turntable Kitchen recording.
"Although we had known of The Cranberries and their most famous songs, we had never really listened to their music very much in depth," Mai said. "When it came time to record the album, we realized that many of the songs we hadn't heard before. It was a challenge to listen to a song that was unfamiliar and otherwise new to us, while trying to recreate it as something of our own and maintain the integrity of it in the process."
As with any cover, that's a tricky balance to strike. And taking on a band's most famous song makes the task all the more daunting. But No Vacation's version of "Linger" marvelously meshes their own snappy dream-pop with The Cranberries' sweeping alternative-rock style.
"One of the biggest challenges in this process was trying to create something that in essence is still The Cranberries, while also sounding like No Vacation," Mai said. "The most difficult part of recording was figuring out where to start, but after we had established a plan and vision, the rest followed."
No Vacation's Harrison Spencer said playing The Cranberries' classic songs informed their own band's sound.
"My favorite part of making this cover album was that, to a degree, I treated it as more of an inquiry into what sounds and textures we might use or incorporate into future recordings," Spencer said. "Since we pushed the boundaries a bit and stepped out of our comfort zone, I truly believe it helped us develop our most recent songs, if not in their entirety, at least in my guitar tones."
A year after O'Riordan's unexpected death, The Cranberries have a new album on the way as well. Their last album In The End will arrive April 26. Listen to the most recent single, "Wake Me When It's Over," here.
Again, you can listen to No Vacation's cover of "Linger" below. Further down, watch exclusive footage of The Cranberries performing "Dreams" at Woodstock in 1994 via the Paste vault. Keep scrolling for No Vacation's tour dates and the Everybody Else Is Doing It, So Why Can't We album art, and preorder it right here.
Everybody Else Is Doing It, So Why Can't We Album Art: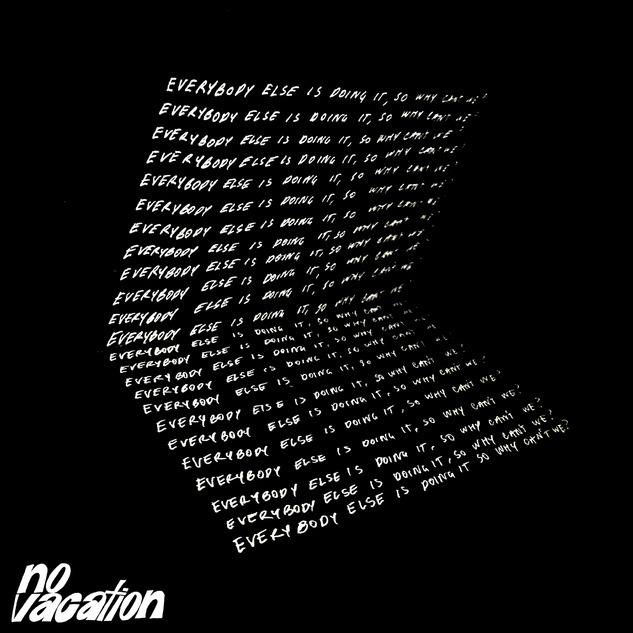 No Vacation Tour Dates:
May
22 – Burlington, Va.@ ArtsRiot
23 – Allston, Mass. @ Great Scott
24 – Washington, D.C. @ Union Stage
25 – Philadelphia, Pa. @ PhilaMOCA
26 – New York, N.Y. @ The Bowery Ballroom
28 – Raleigh, N.C. @ Kings
29 – Atlanta, Ga. @ Purgatory at The Masquerade
30 – Orlando, Fla. @ Soundbar
31 – Margate, Fla. @ O'Malley's Sports Bar
June
01 – Tampa, Fla. @ Crowbar
03 – New Orleans, La. @ Gasa Gasa
04 – Houston, Texas @ Satellite Bar
05 – San Antonio, Texas @ Paper Tiger
06 – Austin, Texas @ Barracuda
07 – Dallas, Texas @ Three Links
08 – Oklahoma City, Okla. @ 89th Street (formerly the Conservatory)
09 – Santa Fe, N.M. @ Meow Wolf
11 – El Paso, Texas @ Lowbrow Palace
13 – Phoenix, Ariz. @ The Rebel Lounge
14 – San Diego, Calif. @ Irenic
15 – Santa Ana, Calif. @ Constellation Room at the Observatory
16 – San Francisco, Calif. @ Great American Music Hall
19 – Portland, Ore. @ Paris Theatre
20 – Seattle, Wash. @ The Vera Project
21 – Spokane, Wash. @ The Bartlett
22 – Boise, Idaho @ The Shredder
25 – Salt Lake City, Utah @ Kilby Court
26 – Denver, Colo. @ Larimer Lounge
27 – Omaha, Neb. @ Slowdown
28 – Minneapolis, Minn. @ 7th Street Entry
29 – Chicago, Ill. @ Subterranean
July
02 – Stockholm, Sweden @ Melodybox
03 – Groningen, Netherlands @ VERA
04 – Hamburg, Germany @ Molotow
04 – Prague, Czech Republic
06 – Warsaw, Poland @ Progresja
08 – Vienna, Austria @ Vienna Arena (Arena Wien)
10 – Dour, Belgium @ Dour Festival
10 – Zagreb, Croatia @ Club Mochvara
11 – Dudingen, Switzerland @ Bad Bonn
13 – Dour, Belgium @ Dour Festival
16 – Paris, France @ La Boule Noire
17 – Amsterdam, Netherlands @ Paradiso
18 – Suffolk, U.K.
18 – Düsseldorf, Germany @ Kassette
19 – Offenbach, Germany @ Hafen 2
20 – Gräfenhainichen, Germany @ Melt Festival
22 – Brighton, U.K. @ The Green Door Store
23 – London, U.K. @ The Dome, Tufnell Park
24 – Bristol, U.K. @ Exchange
25 – Leicester, U.K. @ The Soundhouse
26 – Manchester, U.K. @ Yes
27 – Glasgow, U.K. @ Broadcast
29 – Dublin, Ireland @ The Grand Social
30 – Leeds, U.K. @ Brudenell Social Club
August
02 – Malaga, Spain @ Canela Party