Listen to the New "Pop Song" from Perfume Genius
Photos by Agustin Hernandez, Andrew J.S.
Music
News
Perfume Genius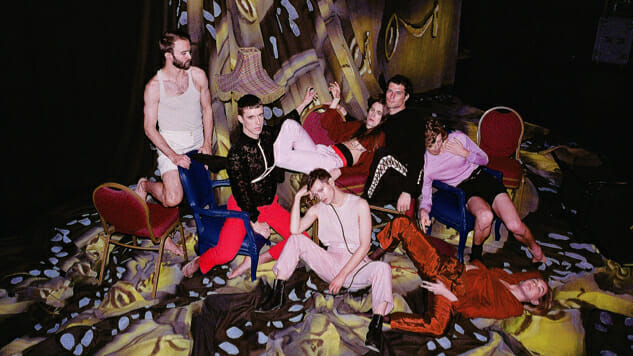 Perfume Genius, aka Mike Hadreas, has shared another new song from The Sun Still Burns Here, his dance and music collaboration with choreographer Kate Wallich and Dance Company The YC. "Pop Song"—which premiered on Sirius/XMU Thursday, and is now streaming everywhere—is the second selection Perfume Genius has released from the new project, following "Eye in the Wall," which Paste hailed as one of the best songs of September.
Running a relatively brisk five minutes (to the sprawling nine of "Eye in the Wall"), "Pop Song" lines up more closely with what we've come to expect from Perfume Genius: emotive and ethereal synth-pop with Hadreas' bewitchingly breathy vocals at its heart, a familiar core then complicated by manifold, avant-garde percussion, sporadic piano flurries and ambient noise. A press release characterizes the track as an "exploration of one's physical form as an emotional conduit," with Hadreas searching for the unseen force that animates us, singing, "Our body is stretched / and holding one breath / and sharpen the palm / and sever the flesh / Harvest the pit / and spit out the rest."
"I imagined an ecstatic pile of bodies preparing to be consumed by the gods," says Hadreas of the new song. "A joyous communal sacrifice of the physical to spiritually level up. The lyric is like a conjuration spell to be sung when the mountain of bodies settles in position and is held still as an offering."
Both "Pop Song" and "Eye in the Wall" can be seen and heard live as part of The Sun Still Burns Here, which Perfume Genius et al. premiered in Seattle in early October. Performances still to come include the show's East Coast premiere at The Joyce Theater in New York City on Nov. 13-17; its Midwest premiere at the Liquid Music X Walker Art Center's McGuire Theater in Minneapolis, Minn., on Dec. 5-7; and its Boston premiere at ICA Boston in—you guessed it—Boston, Mass., on Jan. 17-18, 2020.
Listen to "Pop Song" below and find the remaining The Sun Still Burns Here performance dates further down.
The Sun Still Burns Here Performance Tour Dates:
New York City – N.Y. Premiere
Nov. 13 – 17 2019 at The Joyce Theater
Tickets
Minneapolis, Minn. – Midwest Premiere
December 5th – 7th 2019 at The Walker Art Center
Copresented by the SPCO's Liquid Music Series
Tickets
Boston, MA – Boston Premiere
January 17th and 18th, 2020 at ICA Boston
Tickets