Pickathon 2016 Adds New Artists, Stage Schedule and More
Photo courtesy of Pickathon, Drew Bandy
Music
News
Pickathon, Oregon's independent music festival highlighting the industry's most diverse and contemporary artists, has just released its official 2016 stage schedule, in addition to adding several new acts to the lineup.
Attendees of the three-day event, which takes place Aug. 5-7 on the Pendarvis Farm in Happy Valley, Oregon, can now expect to see Mac DeMarco, King Sunny Ade, Thao & The Get Down Stay Down, Joseph, RY X, Cory Henry, Promised Land Sound, Town Mountain, Myke Bogan, Blossom, Caleb Klauder & Reeb Willms, Open Mike Eagle, and Chanti Darling across the festival's 80 acres.
This is in addition to the already-confirmed acts of Jeff Tweedy, Wolf Parade, Beach House, Yo La Tengo, Ty Segall & The Muggers, Black Mountain, The Oh Hellos, Patrick Watson, Thee Oh Sees, Alvvays, and more. The official 2016 poster features every announced act, and you can get tickets to the event through the Pickathon website.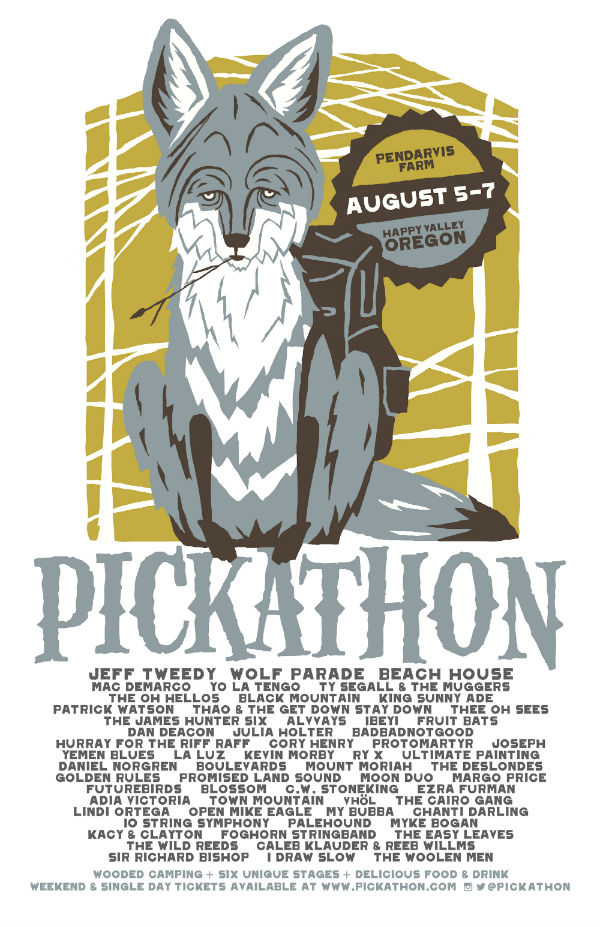 Unlike previous years where the festival supported two main stages, the 2016 event will only see one. Check out their meticulously constructed stage schedule for a look at where and when your favorite artists will be playing.
Along with the announcement, Pickathon has released their Spring Series, a collection of live videos from last year's event. Artists included in the release are as follows:
Vetiver, Current Carry (Woods Stage, Pickathon 2015)
Giant Sand w /Jason Lytle (Treeline Stage, Pickathon 2015)
Ernest Ranglin, Congoman Chant (Lucky Barn, Pickathon 2015)
Shabazz Palaces, Free Press and Curl (Mountain Stage, Pickathon 2015)
A Giant Dog, Sex & Drugs (Galaxy Barn, Pickathon 2015)
Sonny and the Sunsets, Secret Plot (Starlight Stage, Pickathon 2015)
Fruit Bats, Queen Of Eyes (The Soft Boys cover) (Pumphouse Session, Pickathon 2015)
JD McPherson, Bossy (Logging Road Session, Pickathon 2015)
The Easy Leaves, Engine Break (On The Farm Session, Pickathon 2016)
Summer Cannibals, Full Of It (Edge Session, Pickathon 2015)