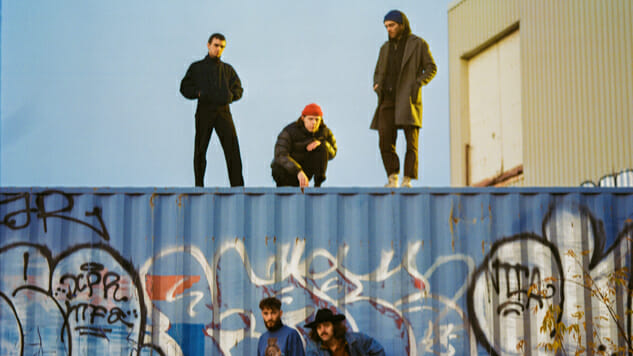 Daily Dose is your daily source for the song you absolutely, positively need to hear every day. Curated by the Paste Music Team.
Montreal-based quintet Pottery have released their debut EP, the aptly named No. 1, out now on Partisan Records. Advance tracks from the seven-song effort have included "Lady Solinas," "Hank Williams" and "The Craft," but we'd like to call your attention to "Worked Up," a slinky standout that doesn't sound quite like anything else on the EP.
Pottery cut No. 1 live to tape over just two nights, doing so in only one take on some tracks. That dialed-in energy is evident on hard-charging cuts like "Spell" and "Lifeline Costume," but Pottery slow things down to exceptional effect on "Worked Up." The song starts with soft cymbal taps and some subdued, bluesy noodling before throttling up into its sweet spot: an uncomplicated, irresistible riff we'll be humming all weekend. Austin Boylan's feverish vocals penetrate the guitar-heavy haze as he sings, "I wanna love you, babe." Of course, the Pottery boys can resist rocking it all out for only so long, but the song's volcanic crescendo culminates in a false ending, leading back around to where we began. No. 1 is an impressive debut from top to bottom, and "Worked Up" just might be its high point.
Listen to "Worked Up" below, see Pottery's newly announced U.S. tour dates further down and stream No. 1 here.
shiiiit more USA tour dates? don't mind IF WE DO. tix on sale for this trek across the south & up the east coast after dates with the buds in @fontainesdublin. stops in austin, dallas, atlanta, raleigh and baltimore. grab tix at https://t.co/XQVnAaDsfQpic.twitter.com/Z5p7Z9RDed

— Pottery (@potteryband) May 10, 2019