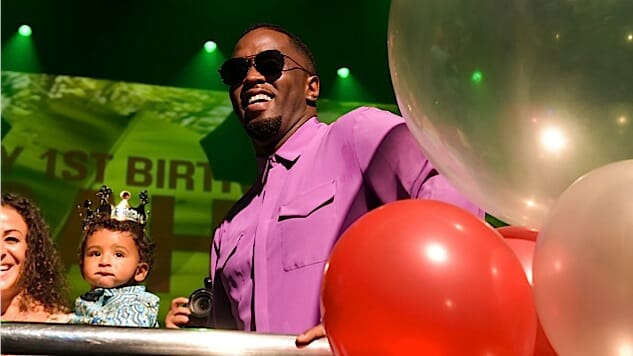 Who knew the vodka business was so good?
Sean "Diddy" Combs has topped the annual Forbes list of the world's richest hip-hop artists for the fourth straight year, the magazine reported Wednesday. With some $820 million in assets, Combs has put some distance between himself and the competition, and is on pace to become hip-hop's first billionaire within a few years. His secret? Booze. Forbes reports that Combs's fortune is built largely on lucrative deals with Ciroc vodka maker Diageo (he has an equity stake) and tequila brand DeLeon, as well as partnerships with TV network Revolt and water brand Aquahydate. He also, of course, still runs Bad Boy Records, which marked its 20th anniversary in 2015.
Trailing Combs on the list are Sean "Jay Z" Carter, who had a pretty decent year thanks to Sprint's $200 million investment in his Tidal streaming service, and Andre "Dr. Dre" Young, who sold Beats to Apple for $3 billion. According to Forbes, Dr. Dre's cut netted him the biggest single-year haul ever by a living musician, with his fortune ballooning to $740 million.
After Diddy, Jay Z and Dr. Dre, it's a long way to No. 4 on Forbes's list. Bryan "Birdman" Williams fills the slot with a $110 million fortune, thanks to his co-ownership of Cash Money Records, home of hip-hop superstars Lil Wayne, Drake and Nikki Minaj. And rounding out the top 5 is Drake, who reportedly took home $1 million per night on his most recent tour, to go along with endorsement deals with Sprite, Apple and Nike. At 30, Drake is also considerably younger than the four artists above him on the list.
Forbes compiled its list by "looking at past earnings, valuing current holdings, leafing through financial documents and talking to analysts, attorneys, managers, other industry players and even some of the moguls themselves to find the details."