Over 17 Hours of Recordings from Radiohead's OK Computer Sessions Leak
Photo by Kevin Winter/Getty
Music
News
radiohead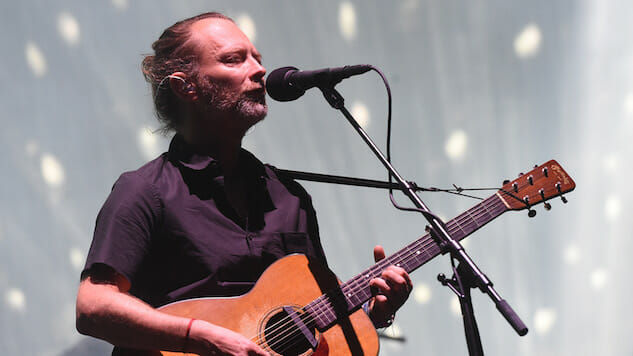 Across two decades, Radiohead have built a career on withholding. Their rarities are the stuff of legend—hushed whispers shared between fans, files discreetly exchanged at live shows. When A Moon Shaped Pool came out in 2016, it seemed like we were moving out of that era; the album came with tracks like "True Love Waits" and "Identikit," both of which date back to the mid-'90s, the rare treat that a diehard fan might hear at any given live show. Again, it looked Radiohead were being forthcoming with their back-catalog in 2017 with the anniversary reissue of OK Computer, coming with rarities, outtakes and b-sides in tow.
But boy, do Radiohead have tons of unused material. A user on the Radiohead subreddit pointed out the leaks of over 17 hours (or 18 minidiscs) worth of recording sessions from the OK Computer era, cataloged in a fan-made Google Doc and including an alternate take of "Lift." Per Pitchfork, dating all the way back to 2017, guitarist Ed O'Brien says that an early version of "Lift" was shelved out of fear it would've been a hit a la "Creep," thereby making the band "too popular."
Among all the leaks, there's also an early version of "Nude," which would later go on to appear on the 2007 classic In Rainbows, and an early version of "Karma Police," where you can hear Thom Yorke working on the lyrics. All told, it's fascinating stuff. It's also totally illegal, and, depending on your stance, unethical. But, if you've got no problems with that … enjoy, we guess.
In the meanwhile, feel free to dig just a touch deeper into Radiohead's catalog with this 1995 performance from the Paste archives.