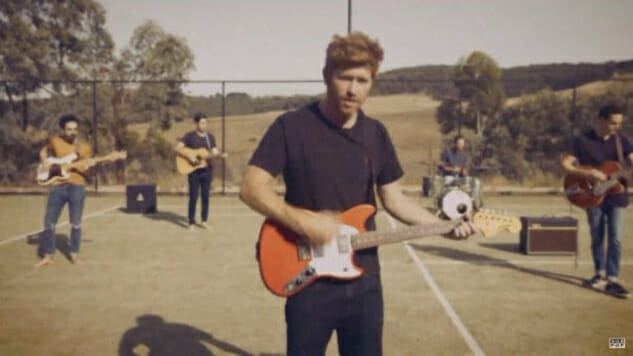 Melbourne's Rolling Blackouts Coastal Fever (or Rolling Blackouts C.F. for short-ish) makes no-frills, unfussy rock music, so it's only natural the band would make a no-frills, unfussy video for one of its singles.
And that's exactly what the video for "Sick Bug" is. The visual for The French Press EP cut shows the band on a wilting tennis court, plugging in and rocking out. A dog ambles through at one point when Joe White is singing about a breeze, and the clip occasionally seems to cut from a nostalgia-soaked sepia tone to the clear-eyed gaze of the present. And those really are the only artistic accoutrements. Nothing more. Nothing less.
"I was reading Richard Flanagan's Narrow Road To The Deep North and the horror of their situation stayed with me for a long time," said White in a statement. "I wrote this about how desperately someone could want the simplest of things. The triviality of us dancing around on a tennis court is fully realized."
Check out the video above and below, take a look at the band's forthcoming tour stops. You can also revisit their "French Press" video here.
Rolling Blackouts C.F. Tour Dates:
April
28 – Brisbane, Australia @ Black Bear Lodge
29 – Byron Bay, Australia @ The Great Northern
30 – Gold Coast, Australia @ Shark Bar
May
11 – Melbourne, Australia @ The Tote
12 – Melbourne, Australia @ The Tote (sold out)
June
02 – Ballarat, Australia @ Karova Lounge
03 – Castlemaine, Australia @ The Bridge Hotel
September
02 – Manchester, England @ Strange Waves
03 – Dorset, England @ End Of the Road Festival
04 – London, England @ Lexington (sold out)
05 – London, England @ Old Blue Last (sold out)
06 – Leeds, England @ Brudenell Social Club
08 – Hamburg, German @ Molotow
09 – Amsterdam, Netherlands @ Paradiso Noord
12 – London, England @ Moth Club