Ron Gallo Quotes God and Coltrane on "Love Supreme (Work Together!)"
The track is the fourth single off his forthcoming Stardust Birthday Party
Photo by Jesse Fox
Music
News
Ron Gallo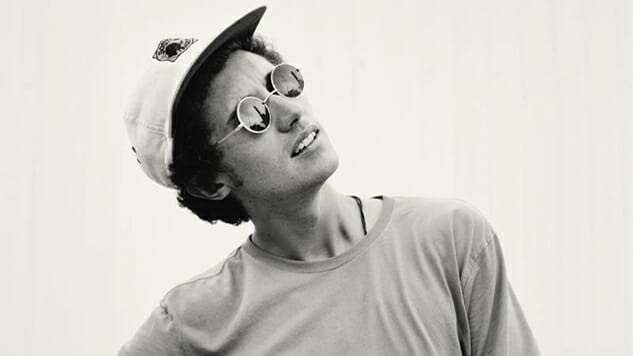 Ron Gallo continues his delirious, dad hat-clad discourse on God, the universe and everything with the geodesic grooves of "Love Supreme (Work Together!)." It's the fourth single off his forthcoming album Stardust Birthday Party, out Oct. 5 through New West.
We've covered Gallo's growth into a post-punk philosopher with his previous singles "Always Elsewhere" and "Do You Love You Company?" Those tracks were all about interiority, the struggle between two versions of a person vying to occupy the same space. They were about Gallo, the person, and his trials and tribulations with himself. On "Love Supreme," Gallo takes more of a bird's-eye view, assessing the tribulations of man with one another—literally, according to a press release.
Gallo says he was on an airplane, listening to John Coltrane's seminal 1965 album A Love Supreme, "looking down at the earth from the sky where you see no separation between people or things, there is just one thing. The chorus goes, 'God loves it when we work together.' The god I am talking about is not a specific one, but everything, the one thing that is everything, the common thread in all existence, life, whatever you want to call it."
Find Gallo's tour slate here and listen to "Love Supreme (Work Together)" below. Don't miss his 2017 Paste Studio session, either.