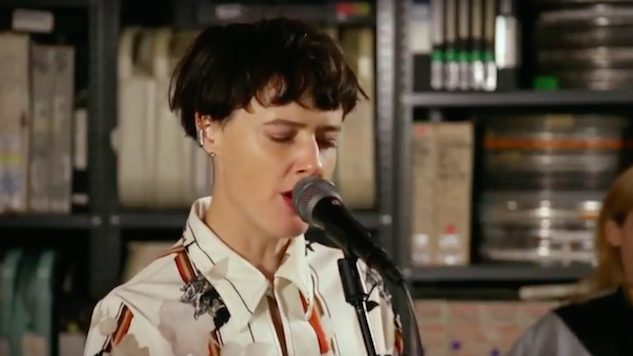 On Wednesday, Rubblebucket stopped by the Paste Studio to perform songs from their latest full-length, Sun Machine, which came out this August via Grand Jury Music. The Brooklyn duo made up of Kalmia Traver and Alex Toth brought some guest musicians to bring their joyful new album to life in our New York City studio.
Paste recently interviewed Traver for a feature about Sun Machine's dark, personal lyrics masked with celebratory, danceable pop songs. Asked whether the record is equal parts joy and pain, Traver responded with another question, "Isn't that life?" She also explained that feeling of putting out such a powerfully vulnerable record. "It's just cool to feel like you're making a whole patchwork experience that all finally comes together and culminates in this little package in a CD or a vinyl," says Traver, "just kind of propagating your little patchwork out into the universe, hoping it touches somebody."
Rubblebucket's mix of experimental pop and dance funk is as intoxicating to watch as it is to listen. They played three tracks from the record in the Paste Studio—"What Life Is", "Fruity" and "Lemonade"—which you can watch below.