Listen to Ryan Adams' "20th Call of the Day" from the Juliet, Naked Soundtrack
Images via Roadside Attractions/YouTube, Paul Thomas/Getty
Music
News
Ryan Adams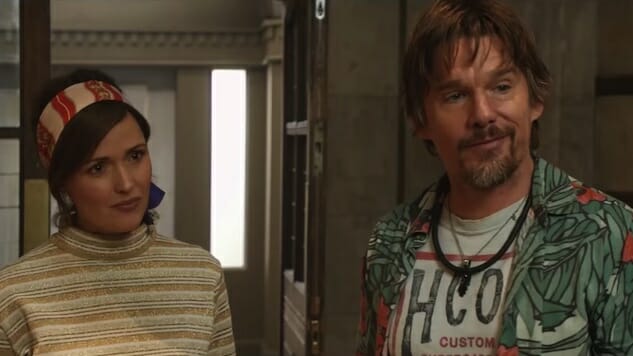 Friday, Juliet, Naked, a romantic comedy based on the Nick Hornby novel of the same name, hits select theaters. It's about a writer named Annie (Rose Byrne) who crafts a negative review of introverted rockstar Tucker Crowe's (Ethan Hawke) latest album. But when he reads her review, the two hit it off in unexpected ways. Oh, and Chris O'Dowd plays Annie's ex-boyfriend, who's obsessed with Tucker Crowe. It's a typical rom-com storyline with a not-so typical musical backdrop: The film is scored by an indie-rock fan's dream chorus, with Conor Oberst, M. Ward and Ryan Adams all providing original tracks.
In the film, Hawke's Tucker Crowe sings the aforementioned artists' originals, but the demo versions are included on the soundtrack, too. Below, you can listen to Adams' demo version of "20th Call of the Day" (plus a 2006 Adams performance from the Paste archives). You can stream the film's entire soundtrack on Spotify, where you'll also find the demo of Conor Oberst's song "LAX."
Watch the Juliet, Naked trailer here.