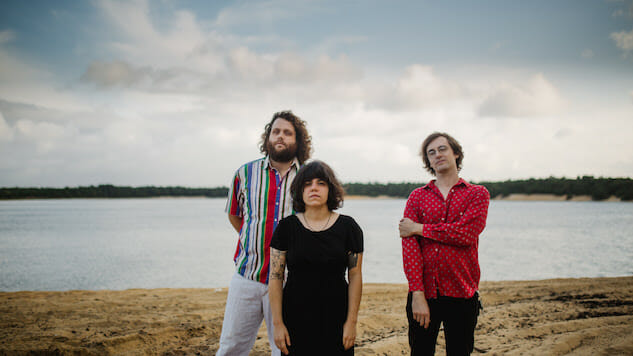 Marissa Paternoster's vocals in Screaming Females' "Deeply" are far from screaming. The track finds her in a state more vulnerable than normal, nestling her voice in a comfortable cloud of fuzz that hovers over a steady percussive march. The newest cut from the Females' recently announced forthcoming album All At Once comes accompanied by a lyric video featuring Paternoster painting the lyrics on the exterior of The Black Sheep Cafe in Springfield, Ill.
Of the song, she says: "'Deeply' was originally demoed entirely by [bassist "King"] Mike . [Abbate]. We tried to emulate the style he had in the original demo, but it wasn't really working, so I took some very dramatic liberties with the feel of the song, and the slow, dirgey incarnation is what made the album cut."
The rock powerhouses also announced a tour slated for next spring. After a triplet of release shows in Jersey City at the end of February, the band will embark on a North American run starting in March and continuing until the end of the next month. Throughout April, they'll be joined by Thou and HIRS acting as support.
All At Once, due out Feb. 23 via Don Giovanni, is the seventh record from the Females, following 2015's Rose Mountain. "Deeply" is the third single from the album, coming after "Black Moon" and "Glass House." See the lyric video for the track below, along with the band's tour dates, and listen to Screaming Females' 2013 Daytrotter Session, as well.
Screaming Females Tour Dates:
March
02 – Richmond, Va. @ Strange Matter
03 – Durham, N.C. @ The Pinhole
04 – Morgantown, W.V. @ 123 Pleasant St
05 – Cincinnati, Ohio @ Northside Yacht Club
06 – Nashville, Tenn. @ The End
07 – Bloomington, Ind. @ The Bishop
08 – Milwaukee, Wis. @ Cactus Club
09 – St Paul, Minn. @ Turf Club
10 – Chicago, Ill. @ Lincoln Hall
11 – Grand Rapids, Mich. @ Pyramid Scheme
12 – Pittsburgh, Pa. @ Roboto Project
13 – Buffalo, N.Y. @ Mohawk
14 – Toronto, Ontario @ Smiling Buddha
15 – Montreal, Quebec @ La Vitrola
16 – Winooski, Vt. @ Monkey House
April
04 – Washington, D.C. @ Rock and Roll Hotel *%
05 – Philadelphia, Pa. @ Union Transfer *%
06 – Brooklyn, N.Y. @ Market Hotel *%
07 – Hamden, Conn. @ The Space *%
08 – Providence, R.I. @ AS220 *%
09 – Rollinsford, N.H. @ Sue's *%
10 – Portland, Maine @ SPACE – *%
11 – Easthampton, Mass. @ Flywheel *%
12 – Ithaca, N.Y.@ The Haunt *%
13 – Detroit, Mich. @ El Club *%
14 – Cleveland, Ohio @ Grog Shop *%
15 – Asheville, N.C. @ The Mothlight *%
16 – Atlanta, Ga. @ Masquerade *%
17 – Gainesville, Fla. @ The Wooly *%
18 – Tallahassee, Fla. @ TBA %
19 – Pensacola, Fla. @ City Arts Center %
20 – New Orleans, La. @ TBA %
21 – Austin, Texas @ Barracuda %
22 – Dallas, Texas @ Club Dada %
23 – Oxford, Miss. @ Proud Larry's
24 – Chattanooga, Tenn. @ Sluggos
(* – with Thou)
(% – with HIRS)