15 Bands to See at Shaky Knees 2019
Atlanta's best fest is back this weekend with a killer lineup. Here's who you can't miss.
Photos via aLIVE Coverage, Theo Wargo/Getty
Music
Lists
Shaky Knees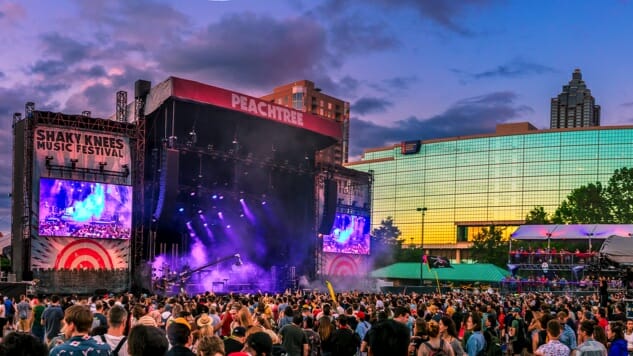 In the seven years since its inception, Atlanta's Shaky Knees Festival, happening this weekend (May 3-5), has quickly evolved to become one of the best rock showcases in the South, if not the whole country. Not only is it on our list of the year's best lineups (not for the first time, either), it's also happening at Central Park right here in Atlanta, Ga., about 15 minutes from the Paste HQ. So you could say we're pretty excited to see some of our favorite artists right now—like Soccer Mommy, Lucy Dacus, Maggie Rogers and IDLES—in addition to veterans like Tame Impala, Tears For Fears and Beck, in our backyard. For those also attending the festival, we've created this guide with some can't-miss acts, many of them playing early in the day on smaller stages. So get there early, y'all (this is Georgia, after all), and follow along with us on the site, Twitter and Instagram throughout the weekend for updates on all the action. You can find the full schedule right here.
1. Curtis Harding
Hope you brought your dancing shoes for Curtis Harding's set. He takes on the Peachtree stage Friday at 2:10 p.m. and will fill every need you have for 60s-inspired R&B. This is a showcase that will guarantee new fans for the soul singer; anyone wandering by will be hypnotized and drawn to the stage whether they've heard of him or not. Sure, the bigger acts aren't 'til nightfall, but you'll want to get to the festival mid-afternoon to see all of the hidden gems, Harding included. Mark my words. —Annie Black
2. FIDLAR
California punk rock mainstays FIDLAR broke new ground on their third LP Almost Free, released earlier this year on Mom + Pop Records. The band, whose name is an acronym for "Fuck It Dog, Life's A Risk," took part in their fair share of punk debauchery over their past decade as a band—some of their best known songs include "Wake Bake Skate," "40oz. On Repeat" and "Cocaine." But after reaching the limits of the substance-heavy touring band lifestyle, FIDLAR decided it was time to mellow out—the perfect opportunity to experiment with new styles on their latest album, where you'll find everything from EDM, Stonesy horn-driven rock and even an acoustic duet. You can catch one of the premier West Coast punk bands of the last 10 years on Saturday evening at the Piedmont stage. —Lizzie Manno
3. Foxing
If "sad songs you can rage to" is your thing, you needn't look further than Foxing, a band who've explored just about every sector of woebegone guitar music, from emo to punk to math rock. They've traveled a windy road since their 2014 debut The Albatross—their 2015 follow-up, Dealer, preceded a dismantlement of sorts with frontman Conor Murphy releasing a solo project and bassist Josh Coll turning his focus to filmmaking. But they all rendezvoused last year for a third LP, Nearer My God, and attracted a new fold of fans. We're bringing our tissues to the Criminal Records stage mosh pit on Friday evening. —Ellen Johnson
4. IDLES
The Bristol outfit IDLES might seem like a band made for a dark, sweaty venue, but I don't think anyone will complain upon seeing them in the sunlight on the Ponce De Leon stage Friday afternoon. Be ready for fiercely frenetic, motivational punk rock led by singer Joe Talbot. IDLES shows are spontaneous and high energy, so you'll leave the show high off of endorphins and ready for the rest of your festival day. —Annie Black
5. Japanese Breakfast
Philly's Michelle Zauner, who records under Japanese Breakfast, has been a leading force in indie rock for several years now, strengthening her status still with her stunning sophomore LP, 2017's Soft Sounds from Another Planet. In addition to writing music, she also writes nonfiction. Her moving essay "Crying in H Mart" appeared in The New Yorker last year, and she recently signed a book deal with Knopf for her memoir of the same name. Those writings, as well as her debut album Psychopomp, deal with the aftermath of Zauner's mother's death. Soft Sounds arrived with an otherworldly approach, while still touching on themes of grief, loss and love. Japanese Breakfast's live show is an exuberant one, and we can't wait to see it Saturday night at Ponce De Leon stage. —Ellen Johnson
6. Julia Jacklin
Julia Jacklin's new album Crushing is not only one of the best breakup albums of recent memory, but also one of the best albums of the year so far. The Aussie songwriter's ability to process emotion is out-of-this-world sharp, and this album is her best, most piercing work to date. Crushing can change from melodic balladry to anthemic rock at the drop of a hat. And for its entirety, Jacklin, slowly gaining cred as one of the most underrated singer/songwriters working, basks in a newfound clarity. She'll make getting to Central Park early on Saturday morning more than worth it. So shake off your hangover from whatever late-night set you attended on Friday, grab a Banjo coffee and get your keister to the Peachtree stage by 12:45 p.m. sharp. —Ellen Johnson
7. Liz Phair
One of indie rock's titans and sharpest tongues, Liz Phair embarked on an extensive North American tour last year in support of her Girly-Sound to Guyville 25th anniversary box set. After rising to prominence in Chicago's indie rock scene back in the '90s, Phair released five studio albums (including her landmark 1993 double LP Exile in Guyville) and is working on a new album in addition to a memoir called Horror Stories, part of her two-book deal with Random House. If you're a fan of strong-willed, explicit and melodic indie-rock, you can't miss Phair's set at Shaky Knees. She'll grace the Piedmont stage on Friday afternoon, but even if you don't have fest tickets, you can catch her pre-Shaky Knees kickoff show at Terminal West on Thursday night, with support from Taylor Janzen. —Lizzie Manno
8. Lucy Dacus
If you're a fan of the 2019 Shaky Knees lineup and/or a Paste reader (which, since you're reading this Paste Shaky Knees preview, we're assuming you are), you're probably also a fan of Lucy Dacus. We named her sophomore LP Historian the best album of 2018, and we've been big supporters of everything she's done since—from the supergroup event of the decade (boygenius, her project with Phoebe Bridgers and Julien Baker) to her new holiday songs, including the most recent, "My Mother and I," released in honor of upcoming Mother's Day. She's one of the smartest songwriters working and knows just how to whip all your feels into a frenzied smoothie of emotion. Historian single "Night Shift" is ferocious and devastating and sharp, and it was the number three song of 2018, what Paste's Scott Russell calls a "modern classic." So make sure you don't miss this modern master's Shaky set, happening at 2:45 p.m. on Sunday at the Criminal Records stage. —Ellen Johnson
9. Oh Sees
Since the early '00s, California-based grimy rock outfit Oh Sees have shape-shifted between garage, psych, prog, punk and metal, all under the guidance of their manic frontman and guitar hotshot John Dwyer. Their band name has undergone just as many metamorphoses over the years—they've recorded under the names OCS, The Ohsees, The Oh Sees and Thee Oh Sees. For now, they sticking with Oh Sees—we think—and their latest full-length arrived in the form of 2018's sludgy psych-metal odyssey Smote Reverser. This month will see the reissue of their 2008 film soundtrack Thee Hounds of Foggy Notion / Live Performances Sans Stages And Whatnots With Thee Oh Sees, out May 24 via Castle Face Records. See the band's notoriously wild set on Friday evening at the Ponce de Leon stage. —Lizzie Manno
10. Pedro The Lion
Centered on the candid and enduring first-person songwriting and warm vocals of frontman David Bazan, Seattle indie rockers Pedro The Lion will be fully equipped to tug at the heartstrings when they perform on Saturday evening at the Criminal Records stage. Pedro The Lion's new LP Phoenix, released earlier this year via Polyvinyl, marks Bazan's first full-length under the moniker since 2004's Achilles Heel and the band's disbandment in 2006. Bazan released five solo albums since 2009, and a Pedro The Lion reunion seemed increasingly unlikely, but a return to his Phoenix hometown and his original songwriting process meant not only the resurrection of the project, but also one of Bazan's best records yet. —Lizzie Manno
11. Sharon Van Etten
Singer/songwriter Sharon Van Etten has experienced a lot of change since the release of her last album, 2014's Are We There, and they're the kind of life-altering shifts—newfound romantic partnership, motherhood, career advancements—that are all but destined to reveal themselves in one's art. And on her fifth studio effort Remind Me Tomorrow, those evolutions are apparent in a powerful sonic swerve. It was the first great rock record of the year, so make it a point to attend Van Etten's set on Friday afternoon at the Peachtree stage. The more the merrier, because I might need someone to fan me when she plays "Seventeen." —Ellen Johnson
12. Soccer Mommy
Soccer Mommy is another Paste favorite, with her 2018 album Clean landing at number four on our list of the year's best albums. The Nashville native makes searing, singer/songwriter rock that covers everything from astrological serendipity ("Scorpio Rising") to scorching condemnation of abusive relationships ("Your Dog"). The entire Paste crew will undoubtedly be in attendance at her Saturday night set on the Criminal Records stage, which starts at 7:30 p.m., and you should be too. —Ellen Johnson
13. Tame Impala
Is anyone not looking forward to headliner Tame Impala's festival-closing set? Over the years, Kevin Parker has established himself both as an indie hero and as one of the most popular musical exports from Australia, and there's just as much hype surrounding his live show. Fresh off their headlining gig at Coachella, Parker and his band are having themselves a year—after years of teasing, a new album is finally on its way (I'll believe it when I see it), foreshadowed by two new singles. Meanwhile, we can still enjoy the masterwork that is Currents and shake our indie tails off to "The Less I Know The Better," sure to make the Sunday night set. Their 8:30 p.m. performance at the Peachtree main stage promises lots of color, psychedelic fanfare and vibes, and I wouldn't miss it for the world —Ellen Johnson
14. Tears For Fears
When I saw that Tears for Fears were playing this year's Shaky Knees, I gasped. How did we deserve such a treat? Whether or not the band plays their hits, seeing Tears of Fears should be on everyone's list. This is the equivalent of last year's spectacular David Byrne show, and if you miss it, you'll regret it. Plain and simple. The legendary New Wave group plays the Piedmont stage Friday night at 8:25 p.m. —Annie Black
15. The Murlocs
Australian bluesy psych outfit The Murlocs are one of several King Gizzard and the Lizard Wizard side projects, and they dropped their latest album Manic Candid Episode this past March via Flightless Records and ATO Records. The band is led by King Giz co-vocalist and multi-instrumentalist Ambrose Kenny-Smith and also features lead guitarist Cook Craig. Nicknamed "Uncle Murl," The Murlocs embrace the rhythmic garage blues side of psychedelia, and if you're a fan of Kenny-Smith's distinct mystifying vocal tone on King Giz records, you should race over to their Sunday afternoon set at the Ponce De Leon stage. Their dynamic, retro psych-tinged new LP Manic Candid Episode was recorded in Melbourne, produced by King Giz frontman Stu Mackenzie and mixed by New York musician Jarvis Taveniere (Real Estate, Woods, Parquet Courts). —Lizzie Manno