Watch Snail Mail's Lindsey Jordan Jam with Fred Armisen and Mary Lynn Rajskub
When the indie-rock and comedy worlds collide ...
Photos by Anastasiya Zolotukhin
Music
News
snail mail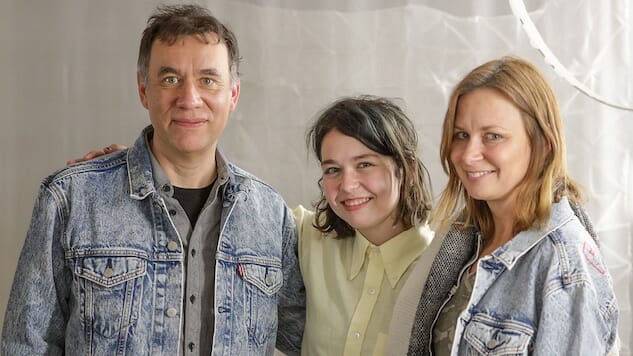 Tuesday's new episode of the Talkhouse Podcast features Snail Mail frontwoman Lindsey Jordan partaking in a jam sesh with a pair of iconic comedians, SNL and Portlandia's Fred Armisen and It's Always Sunny in Philadelphia's Mary Lynn Rajskub.
In the episode, which was filmed at the Conservatory backstage at FORM Fest in Arcosanti, Ariz., Jordan grabs her signature electric guitar, Armisen takes on the drums and keyboard, and Rajskub also plays guitar.
The three cover "Sweet Home Alabama," write impromptu songs about everything from Neil Young to Chef Boyardee, and chat about an infamous Fergie picture, foot fetishists and even breakdancing.
Witness the magic of blending indie-rock and raw comedy for yourself via footage from the session below and photos of it further down.