Power to the People: Son Volt's Jay Farrar Gets Back to His Roots
Photo by David McClister
Music
Features
Son Volt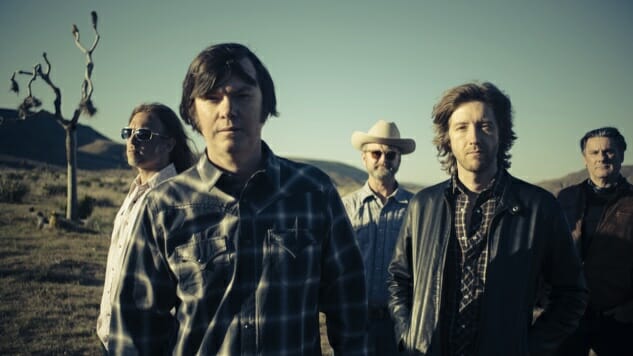 How's this for symbolism: Son Volt's highly topical new album Union includes four songs that Jay Farrar recorded while sitting next to Woody Guthrie's handwritten lyrics to "This Land Is Your Land."
It's a fitting juxtaposition: Just as "This Land Is Your Land" was among Guthrie's more pointed songs, Union is Son Volt's most overtly political album in nearly 15 years. On a dozen new tunes and a cover, Farrar casts a skeptical eye on late capitalism, addresses the widening gulf of income inequality, imagines Lady Liberty's tears as she surveys the destruction we're wreaking upon ourselves, and offers a prescription for unity at a fraught moment in a divided nation.
After dabbling in a stylized electric blues sound on Notes of Blue in 2017, and exploring Bakersfield-style country on Honky Tonk in 2013, Union returns to the rootsy rock 'n' roll of early Son Volt with a blend of acoustic and electric guitars, organ and harmony vocals sweetening Farrar's worn-in, authoritative voice. Farrar began writing songs for Union in December 2016, and the sting of the previous month's presidential election was still fresh. "I was just trying to make sense of things, and turning to pen and paper and music just seemed the natural way to go," Farrar says. "It was sort of the tradition of the bard: the only thing I could do to feel like I was participating in anything that might help would be to write these songs. Whether or not they helped is anybody's guess, but they helped me."
Lest the album become a grim political screed, Farrar included a handful of non-topical songs with a different inspiration: his kids. With a son in college and a daughter in high school, the singer was thinking about sending them off into the world when he wrote "The Reason" and "Holding Your Own." They're tender songs, from a quietly proud father who is "seeing them go into adulthood and just thinking about the trials they will face, and hoping they don't fall and press onward," Farrar says.
With a batch of songs written to comfort the afflicted (to borrow an old journalism adage), Farrar wanted to shake up his own sense of comfort and record somewhere other than a studio. He and recording engineer Jacob Detering took seven songs on the road, recording basic guitar and vocal tracks for four of them at the Woody Guthrie Center in Tulsa, Oklahoma, and the other three at the Mother Jones Museum in Mount Olive, Illinois. (Mary Harris "Mother" Jones, once denounced in the U.S. Senate as the "grandmother of all agitators," was a community activist and labor organizer in the late 1800s and early 1900s, most prominently involved with the United Mine Workers.) "There was definitely a field-trip aspect to it," Farrar says. "It was like, 'Hey, we're out of the studio!'"
Farrar and Detering arrived at the Woody Guthrie Center in the morning on a Monday, when the museum is closed to the public. "What better place to record a topical album?" says Deana McCloud, executive director of the Woody Guthrie Center. McCloud expected that Farrar and Detering would record in the center's intimate theater—"The sound is fantastic," she says— but when she looked out in the gallery, they had set up in a round display area in the museum's main gallery, where a case containing the lyrics to "This Land Is Your Land" stands in the center of the floor. "Jay told me, 'I'm just soaking up Woody's vibe,'" McCloud says.
It's not the first time: Guthrie has long been an inspiration to Farrar. The Son Volt leader collaborated on music for a batch of Guthrie's previously unrecorded lyrics on 2012's New Multitudes, with Jim James (billed as "Yim Yames"), Anders Parker and ex-Centro-matic singer Will Johnson. Farrar named Son Volt's 2005 album, Okemah and the Melody of Riot, after the Oklahoma town where Guthrie was born. And like Guthrie, Farrar has consistently written topical songs throughout his career, though in so low-key a way that it often escapes notice.
"It's always been there to some degree," Farrar says. "With Uncle Tupelo, it would find its way into some songs, though not in as focused or comprehensive a way as it later sort of evolved into."
Farrar sang on Uncle Tupelo's first two albums about the dead ends of life in the post-industrial Midwest on songs with names like "Graveyard Shift," "Factory Belt" and "Looking for a Way Out." On the band's acoustic third album, the song "Criminals" took direct aim at class divides: "Those that bleed the blood and those who work to will it."
Later, in the first incarnation of Son Volt, oblique social commentary about inequality and environmental degradation slipped into some of the songs, sometimes almost as asides when Farrar seemed to be singing about something else.
"His songs, they're not simple, but they're elemental, and that's a hard thing to do," says Anders Parker, who also collaborates with Farrar in the duo Gob Iron (which reissues its out-of-print 2006 LP Death Songs for the Living on Record Store Day). "It's not like listening to Pete Seeger or something like that, or even Woody. It may come from the same place, but it is a little more abstract and a little more impressionistic type of approach."
When Farrar reactivated the band in 2004 after a hiatus, Son Volt the following year released Okemah and the Melody of Riot, which included songs addressing the George W. Bush administration in fairly direct terms. Nearly a decade and a half later, Farrar had no second thoughts about another politically minded album. "I think in some ways I'm probably more willing to dive headfirst into topical songwriting, maybe even more so than with Okemah and the Melody of Riot," he says.
On Union, he sounds disgusted on "The 99" at the growing gap between rich and poor, growling electric guitars buzzing beneath his voice; and he's ready to cast aside distracting frivolities on "While Rome Burns." Farrar takes on the role of storyteller in the classic folk-balladeer sense on "Reality Winner" and album closer "The Symbol." The former, a mournful, sympathetic tune named for the intelligence specialist sent to prison for leaking classified information about Russian election interference, mixes guitars and piano as Farrar describes the circumstances around her actions and asks on the refrain, "What have you done?" On "The Symbol," a dusty, aching acoustic tune, he sings from the perspective of an undocumented immigrant facing the prospect of ejection from the land of immigrants where he—and his American-born children—have made a home.
Though Union describes a culture in conflict, the album is not as pessimistic as all that. Farrar evokes his father's memory on the subdued title track by echoing his old man's belief in the need for a common cause: "He said national service/ Will keep the union together." There's even a playful cast to the cover song, "Rebel Girl," which Farrar encountered in a copy of the "Little Red Songbook" published by the Industrial Workers of the World in the early 1900s. With only the lyrics (by the labor organizer Joe Hill) to go by, Farrar added his own music and melody. "It still resonates," Farrar says "No matter what century you belong to, some things never change."
In a sense, that's true for Farrar, too. This year marks 25 years since he started Son Volt after leaving Uncle Tupelo. Nine albums and several lineup changes (plus various solo releases and side projects) later, Farrar is still going—no small achievement in a musical landscape that looks radically different than it did in 1994. "I don't know how long I'll be doing it, but it's great to have a creative outlet and I like doing what I'm doing, so I don't see anything changing anytime soon," he says.