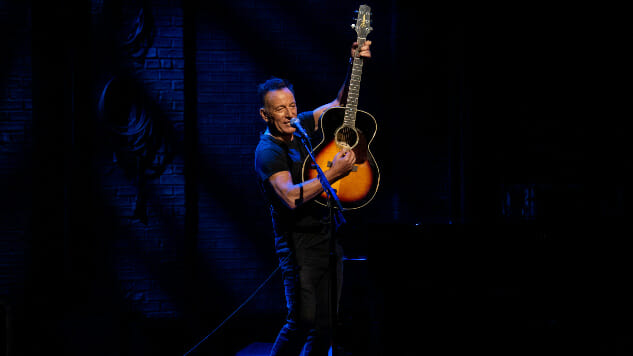 Fans who couldn't get tickets to Bruce Springsteen's blockbuster Springsteen on Broadway residency, or simply want to relive the magic, can soon check out the iconic artist's stage show in the comfort of their own homes. Netflix has released the first trailer for Springsteen on Broadway, filmed in July at the Walter Kerr Theatre in New York.
With a setlist including several of The Boss' biggest hits, the trailer for the Netflix special also features clips of intimate life stories and an appearance by Springsteen's wife Patti Scialfa, who drops in for a stripped-down duet with her husband. Earlier this month, Springsteen also celebrated the forthcoming special by announcing a two-disc soundtrack album, which is set for release on Dec. 14, the night before Springsteen closes out his marathon 236-show Broadway residency.
The Springsteen on Broadway special arrives on Netflix on Dec. 16, the day after Springsteen's final performance of his acclaimed Broadway run.
Watch the trailer below, as well as video of a 1978 Springsteen set from the Paste archives further down.