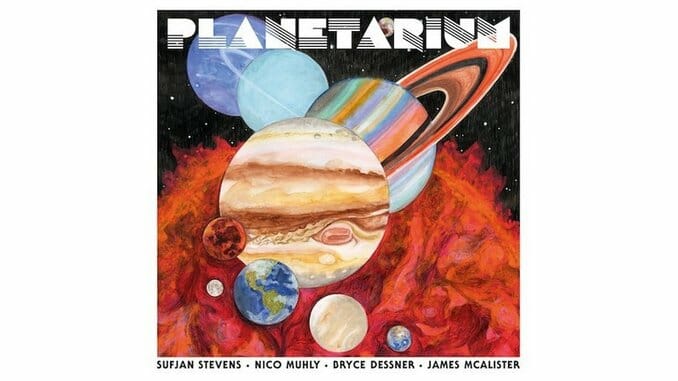 Try to predict Sufjan Stevens' next move at your own risk.
The enigmatic singer-songwriter has always seemed to do what he does musically without any apparent regard for order or expectation. He gained fame for two excellent indie-folk-pop albums themed around the states of Michigan and Illinois, and then never returned to the so-called "50 states project" he touted while promoting them. Plus, he wedged a collection of overtly Christian songs in between them.
After Illinois, he largely disappeared for five years, occasionally poking his head up with a new batch of Christmas songs or a mixed-media tribute to a New York City expressway. He returned from this relatively quiet period with an album called The Age of Adz, which found Stevens exploring electronic sounds and art rock — a far cry from the works that made his name.
Which is fine! Ol' Suf should absolutely make the music he wants to make. His scattershot catalog reflects a musical mind that's curious and ambitious and brilliant, and it only seems unconventional compared to the much narrower lanes of most modern musicians.
So it's no big surprise that Stevens is following up his last album—2015's devastating meditation on the death of his mother, Carrie & Lowell—with an electro-symphonic song cycle about the Solar System, crafted with collaborators Bryce Dessner of The National, beatmaker James McAlister and contemporary classical composer Nico Muhly.
More surprising, perhaps: That this quartet is able to corral Planetarium's many points of view, ideas and sounds and turn them into something that's consistently listenable across its 76-minute running time. No small feat!
The anchors are the second track, "Jupiter," and the penultimate track, "Earth." The former is the album's catchiest tune, with Stevens' crystalline voice dancing above a martial beat and warm-glow tones. The latter—like its namesake—is vast and wild, with strings, horns, gentle noise, keyboard bloops, Auto-Tuned vocals and a heart-swelling crescendo stretched across its twisting, turning 15 minutes. Most listeners won't stick with it, but patient ones will find beauty in its wanderings.
In between are a number of short pieces, mostly ambient, that act as the connective tissue between Planetarium's best songs. The sparse piano arrangement of "Neptune" most closely recalls Stevens' previous work, while "Uranus" sounds like a rubbery lullaby shipped in from the outer planet, complete with a choir of heavenly voices. "Mars" surrounds Dessner's serpentine guitar licks with glitchy noise, dramatic horns and, finally, a playful vocal chant. And the closing track, "Mercury," is another classic Stevens performance, his breathy melody tethered to the terrestrial world only by staccato shards of piano and guitar.
Throughout, each contributor's presence is regularly felt, whether it's Muhly's gorgeous arrangements, Dessner's tasteful guitar parts (such as the billowing "Pluto") or McAlister's inventive percussion (the jittery "Venus").
The tie that binds it all together, however, is Stevens' voice and his vision. Both are distinctive and powerful. To be sure, Planetarium is not perfect. That it hangs together as well as it does is a testament to the considerable talents of the people who created it.