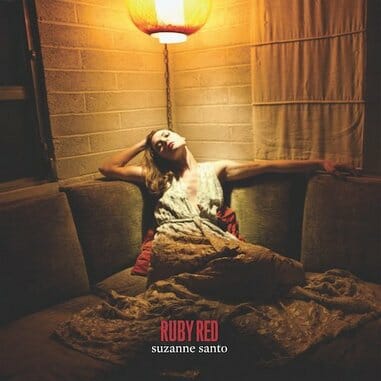 It's fairly difficult to introduce something new to the narrative of romantic dissolution, but Suzanne Santo's first solo project, Ruby Red accomplishes just that. It welcomes a new emotional landscape for heartache. While Santo struggles through the stages of grief and anger, both in and after love, in place of cliches there's rare accountability and self awareness that is relatable and satisfying.
In the vein of Margot Price and Miranda Lambert, she grieves poetically without a filter. Ruby Red is sexy and sad all at once as she commands, "Don't water down my whiskey babe." On the uptempo growlers like "Blood On Your Knees", "Love Fucked Up" and "The Wrong Man" there's hand-on-the-hip defiance as she unabashedly announces the pain she's endured, empowered by her incredible range and pounding instrumentals; fiery anthems joined with pitiless storytelling that find the perfect balance of acrimony and vulnerability.
Paired with the tremendous power of her strongest vocal showcase, Santo's romantic exhaustion is visceral here. She writes about the physiological and mental fatigue she's siphoned through her heart and psyche. "The Wrong Man" comes through like a dark hymnal as she declares the anger in her mouth and the sorrow in her bones. In "Yours Or Mine" she goes on to say, "I don't want your sadness tucking me," a commentary on the power of emotional memory that follows her like a phantom limb long after the physical effects have gone.
While the record is full of metaphors about love, it isn't about romance. If you're really paying attention, it's about how a person drinks up love; drunk, high on a cocktail of pain and passion. It's about the numbing agents used to avoid the pain, and the introspection and consciousness required to recover from it.
On, "Best Outta Me" she does something songwriters rarely do, she takes her pain a step deeper as she sings, "I see it in my family tree yes I do, all those murderous words that'll cut you in two, and I don't want it in me, that haunted history that bruises the fruit black and blue," a plea to herself to break the cycle she was born into. The entire track exemplifies her canny ability to translate her condition, "And the words I shell out at you the night before are still scattered like shrapnel all over the floor, and I'm sweeping and I'm dusting and desperately busting my back to get you back through my door."
Produced by genre-bending collaborator, Butch Walker, the studio chemistry spills into the record as the instrumentals expertly match Santo's shifting emotions as she swings from anger to aching against melancholic strings and electric guitar. A smart blend of moody pop and alternative Americana, Ruby Red offers variance that's unpredictable without ever feeling out of order.
While the record sways like an emotional rocking horse, seesawing between strength and despair, Santo winds it down with ripe self-awareness in, standout track, "Better Than That", acknowledging her self-imposed suffocation, she shifts the focus from another and steps into awareness when she sings the goal, "I want to hold onto him and still hold onto me."
A good record leaves you feeling fatigued, deeply touched by the emotion that transfers through in each track, and Ruby Red does that with each rung of the album, climbing down from anger to resolution with grace. For a long time, there's been an accepted idea of how women lament heartache, with exaggerated longing, attachment and jealousy. Often coined "needy" or "crazy" there's a strong push for women to act unaffected by pain to avoid such social branding. Santo takes ownership and power back with crass and candor, introducing shameless, self aware dialogue that opens the door for conversation that leads to real healing.