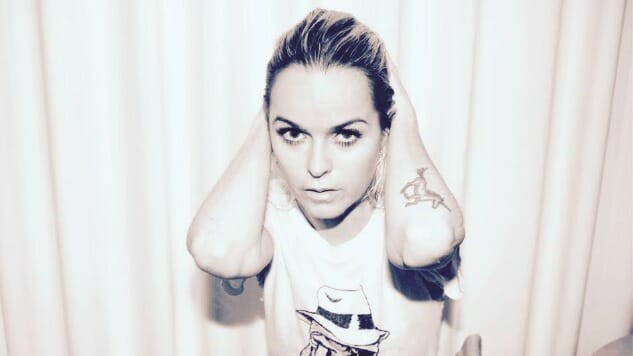 "I never realized that there could be a spike in my career," says Taryn Manning. Sitting in the Paste studio on a recent afternoon, she looks around admiringly at the vintage concert footage lining the walls and continues. "I just thought that I would be a working actor and I'd do music and I'd just live my life. And then there's that little spike there, and all of this good stuff's coming."
Then, in 2013, came Orange Is the New Black. Up to that point, Manning had been trending upward with roles in music-centric films like 8 Mile (starring Eminem), Crossroads (starring Britney Spears), Hustle & Flow and The Perfect Age of Rock 'n' Roll. Now she has hit the mainstream with her role as Tiffany "Pennsatucky' Doggett on the Netflix prison dramedy.
All the while, Manning has balanced her acting career with her music in Boomkat, an electropop project with her brother, Kellin Manning. The duo have released two albums—Boomkatalog.One in 2003, and A Million Trillion Stars in 2009.
Here's the video for Boomkat's debut single, "The Wreckoning," from 2003.
These days, though, Manning is recording solo and has a brand-new video for an EDM-heavy track called "GLTCHLFE."
"'GLTCHLFE' has to do with technology," Manning explains. "It's like it's a 'glitched life.' I start hearing how many times people say it, like, [groans] 'My phone is just glitching.' Life's just kinda glitchy. It's not perfect."
Filmed at a shabby-chic mansion in Upstate New York, the clip is produced by Manning, who appears alone and sings directly into the camera, often from within an empty bathtub. "[The house] was built in the 1700s," she says. "It's really run down. There's three floors, these long hallways and about 36 bedrooms. It's creepy."
"GLTCHLFE" is the first of what Manning expects will be several new singles down the road. It's just been hard, she explains, to release consistently when she's tackling acting projects (she recently finished filming the fifth season of Orange Is the New Black, which arrives June 9). "It's such an unpredictable career," she says. "It ebbs and flows. Right now, right when I'm finally gonna put this music out, I get all of these offers. [But] I'm a musician at heart. I grew up around music. When I'm not doing it, I don't really feel 100% like me."