Temples Announce New Album Volcano, Debut "Certainty" Video
Images via Ed Miles, Fat Possum
Music
Video
Temples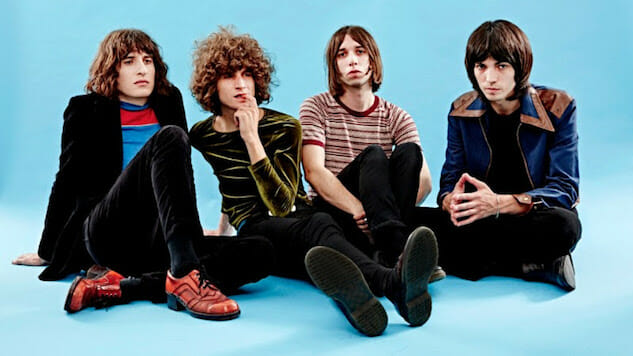 The psych-rock band Temples have announced their new album Volcano, the follow-up to 2014's Sun Structures, along with debuting a new video for lead single "Certainty."
The trippy video was directed by Alden Volney, who said its dreamlike quality was very much intentional:
This is based on a recurring dream I have been having since childhood about getting into a sea of plastic. So when the band approached me about doing something inspired by those JPOP videos that ooze quirkiness and eccentricity, I thought injecting the color palettes and aesthetics of Japan into this idea could be a good fit. It's designed to feel like a fever dream you'd have after spending too much time in a Japanese dollar store.
Speaking about the new album, Temples singer and guitarist James Bagshaw said:
If there's a sense of scale, it was really just a result of implementing a load of things that we didn't know about the first time around. We didn't even have a subwoofer to listen back to things that we did on Sun Structures, so there was nothing below 50Hz on that record. We didn't even know those frequencies were there!
Volcano, written and produced by all four members of the band, will be released on March 3 via Fat Possum. The album is available for digital pre-order here and physical pre-order here. Watch the video for "Certainty" above, and below, find Paste Cloud audio from Temples' 2013 Daytrotter session, as well as the Volcano tracklist and album art.
Volcano Tracklist:
1. Certainty
2. All Join In
3. I Wanna Be Your Mirror
4. Oh The Saviour
5. Born Into The Sunset
6. How Would You Like To Go?
7. Open Air
8. In My Pocket
9. Celebration
10. Mystery Of Pop
11. Roman Godlike Man
12. Strange Or Be Forgotten