The Avett Brothers Release New Single, "Trouble Letting Go," with Behind-the-Scenes Video
Photo by Matt Winkelmeyer/Getty
Music
News
The Avett Brothers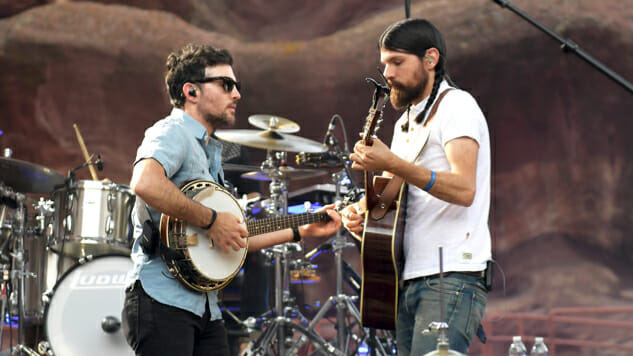 The Avett Brothers have shared another new single in "Trouble Letting Go." The song follows the November release of "Roses and Sacrifice," the band's first new single since 2016.
The prolific bluegrass bros. made the announcement on Twitter Friday afternoon, also sharing a behind-the-scenes video of Scott Avett.
A special announcement from @ScottAvett: https://t.co/vImqdLaDjH

— The Avett Brothers (@theavettbros) December 21, 2018
Scott takes us through past and present Avett artwork, including the album and single art for I and Love and You, True Sadness and "Roses and Sacrifice." Lastly, Scott turns the camera for a glimpse of the art for "Trouble Letting Go."
"This is the reason that I'm making this video," Scott acknowledges. "This is the artwork for our new song, 'Trouble Letting Go.'"
In a recent interview with the News Observer, Scott mentioned that a new song would be released before the end of the year:
We're aiming to release at least one more song before the year is out and continue that pace into 2019. We're in the process of mixing, so there might be a few last-minute additions and songs that grow, change, get added into the sets. It's a shame, but songs get so much better the more they're played, and they usually get recorded when they're so young. But that's how we work.
On top of their two recent tracks, the North Carolina-based foursome have continued to debut new material during live shows, including "Trouble Letting Go" earlier in the fall. It's TBD whether that means a new album soon, which would be their tenth record and their first since 2016's True Sadness.
Stream "Trouble Letting Go" below or download/stream the single here. Find a 2008 Avett Brothers performance from the Paste archives and the band's tour dates for 2019 further down.
The Avett Brothers Tour Dates:
December
30 – Charlotte, N.C. @ Bojangles Coliseum
31 – Charlotte, N.C. @ Bojangles Coliseum
January
12 – Nashville, Tenn. @ Bridgestone Arena
March
07 – St. Augustine, Fla. @ St. Augustine Ampitheatre
09 – Tampa, Fla. @ Gasparilla Music Festival
10 – Tallahassee, Fla. @ Donald L. Tucker Civic Center
12 – Mobile, Ala. @ Saenger Theatre
14 – Houston, Texas @ Revention Music Center
15 – New Orleans, La. @ The Fillmore New Orleans
16 – New Orleans, La. @ The Fillmore New Orleans
April
19 – Atlanta, Ga. @ Sweetwater 420 Festival
20 – Atlanta, Ga. @ Sweetwater 420 Festival
21 – Atlanta, Ga. @ Sweetwater 420 Festival
May
10 – New Braunfels, Texas @ Whitewater Amphitheater
11 – New Braunfels, Texas @ Whitewater Amphitheater
July
05 – Morrison, Colo. @ Red Rocks Amphitheatre
06 – Morrison, Colo. @ Red Rocks Amphitheatre
07 – Morrison, Colo. @ Red Rocks Amphitheatre