The Best New Holiday Albums of 2017
Believe it or not, the winter season has produced a handful of great holiday music that you'll actually want to put on while you're opening presents.
Photo: Getty Images
Music
Features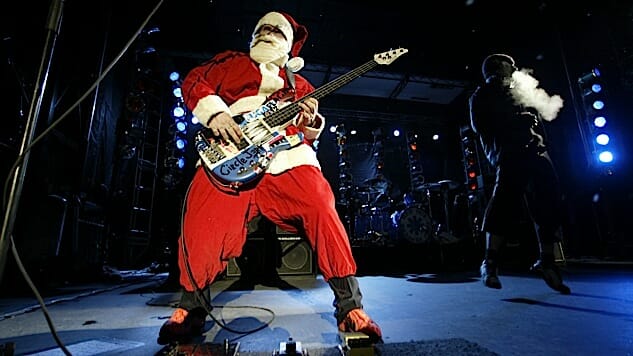 Holiday albums can be a delight or a distraction, depending on one's threshold for songs about snow and eggnog, and of course whether the music on offer is made with any real craft and artistry. For many, Christmas releases are regarded as cash grabs—an easy way for a singer to sell records every December and maybe fill out a contract while they're at it. Some music fans hail Paul McCartney's inescapable "Wonderful Christmastime" as a modern Yuletide classic; others would rather stuff their ears with coal before hearing it one more time. Either way, McCartney loves Decembers. But of course, each new holiday seasons offers music of such notable variety and finesse that they actually add something substantial to an artist's catalogue—as Mariah Carey can attest. Here are the best Christmas/holiday/winter albums from 2017 that you'll actually want to put on this weekend. Here are the best holiday albums released this year.
Various Artists: Bloodshot Records' 13 Days of Xmas
A band called Murder By Death doing a reverent version of "O Holy Night" may not be exactly what Santa had in mind, but that's the delight that comes with sampling Bloodshot Records' eclectic roster of garage stompers and roots rockers. Bloodshot has never been a slacker when it comes to self-promotion, and there are enough interesting names here—Ha Ha Tonka, Dex Romweber Duo, James Elkington and Ron Gallo among them—to make it a necessary acquisition any time of year, particularly for admirers of the label's roughshod, renegade brand of Americana. The highlights are too many to mention, but suffice it to say Ruby Boots' "I Slept Through Christmas," Ha Ha Tonka's "The List," Jon Langford's "Christmas Carol, Christmas Ray" and Kelly Hogan's "Blue Snowfall" are standouts by any measure. Eccentricity and exuberance go hand in hand on Bloodshot's first ever holiday album.
Elvis Presley: Christmas with Elvis and the Royal Philharmonic Orchestra
When Elvis left the building 40 years ago, he left a lot of his music behind—more than he could have imagined. A recent series pairing archival vocal recordings with new arrangements by London's Royal Philharmonic Orchestra has put the King's iconic baritone in a new context, much like Roy Orbison's classic recordings were recently reintroduced with a symphonic setup. After two previous albums—2015's If I Can Dream and 2016's The Wonder of You—debuted at No. 1 on the UK Albums chart, RCA and Legacy Records struck again in 2017 with Christmas with Elvis and the Royal Philharmonic Orchestra. Anchored by the vocals from two vintage Elvis Christmas records—1957's Elvis' Christmas Album and 1971's Elvis Sings The Wonderful World of Christmas, this album puts the full pomp of the season behind those glorious pipes. There aren't many surprises in the tracklist, but we can glean some comfort in knowing that all these years later, Elvis is still wishing us well.
Tav Falco: A Tav Falco Christmas
The result of an longstanding desire to release a solo Christmas album, A Tav Falco Christmas, which arrived in November, comes from the irrepressible leader of Memphis psych-country veterans Tav Falco's Panther Burns. Taking a traditional tack with a joyful exuberance that's well in keeping with the celebratory spirit of the season, the album offers a rockabilly-light take on some well-worn classics, with a few tonal exceptions, the melancholy "Christmas Blues" and the funk-fueled "Soulful Christmas" chief among them. Overall, the collection belies Falco's wacky reputation through its otherwise unassuming exposition. Consider this a family-friendly set that doesn't negate humor whilst providing accompaniment for any gathering that celebrates friends and fellowship.
Sultans of String: Christmas Caravan
Skill and spirit find equal footing in this imaginative display of instrumental ingenuity from the Canadian purveyors of Spanish, French and Arabic musical traditions. Christmas Caravan, which came out in October, offers a few tunes you know, like "Jingle Bells" and "Little Drummer Boy," but adds an international array of adaptations overflowing with interesting music. "Turkish Greensleeves," "Les Anges Dans Nos Campagnes/Cooles Paradise Reel" and "Himalayan Sleigh Ride" showcase the band's penchant for diversity and inclusion, from Celtic to ska to Leonard Cohen. There's an elegantly arranged "A Django Christmas" and a timely reworking of John Lennon and Yoko Ono's anthemic "Happy Christmas (War Is Over)." An impressive cast of guest artists add to the artistry, but credit these superb Sultans with adept execution overall.
Balsam Range: It's Christmas Time
Red, green and bluegrass go well when blended by North Carolina's Balsam Range, and with this offering, the band's ingenuity and penchant for blending the traditional trappings of the holiday ("The First Noel," "Hark! The Herald Angels Sing") with contemporary classics ("Rockin' Around the Christmas Tree"). shine bright. Balsam Range's ability to meld instrumental dexterity with high harmonies makes this new six-song collection another outstanding example of the band's down-home delivery, and a welcome respite from an otherwise stale selection of seasonal country standbys.
Matt Pond PA: More Winter Lives
Last year, Matt Pond PA released a 12-track ode to the coldest season called Winter Lives that served as a sequel of sorts to their 2005 EP Winter Songs. For his next act, the New Hampshire native released another installment—sadly, Pond's final recording under the Matt Pond PA monicker—whose consistent quality doesn't falter, highlighting the coziness of the season without pegging any particular song to specific holiday happenstance. More Winter Lives evokes the quiet grace and calm that accompanies snowscapes in forests and fields with a mix of reverence and wonder. Sings like "The Moon Rose" and "Skiers in the Street" are soothing and sublime, like a hot mug of cider meant to be enjoyed fireside in the hearth during the stillness of late evening.
Tom Chaplin: Twelve Tales of Christmas
Chaplin, singer/guitarist of the piano-happy British band Keane, takes the unusual tack of following up his first solo album, 2016's The Wave, with a Christmas collection that alludes to a spiritual sensibility without a pointedly ready reference. The songs are hushed and atmospheric, boasting an ethereal ambiance that works as well as a nocturnal sojourn as it does a Christmas collection. Chaplin reworks the Pretenders classic "2000 Miles" with similarly satisfying results, while the inclusion of Joni Mitchell's indelible, barely-about-Christmas "River" adds seasonal credibility. Hauntingly beautiful, Twelve Tales of Christmas has the makings of a seasonal standard.
Lowland Hum: Songs for Christmas Time
Lowland Hum—the Virginia-based husband-and-wife folk duo of Lauren and Daniel Goans—take their spirituality seriously, and this collection of religious-themed songs including "Joy to the World" and "Silent Night," makes it clear that prayer can have a purpose, especially at this time of year. The group's signature sound is consistent throughout, thanks to a clear folk finesse that blends well with the music's traditional trappings. With the album's melancholy close harmonies and quietly strummed acoustic guitars, even disbelievers will find a certain grace and comfort in an especially sweet collection of uniquely tailored Christmas carols.
The Minus 5: Dear December
One of Rock's most enduring supergroups, The Minus 5 can always be counted on to come up with a clever twist on the power-pop premise with equal amounts of melody and mischief. Dear December is no exception, and while the aborted titles scratched out on the cover suggest other initial intents—leader Scott McCaughey originally planned to write a few holiday songs for another artist, then kept the riches for himself—the tracklsit shows he was primed for parody all the while. An all-star supporting cast (including R.E.M.'s Mike Mills and Peter Buck, Nora O'Connor, Chuck Prophet, Kelly Hogan, Ben Gibbard, M. Ward, and Colin Meloy) lends these largely secular songs a wide range of flavors and personalities. The gently rocking "When Christmas Hurts You This Way," "Your Christmas Whiskey" and "Yule Tide Me Over" put clever, pointed spins on the ups and downs of the holiday. Forget the seasonal trappings, Dear December is an essential acquisition all on its own.