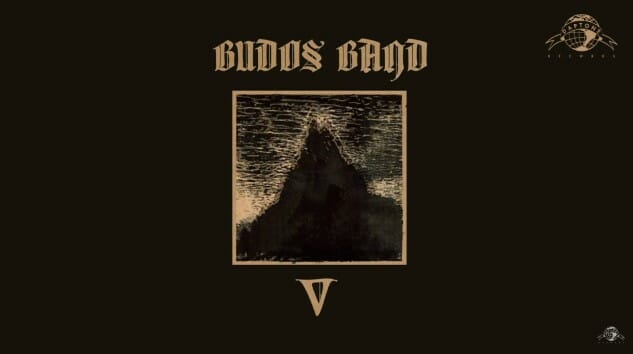 Today just became no ordinary Tuesday: Today is Budos Day. That's thanks to our favorite New York afro-soul/psychedelic rock group The Budos Band, who have today announced their fifth studio album, Budos Band V. As with all the preceding albums, it will be put out by their home label of Daptone, and it's coming SOON, on April 12, 2019. In celebration, the Budos released V's first track, the pedal-to-the-metal rocker "Old Engine Oil," which you can hear below.
Calling the album Budos Band V is a return to form after the previous LP, 2014's Burnt Offering, made a conscious decision to break the streak of numbered releases. That record was a divergence in more ways than one, taking the Budos signature, horn-heavy afro-soul sound and layering it with an increased presence of guitars that seemed inspired by early heavy metal. Listening to "Old Engine Oil," it's clear that influence has stuck around on V, which the band describes as the best of both worlds.
"On Burnt Offering, we really were trying to push the envelope in terms of getting a much more raw and rock sort of sound," he said in the band's announcement press release. "I think for this one we were able to refine that a little bit. We staked our ground in terms of making a rock record, and so with the fifth album, we knew how to do that and we were able to refine that and dial it back a little bit in some ways to make this album a really good combination of that rock sound of Burnt Offering but with the contours of Budos albums I through III as part of it."
Guitarist Tom Brenneck goes on to say that Budos Band V "feels like the truest representation of the band" so far. "It has that rock element of Burnt Offering but we have less of something to prove," he said. "We can just make the record that we want to make and without jamming down people's throats like 'we're not an Afrobeat band anymore,' you know? We didn't have to do any of that. The record has the rock and roll element, but it also has songs that could have found themselves on the first three Budos records, and that to me is what the band is."
So then, this is apparently the Budos Band that has been gestating since the very beginning, finally fully formed. As fans of everything the band has ever put out—we wrote a list of our favorite Budos songs last year—we can't help but be antsy to hear the whole album.
Daptone also release a trailer for the band's upcoming (unfortunately small) set of tour dates. Watch that below, and check out the tour dates. Budos Band V is out April 12, 2019, and can be pre-ordered now.
Budos Band Tour Dates
April
5 — NYC @ Bowery Ballroom
6 — Brooklyn, NY @ Music Hall of Williamsburg
18 — San Francisco, CA @ The Fillmore
19 — Portland, OR @ Roseland Ballroom
20 — Seattle, WA @ Neumos