The Drums' Jonny Pierce Channels Purposeful Angst on Brutalism
Photo by Nicholas Moore
Music
Features
The Drums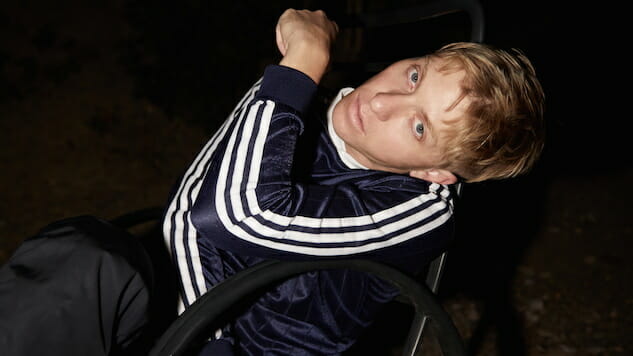 The Drums are a band with an unusual career trajectory. The New York City outfit were hailed as indie pop saviors at the start of the decade and with every subsequent album, an original band member departed the fold. The Drums' last album—2017's Abysmal Thoughts—was essentially a solo album for frontman Jonny Pierce, as he found himself the sole member of the band after the exit of close friend and co-songwriter Jacob Graham in 2016. Somehow through all the lineup changes, pressures that come with being a media-hyped buzz band and a few albums that diverted from their best-known pop sensibilities, The Drums have remained relevant and still boast a devoted fanbase.
They managed to prevent the unwavering rumble of similarly sad indie pop newcomers from drowning out the beat of The Drums. Perhaps it's not in spite of these newbies, but rather, this recent crop of anxiety-ridden guitar bands and an infinite number of sad teenagers have contributed to The Drums' continued relevance. Regardless, The Drums' fifth album Brutalism, sees Jonny Pierce at his most lyrically honest and musically jarring.
Now in his 30s, Pierce is the literal embodiment of personal and professional upheaval. The blonde-haired, ever sweet and sensitive frontman was raised in upstate New York by strict Christian parents who prevented him from listening to secular music—not the ideal upbringing for a gay child who was falling in love with music—and he eventually moved to New York City to start The Drums. After dealing with a divorce, the exits of band members and the typical, emotional growing pains that come with being a person, Pierce moved to Los Angeles to make a new album, which is a milestone of sorts. Brutalism is the first Drums album with live drums, and it's also the first time Pierce felt like he could relax some of his perfectionist tendencies and allow the help of outside collaborators.
"As long as I kept things as I understood them or how they worked for me, then I would feel safe," Pierce says. "Letting go and letting influence in. All of that stuff was always my biggest fear. That A, I would dilute the sound of The Drums and B, that I would lose myself. What ended up happening was, it's like being gay, once you let go, you're like, 'Okay I'm gay.' You're searching the beautiful sides of it. I don't think I can ever go back to recording all on my own. I realized the power of being less of a control freak and letting go a little bit. By delegating the recording process a little bit, not fully, but just a bit here and there, and by bringing in my friends to write with me, it created space and time and reserved energy for me to be able to focus on what it was that I wanted to say."
Abysmal Thoughts, Pierce's previous album with The Drums, was a big step towards lyrical transparency. It was a clear abandonment of the band's innocent pop romanticism and instead a display of unapologetic honesty and open sexuality. Songs like "Head of The Horse" detailed his painful upbringing and "Rich Kids" wagged a finger at well, rich kids. The album cover featured an erotic image of his then-boyfriend—a photo that would have never been used in previous iterations of The Drums. On Brutalism, Pierce takes it a step further by putting his heart on a platter and inviting listeners to take it or leave it. The album cover features a passionate photograph of Pierce with silky sheets in hand, and the songs contain a refreshing candidness—still rooted in sadness, but this time with a clearer objective.
"I think it's angst with purpose now whereas before it was kind of blind angst," Pierce says. "I was angry and upset and hurt and afraid, but I didn't know where to place anything. I didn't know the source of any of it. I'm in a place now where if I am upset, I know why I am usually and I'm able to do something about it. I don't think you can be intelligent and not a little bit sad because if you carry awareness, you also hopefully carry a sensitivity, so you're going to be affected by things that happen around you. I just can't really write about happiness and it's not because I'm trying to be angsty. It's not because I have a role to fill or putting on a costume. I'm not trying to be Morrissey. I'm not trying to do any of that stuff. I'm just speaking from my heart and this is something that I deal with all the time."
With Brutalism, Pierce is the sultan of focused wistfulness. On the lead single "Body Chemistry," he ponders to what extent sadness stems from his own mistakes or whether it's just in his DNA. Against propulsive electro-pop rhythms, Pierce asks, "Is my chemistry not forgiving me / Body chemistry / Unrelenting / Unforgiving." On the tender "I Wanna Go Back," Pierce justifies his emotional hesitancy with a memory of a past relationship. He sings, "If you could acknowledge / That you left me here guarding the door / And hold me like you used to / Then maybe I could feel less insecure." On "Kiss It Away," he sings of the battle between primal desire and romantic connection, "I'm not embarrassed to admit that / I need your physicality / Every human becomes weak." And on "Loner," he sings of a paralyzing no man's land between fear and loneliness, "And I don't want to be alone / And I am scared of all the people in the world / And I have never had a home / I am too afraid so I keep moving through the world."
Though despair is aplenty, there's no competition for the most sobering song on the album, "Nervous"—a dramatic shift for The Drums as it's the first stripped-down acoustic track they've ever put out. The song discusses the aftermath of Pierce's divorce. He sings, "Two years of laughter and one year of pain come crashing to a halt / To its final resting place." He unspools a layer of honesty that many songwriters aren't willing to expose, and he also reveals a side of his voice that he seldom uses. His voice climbs on the tail end of the chorus line, "And being nervous around you / Oh well that's something new," and it communicates a level of poignancy that could only come from a place of complex, deeply-rooted melancholia.
Pierce says of the song and his apprehension surrounding it, "I actually wrote that song during the making of Abysmal Thoughts. I had just gone through a divorce and the song is about the few days after we had met somewhere for dinner and decided that we would officially separate. I kind of wrote it for myself and I didn't put it on Abysmal Thoughts because it was just too raw. And I was worried if I put it out, I would regret it. With Brutalism, enough time had passed where it felt like I was emotionally okay to do that. I didn't use my usual framing for that song. I had my friend send me an acoustic guitar loop and I just sang over it. I had never done that before."
A major theme of Brutalism is a love that's too strong for its own good. It's perhaps the most heartbreaking form of love and a counterintuitive idea. Despite the age-old phrase that says, "You can never have too much of a good thing," love is a beast that doesn't abide by the rules of logic or conventional wisdom. Love is a powerful force and even the most emotionally intelligent people aren't safe from its vigorous, sometimes unhealthy stranglehold.
"I've got this huge amount of love inside of me," Pierce says. "It always felt like an endless supply of love. So I would always get in these relationships, my latest included, where I just love this person so much and I just nurture and I'm wildly generous and I pour into this person and I hold their hand through every difficult moment and I drop anything for them. And because all of my focus is making sure that they're okay and happy, I almost become blind to my own needs. I don't even put them on the back burner. I kind of throw them in the trash. And it ultimately leads to the demise of the relationship and the demise of who I am as an individual."
The lead track "Pretty Cloud" is a striking listen for those familiar with The Drums' back catalogue. It opens with a glitching beat reminiscent of an 8-bit video game, and it's one of the most overt pop songs The Drums have ever released. He uses changing weather patterns as a metaphor for the fickle nature of his former boyfriend, who according to Pierce, didn't treat him very well. Pierce sings in reference to the behavior he put up with in order to preserve the relationship, "Still I am blissful / In whatever you give me."
"[It's] about my last relationship. Someone I moved all the way to Belgium for. I'm in my 30s now and you'd think I'd know not to do that. I barely knew this person, but like I said, I just fall hard for people and he ended up not being as kind as I had dreamt. And so that relationship fell apart and I'm still hurting from it. That song is basically about taking shit from someone. Taking the good shit and the bad shit and romanticizing the bad in order to stay in the relationship, which I did for so long. And tell myself, 'Oh, but this is who I love. He's a tortured soul and he's frustrated, but he's really beautiful when he's angry.'"
While the intricacies of romantic and physical love are explored on Brutalism, it seems like there's always a grey cloud hovering above or looming nearby. It's not a miserable album, but sadness is certainly a lens through which you can view this record. Sadness, frustration, fear, self-sabotage and loneliness are pervasive in Pierce's life, and he felt like it would be disingenuous not to reflect that in his music. "There's so many layers of sadness," Pierce says. "There's so many beautiful aspects of it as well as some really ugly and painful ones. It's such a well-rounded feeling I think. It's really guttural and it almost feels tangible like you can touch it with your hands. Whereas happiness for me is in and out really quick. You don't even have time to explore it. It's like a vapor. It's gone with the wind."
For Pierce, happiness is a cherished, but far too infrequent visitor that passes through to raise his spirits and before he knows it, it's out the door without waving goodbye. Though with Pierce's infectious pop melodies, you won't find yourself too bogged down by this album, especially with the boisterous closer and aptly titled "Blip of Joy." "It does speak a little bit about finding these little bits of happiness spread throughout life, wishing there were more of them," Pierce says. "But the lyrics talk about knowing this is a fleeting thing and you hold on for the next little blip that comes along and that's how life strings you along."
The Drums have written some of the most highly-concentrated pop songs of any act from the past decade, let alone a band primarily known for their guitar-based albums. Singles like "Best Friend" and "Forever and Ever, Amen" have some of the most ascending pop choruses that one could possibly muster, and because it's The Drums, there's always a lump in your throat as you dance awkwardly—Ian Curtis style—through the jangle pop angst. Though The Drums have continued this tradition on Abysmal Thoughts with tracks like "I'll Fight For Your Life" and "Blood Under My Belt," it also brought two big changes—songs with unconventional, static structures and the swapping of reverb-soaked guitars for bewitching synths. Brutalism is a more dramatic continuation of those two arcs with tracks like "Pretty Cloud" and "Brutalism," but there are also a few nuggets of climbing pop euphoria, most prominently embodied by "626 Bedford Avenue," which may rank alongside his most heady refrains to date.
"It used to be a real goal of mine to write really concise pop that mattered or that had a message," Pierce says. "And the message is still really important to me but having a pop hit is less important to me. I'm at the point where I just want my music to be beautiful and sometimes that means a chorus that isn't shooting from Mt. Everest. Sometimes it's a bit more subtle and something that's grazing in the meadows, but still very meaningful and beautiful. That feels much more adult to me and a little less scrappy little kid, like some of the songs on the first album for me. That song itself is the one song on the album that I kind of get shy about and I think it's because the chorus really lifts. It's this big poppy moment and I don't even know if I'm in that space anymore. If I had to pick a song or two that is the cornerstone of the album, it would be 'Body Chemistry' or 'Brutalism,' which are a bit more even-keeled and linear you know? So I feel a little bit sheepish when we talk about '626.'"
It's been just over 10 years since the start of The Drums and the now Los Angeles-based Pierce feels like he's in a healthy, relaxed headspace. He refers to Brutalism as a "giant self-care bible," which may have stemmed in part from the time he spent reflecting alone. He's living by himself for the first time ever, but thriving creatively as he's already begun work on his next record.
"What I'm finding with my time in Los Angeles is that I spend a lot of time being a bit more still than in New York," Pierce says. "In New York, there's just an abundance of energy. You walk out your door and there's this instant friction in the air. It was easy to avoid exploring who I was. In a city like New York, there's always an excuse to postpone that. I spend a lot of time in my apartment just being here alone. This is the first time I've ever actually lived alone. But for me, as difficult as this transition has been, it's also been really fruitful in the sense that I've been able to sit there with myself and look at myself in the mirror, sometimes literally, and just feel like 'Jonny this is you. You don't have anywhere to go right now. Your record's done. You're not leaving for a press tour in a while. You have a month to just be in a space.' And I can't remember the last time I had a month to just be in one place. And so that was really really scary for me and really beneficial. I've been able to sort out some things that needed sorting out in my life and I think once you get through the initial shock of that change, you start to realize what a gift it is. That's how I feel right now. It was a gift of self-care that was long overdue."
Brutalism is out on April 5 via ANTI- Records. Watch The Drums' 2017 Paste Studio session below