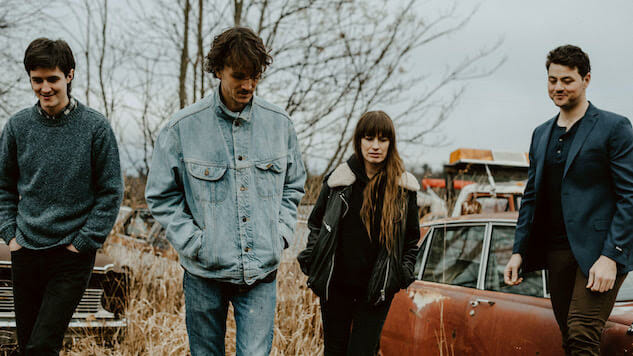 Daily Dose is your daily source for the song you absolutely, positively need to hear every day. Curated by the Paste Music Team.
New York folk-rockers The Felice Brothers recently announced their first album in three years, Undress, arriving May 3 on Yep Roc Records. Today, Thursday, April 4, they're back with another "Special Announcement," the third single from the record, premiering here at Paste. It follows previously released singles "Poor Blind Birds" and "Undress." Listen to "Special Announcement" below.
The song, which directly and cleverly targets financial corruption, is quick to acknowledge the absurdity of our modern politics and the role money plays in them with the lyric "I'm saving up my money to be president." Songwriter Ian Felice imagines a world without financial interests, without the "Stock Exchange" and the "Federal Reserve." His plans include more than a few shake-ups: "I can promise you this: Charlie Parker on the $10 bill." Felice sings this satire over energetic keys and cheerful chords, but don't let the song's upbeat nature fool you—it's an expressed exasperation with the crookedness at play in American politics.
"This song should feel like you're reading the Financial Times in a motel at the edge of reality," Felice says. "You feel very frustrated by the corrupting power of money in politics, and a piano's cloud-like chords are hovering over a terrace."
Undress is the band's seventh album, following 2016's Life in the Dark. For this record, the band deviated slightly from more personal lyrics and turned their focus to writing about modern mayhems, of which, as we know, there are many.
"Many of the songs on the new album are motivated by a shift from private to public concerns," Felice says. "It isn't hard to find worthwhile things to write about these days, there are a lot of storms blooming on the horizon and a lot of chaos that permeates our lives. The hard part is finding simple and direct ways to address them."
Again, you can listen to "Special Announcement" below. Further down, watch The Felice Brothers perform at Newport Folk Festival in 2011 and hear their 2014 Daytrotter Session. Keep scrolling for their tour dates, plus the Undress album art. You can preorder the album here.
The Felice Brothers Tour Dates:
April
27 – Albany, N.Y. @ Skyloft
28 – Syracuse, N.Y. @ The Westcott Theater
29 – Buffalo, N.Y. @ The 9th Ward at Babeville
30 – Toronto, Ontario @ Legendary Horseshoe Tavern
May
02 – Chicago, Ill. @ Sleeping Village
03 – Lexington, Ky. @ On The Rail Roots Festival
04 – Columbus, Ohio @ Rumba Cafe
06 – Pittsburgh, Pa. @ Club Cafe
07 – Lancaster, Pa. @ Tellus 360
09 – Philadelphia, Pa. @ Johnny Brenda's
10 – Brooklyn, N.Y. @ The Bell House
11 – Kingston, N.Y. @ BSP Kingston
12 – Hopewell, N.J. @ Hopewell Theater
15 – Portsmouth, N.H. @ 3S Artspace
16 – Providence, R.I. @ Columbus Theatre
18 – Cambridge, Mass. @ The Sinclair
23 – Virginia Beach, Va. @ Elevation 27
24 – Richmond, Va. @ Richmond Music Hall
25 – Vienna, Va. @ Wolf Trap – with The Avett Brothers
June
06 – Asheville, NC @ Grey Eagle Tavern
07 – Decatur, Ga. @ Eddie's Attic
08 – Nashville, Tenn. @ Exit/In
09 – Birmingham, Ala. @ Avondale Brewery
10 – New Orleans @ Gasa Gasa
12 – Austin, Texas @ Barracuda
14 – Santa Fe, N.M. @ Tumbleroot
15 – Tucson, Ariz. @ 191 Toole
16 – San Diego, Calif. @ The Casbah
17 – Los Angeles, Calif. @ Bootleg Theater
19 – San Francisco, Calif. @ The Chapel
21 – Portland, Ore. @ Doug Fir Lounge
22 – Seattle, Wash. @ Tractor Tavern
24 – Garden City, Idaho @ Visual Arts Collective
25 – Salt Lake City, Utah @ Urban Lounge
27 – Denver, Colo. @ Bluebird Theater
Undress Album Art: