The Magnetic Fields Announce New Album Quickies, Share Single/Music Video "The Day the Politicians Died"
Images via Frank Hoensch/Redferns via Getty, Nonesuch Records
Music
News
The Magnetic Fields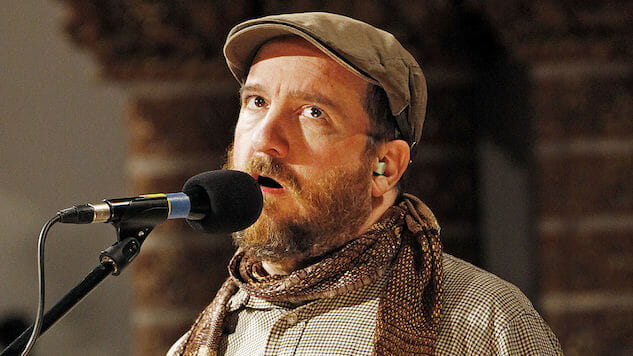 Stephin Merritt of The Magnetic Fields sure knows how to execute a concept album—the 1999 album 69 Love Songs is exactly what it sounds like, and is arguably the most all-encompassing rumination on the very many feelings involved in love and heartbreak. In 2017, Merritt released 50 Song Memoir, an album with a song for each year that he has been alive. Now, The Magnetic Fields announce their forthcoming album Quickies, which features songs ranging from 13 seconds to two minutes and 35 seconds. Today (Feb. 25), the band shares the first single from the album, along with a pink-hued music video: "The Day the Politicians Died."
The music video uses what appears to be archival footage of citizens dancing in the street spliced with funeral processions, newspaper headlines and the elimination of political landmarks as the song suggests that every politician just drops dead: "Even their own mothers / Their own husbands and wives / Said 'Now all men are brothers, let's get on with our lives' / Billions laughed and no one cried / The day the politicians died."
"I've been reading a lot of very short fiction, and I enjoyed writing 101 Two-Letter Words, the poetry book about the shortest words you can use in Scrabble," says Merritt of the concept for Quickies in a statement. "And I've been listening to a lot of French baroque harpsichord music. Harpsichord doesn't lend itself to languor. So I've been thinking about one instrument at a time, playing for about a minute or so and then stopping, and I've been thinking of narratives that are only a few lines long."
Intimacy certainly seems to be integral to the album, as The Magnetic Fields will tour June 1 through July 1, their venue being small outposts of City Winery at each of the seven cities that the band will visit, playing multiple dates in all but one.
The album includes many staple figures within the sprawling ensemble that makes up The Magnetic Fields, including Sam Davol, Claudia Ganson, Shirley Simms and John Woo. Also featured on the album are long-time collaborators Chris Ewen, Daniel Handler and Pinky Weitzman.
Merritt explains that Quickies was largely conceived in part because of the small notebooks that he had been using, challenging himself to cut songs short when he got to the bottom of the page. "Now that I'm working on a different album, I'm enforcing a large notebook rule so that I don't do Quickies twice in a row," Merritt adds.
Quickies will be available as a set of five vinyl EPs, as well as in digital and CD format upon its release on May 15 via Nonesuch Records. You can preorder the album here, and ticket presale for The Magnetic Fields' tour will begin Feb. 26, with general sale beginning Feb. 28, with all of the relevant information found here.
Watch the music video for "The Day the Politicians Died" below, then check out the details of Quickies and The Magnetic Fields' upcoming tour dates.
Quickies Album Art: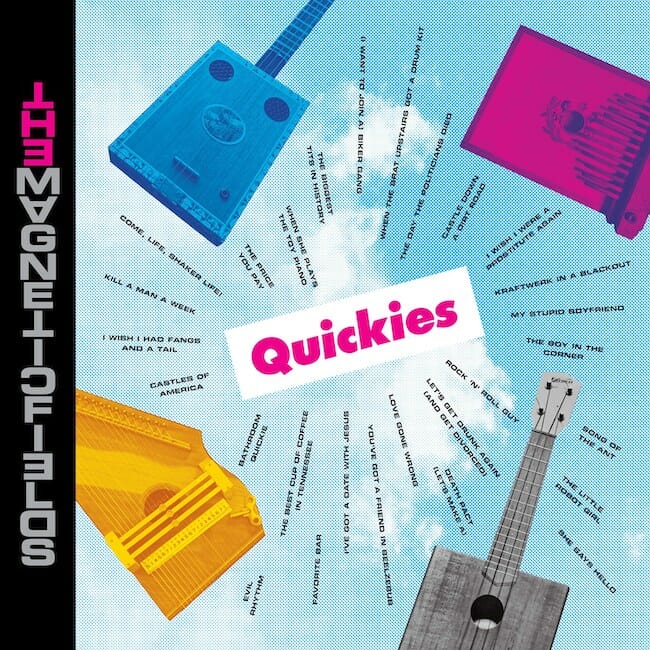 Quickies Tracklist:
01. Castles of America
02. The Biggest Tits in History
03. The Day the Politicians Died
04. Castle Down a Dirt Road
05. Bathroom Quickie
06. My Stupid Boyfriend
07. Love Gone Wrong
08. Favorite Bar
09. Kill a Man a Week
10. Kraftwerk in a Blackout
11. When She Plays the Toy Piano
12. Death Pact (Let's Make A)
13. I've Got a Date with Jesus
14. Come, Life, Shaker Life!
15. (I Want to Join A) Biker Gang
16. Rock 'n' Roll Guy
17. You've Got a Friend in Beelzebub
18. Let's Get Drunk Again (And Get Divorced)
19. The Best Cup of Coffee in Tennessee
20. When the Brat Upstairs Got a Drum Kit
21. The Price You Pay
22. The Boy in the Corner
23. Song of the Ant
24. I Wish I Had Fangs and a Tail
25. Evil Rhythm
26. She Says Hello
27. The Little Robot Girl
28. I Wish I Were a Prostitute Again
The Magnetic Fields Tour Dates:
June
01-04 – Chicago, Ill. @ City Winery
06 – Nashville, Tenn. @ City Winery
08-09 – Atlanta, Ga. @ City Winery
11-13 – Boston, Mass. @ City Winery
19-21 – Washington, D.C. @ City Winery
24-26 – Philadelphia, Pa. @ City Winery
28-30 – New York, N.Y. @ City Winery
July
01 – New York, N.Y. @ City Winery