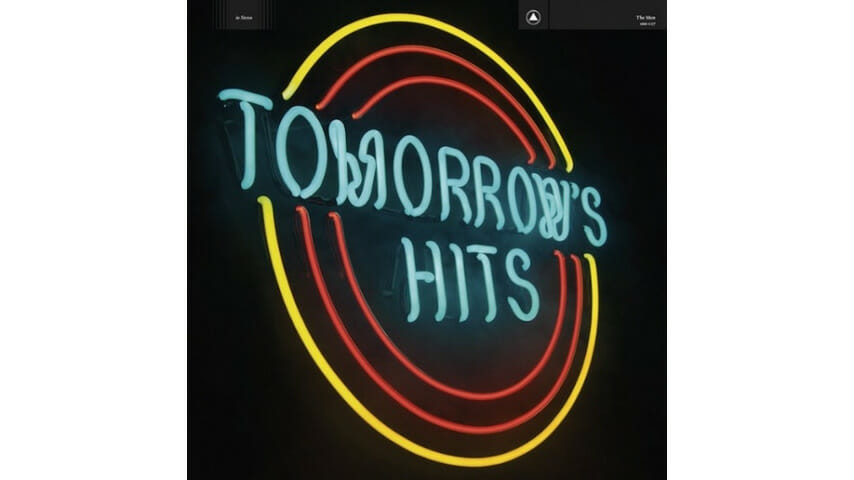 Brooklyn's The Men have made a fairly dramatic transformation from their inception as a contemplative noise-rock amalgam into their current incarnation as a kind of freewheelin' power-rock pop crew with a penchant for the Grateful Dead. They've released albums at a steady clip of one-per-year since 2010's self-released Immaculada, and their latest LP, Tomorrow's Hits, is almost unfairly possessive of a foretelling title, seeing as how vanilla some of the songs can come off sounding. The record, however, is an accurate chronology of a working band's prolific devotion to feeding the muse.
Evolving from the recording process of their entire catalog thus far—which was self-recorded, oftentimes in keyboardist/guitarist Mark Perro's bedroom—The Men actually entered a professional studio to capture the 13 tracks for Tomorrow's Hits; interestingly, this was done before the release of their breakout 2013 LP, New Moon. And where New Moon prompted lo-fi maps of sound that nibbled at the edges of country, surf rock and straightforward power-pop, The Men have now gone into full-on Springsteen mode.
The lazy western jangle of album opener "Dark Waltz" highlights the band's chameleonic aptitude for penning and performing live-to-tape compositions that sound eerily improvised. With three songwriters/vocalists in the band, rocky comparisons to a punkier little sibling of the formerly three-pronged attack of Drive-By Truckers could be approached. Those auspicious sonic milestones, however, are probably a little too big for The Men, whose pedigree is rooted more in line with the DIY underground than any Southern roots rockers.
Case in point, "Get What You Give" fades in on an suspiciously familiar alter-ego of the guitar intro from The La's "There She Goes" before it settles into a foundation of piano-plunky rock owing a debt to 14 Songs-era Paul Westerberg and early R.E.M. There's a Dylanesque aimlessness on these essentially electrified folk jams that come replete with jagged harmonica lines like a squeaky train whistle in a winding tunnel.
"Another Night" prompts echoes of The Clash's "Train in Vain," replete with horns and repetitive guitar hooks in a wiry homage to Strummer's latter-year jamminess and worldly instrumental embracement. The song is a wholly satisfying mindfuck of brass-and-rock that would have had a perfect home on top 40 radio in the late 1980s.
Tomorrow's Hits doesn't really revisit the explosive elements of The Men's live show until "Different Days," a tune that successfully folds in both the urgency of their earlier experimental noise manipulations and their somewhat newfound welcoming of Dead Head sentimentalism, the vocal lamenting, "I'm waiting for the signs to fade/I hate being young/so sick of all the do or die/don't you know it's just suicide." Lap steel player Kevin Faulkner shines with electric abandon on The Mats-like "Pearly Gates," a tune that embodies the energy of the band, and which typifies the still-evolving milieu that The Men find themselves embroiled within. Wherever that muse may lead, rest assured, it's probably going to be a fun ride.