The Voidz Remind Us "All Wordz Are Made Up" on Surreal New Single/Video
Photo by Abby Ross
Music
News
The Voidz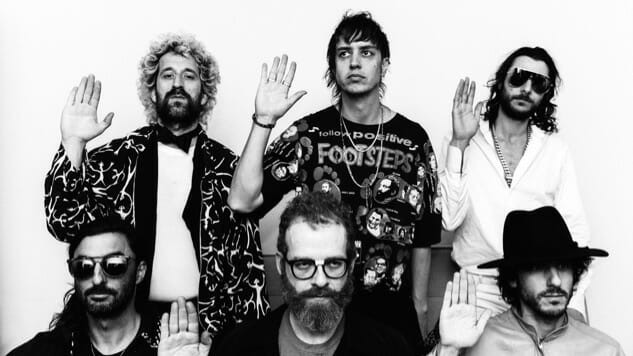 The Voidz have been awfully busy this album cycle, live-debuting new music on Brazilian TV, changing their band name (from Julian Casablancas + The Voidz) when announcing their second record, dropping their first new single in nearly half a decade and then following it up with two more. They've added yet another advance track from their forthcoming Virtue today, debuting the surrealist video for shape-shifting single "All Wordz Are Made Up."
Directed by Voidz guitarist Beardo, the "All Wordz Are Made Up" visual is a decidedly lo-fi miasma that "calls to mind the long lost days of VHS" (as a press release puts it) by way of rapid-fire cuts, Microsoft Paint-level graphics and cut-out text, all backgrounding The Voidz as they perform in front of a green screen. It's like MTV and a GeoCities page had a baby; it's, as one line of text reads, "image magic." "All Wordz Are Made Up" is equally overwhelming, a beat-driven thumper that ably juggles synths, guitars and Casablancas' distorted howls.
Previously released tracks from Virtue include "Leave It In My Dreams" (which the band recently performed on Fallon), "QYURRYUS" and "Pointlessness." The album is their second, following their 2014 debut Tyranny. In his review of the record for Paste, Philip Cosores deemed the band's first album a mixed effort, one that "[stumbled] upon moments of success in the way that a drunk dart player hits a bullseye every once in a while."
The Voidz will tour extensively in support of their new album, with a full set of dates to be announced soon. For now, the band has sets at the Fortress Festival in Fort Worth, Texas, and Shaky Knees Festival in Atlanta on the books for April and May, respectively.
Watch the "All Wordz Are Made Up" video below. Virtue is out on March 30 via Cult Records/RCA Records. You can preorder the album here.