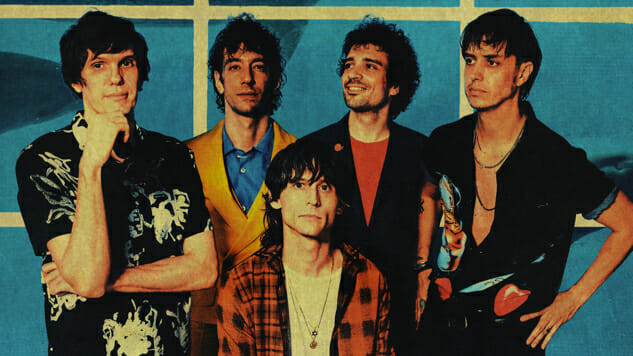 We're almost two months into 2020, so we've seen our first round of artists swing for the fences. This week brought new albums from heavy hitters like King Krule, Moses Sumney, Best Coast and Grimes, plus we received the latest single from The Strokes' comeback album The New Abnormal. Between other compelling new tracks from Snarls and Choir Boy and memorable live sessions from Alexandra Savior and Drug Church, this week was one of the strongest in the music calendar so far this year. Scroll down for our weekly installment of the best new albums, songs, performances and features.
BEST ALBUMS
King Krule: Man Alive!
One of the hallmarks of Carl Theodor Dreyer's landmark 1928 silent film The Passion of Joan of Arc is its use of extreme close-ups. Individual facial features—the left eye, a chin, a single set of freckles—are shot with uncanny depth from canted angles, spiritualizing a saint from some perspectives and indicting a heretic in others. The film is regarded as an early example of cubist filmmaking, and rightfully so: Everything about it just feels italicized. When King Krule recently cited The Passion of Joan of Arc as an influence on his new album, something clicked. A career-long pattern asserted itself: The artist born Archy Marshall has been trying to make cubist music. Man Alive!, the latest from the brooding Londoner, sounds like an attempt to clarify that; the sonics throughout are malleable and the perspectives are all over the place, but there's an undeniable—and undeniably unnerving—unity to the album's composure. Recontextualizing the best elements (and, arguably, the unfulfilled promises) of his discography in a finally-defined voice, Marshall has made his first truly great record from front to back. —Harry Todd
Letitia VanSant: Circadian Rhythm
Imagine having Letitia VanSant's depth of empathy. Feeling as much as she does, and as hard as she does, must hurt: Most of us care only as far as our Twitter feed takes us, but here's VanSant on her sophomore album, Circadian, talking about such subjects as depression, climate change, gun violence, the stranglehold that corporations have on American politics, and—trigger warning—her own sexual assault. The last of these motifs comprises the body of her opening salvo, "You Can't Put My Fire Out," both a hell of a way to start the record off and to reclaim her sense of self following her experience with the unthinkable. But thinking of Circadian only in terms of VanSant's personal suffering: She has a mighty heart, and she follows it along countless other cathartic pursuits, sometimes even focusing on several at once. On the record's closing song, "Rising Tide," she takes a defiant parting shot at the parties responsible for turning the Earth into a slowly-withering hell for the rest of us to endure. "They can pour all this money down the hole in your side / But all the money on Wall Street these tears can't dry," she declares, quite possibly through gritted teeth. "They've got plans for our pockets, cigarettes for our lungs / Poison for our babies and bullets for our guns." —Andy Crump
BEST TRACKS
Snarls: "What's It Take"
Columbus, Ohio, four-piece Snarls have shared a new track, "What's It Take," from their forthcoming debut album Burst, out on March 6 via Take This to Heart Records. "What's It Take" is the kind of lustrous, yearning indie anthem that could only come from a group of bright young minds. Lyrically, it's an emotional hurricane with Chloe White's forlorn lyrics exploding into their guitar shimmers. The song melds widescreen dream-pop with sputtering background guitars as White's rich vocals hover in heartbreakingly beautiful fashion. —Lizzie Manno
The Strokes: "Bad Decisions"
The Strokes will release their first new album in seven years on April 10, The New Abnormal (Cult/RCA), and our latest preview of the record arrived this week in the form of "Bad Decisions," a slick rocker built around an anthemic, New Order-esque guitar riff. The retro infomercial-style "Bad Decisions" video, directed by Andrew Donoho, sends The Strokes back to the '70s scene Julian Casablancas' lyrics set ("Dropped down the lights, I'm sitting with you / Moscow 1972"), imagining a world in which anyone can order their own cloned iteration of the band, customizing The Strokes' looks and personalities to fit their exact specifications. —Scott Russell
Choir Boy: "Complainer"
Choir Boy have always been sarcastic. Their name is appropriated from an epithet frontman Adam Klopp was given as a child, while their sound has always toyed with ideas of sincerity in relation to being vulnerable. That's exactly what the Dais Records synth-pop favorites are doing on "Complainer"—the group contends with the masculine taboo on whining, contrasting that in the pulpy video with Klopp participating in a back-alley fight club, weighed down by heavy metal chains. —Austin Jones
BEST PERFORMANCES
Alexandra Savior
Portland retro pop singer/songwriter Alexandra Savior popped into the Paste HQ to perform songs from her 2020 sophomore album The Archer, out now via Danger Mouse's 30th Century Records.
Drug Church
While on tour with Thrice and mewithoutYou, heavy punk rockers Drug Church stopped by the Paste Studio in Atlanta to perform songs from their third full-length, Cheer.
FEATURES
The 20 Best Posthumous Albums of All Time
After the late Mac Miller released Circles, a collection of previously unreleased songs, last month, it was difficult hearing the ghost of a voice so many of us grew up with. But I later realized how incredibly genius this album was, maybe even one of his best yet. With his jazzy beats backing his raspy voice on a mix of singing, rapping and sampling from old school rock songs, Circles gave us an idea of just how many more tricks Miller had up his sleeve. He's not the only artist who was taken from us too soon. In fact, some artists have released some of their best work after their deaths. So, here's a list of the 20 best posthumously released records, ranked. —Daniella Boik
The 20 Best Albums & Soundtracks For Productivity
When you type "study" into the Spotify's search bar, you'll receive a wealth of playlists that seemingly have nothing to do with one another. There's "All Nighter," "Intense Studying" and "Instrumental Study," among many others, each one filled with wordless, chill instrumental music. To counter those feelingless mixtapes, we present our own favorite albums to work to. Here, you'll find everything from movie scores (both low-brow and high-brow) and bluegrass to hip-hop and chillwave. If you have a paper that needs writing, a room that needs organizing or any number of tasks that require some level of unwavering concentration, you've come to the right place. Here are 20 albums that are great for productivity, as tested many times over by members of the Paste Staff. Albums are listed alphabetically. —Ellen Johnson & Paste Staff
Looking for a great music-themed memoir, oral history, novel or photography book? Paste has you covered. There are a lot of highly-anticipated music books out this year, including memoirs from Tori Amos and Jarvis Cocker, a deep dive on Radiohead's Kid A to celebrate its 20th anniversary and a Spike Jonze photo book to correspond with his Beastie Boys documentary. If you're feeling adventurous, there's also a horror novel from avant-garde artist Jenny Hval or an illustrated autobiography from Nick Cave. Scroll down for the 10 music books that we're most excited about in 2020. —Lizzie Manno
Robbie Robertson: The Songwriter as Filmmaker
A new documentary film about the Band was almost finished when Robbie Robertson came up with a song called "Once Were Brothers" for his latest solo album Sinematic. When Robertson shared the song with the movie's 24-year-old director Daniel Roher and the film's producers Martin Scorsese, Brian Glazer and Ron Howard, these filmmakers were so struck by it that they retitled the film Once Were Brothers. The song's evocation of men who once came together to do great things, only to later drift apart in disarray, seemed to sum up the mood of the movie, which opens in New York and Los Angeles on February 21 and nationally on February 28. —Geoffrey Himes
Best Coast's Bethany Cosentino on Her Road to Sobriety and Self-Acceptance
Best Coast have always been a delightful embodiment of catharsis. The California rock duo of Bethany Consentino and Bobb Bruno have been rattling off intensely personal guitar pop songs since their 2010 classic debut Crazy For You, but their new album, Always Tomorrow, out now via Concord Records, provides a different kind of catharsis. A decade ago, Best Coast were the definition of a hype band. Every cool blog was raving about them, they had A-list actors in their music videos, they toured the world and even Cosentino's cat became famous. But beyond their sun-soaked, emotional indie rock songs and cloud of fame, Consentino was having trouble dealing with success. After their 2015 album California Nights, she isolated herself, feeling miserable and creatively uninspired. But then a song fell out of her, which became the golden ticket she needed. It was called "Everything Has Changed," and it envisioned a healthier version of herself, one that was much more in tune with her physical and emotional needs. In late 2017, she decided to make that song a reality by becoming sober. Her creative gears eventually began to turn again, and she brought in guitarist Bobb Bruno to write songs with her for the first time. He sent music for her to write to, and four of his songs ended up on their new album Always Tomorrow. Ultimately, it's a record about embracing your full self, flaws and all, even if it's for the first time—in Cosentino's case, she feels like she's finally found herself at age 33. Paste talked to Cosentino about her past, present and future in one of the most beloved bands of the decade, Best Coast. —Lizzie Manno